Children are said to be the gift of the Gods, and when the gift starts to grow up, it is a blessing. Such a blessing is Lea Black's son RJ Black. RJ has all grown up and is pacing up towards the world. Born into an exceptionally talented family, RJ Black has enjoyed his childhood and teen years to his fullest.
Let's find out what Lea Black's son is up to these days.
Lea Black's Son, RJ Black Is All Grown Up, And She Cannot Believe It Either
People say a parent's greatest achievement is their child's growth and development. Therefore, Lea Black and husband, Roy Black are full of pride as their son, RJ Black keeps on shining bright and is marching towards the world, fully equipped.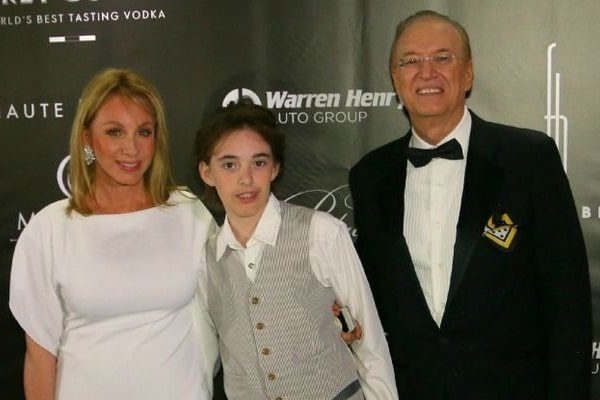 Lea Black cannot believe how fast her little one is growing up. Image Source: Pinterest. 
Lea Black's son, RJ, is leading a very quiet life without getting his personal life invaded by the paparazzi. Although he uses Twitter to remain connected to the world, he rarely posts anything personally. However, Lea Black's husband and herself post about RJ occasionally. By the looks of it, Lea Black cannot believe that her son is all grown up and graduating from high school already.
Furthermore, the reality tv star, Rj's father Roy Black, proudly posted his son's achievements. According to RJ's dad, he directed a play Art at Ransom Everglades. From a few glimpses of pictures, it looks pretty rad. Furthermore, the big boy enjoys his parents' company as he is pictured hanging out with them most of the time.
Moreover, in 2016, Lea tweeted that her son was working as an intern at a fantastic company. This means that RJ is all set to lead his life as an independent man and continue his part of dominance in the world.
Did Lea Black's Son Appear On Television Shows?
Of course. The reality show star Real Housewives of Miami star Lea Black's kid appeared in her show and several other events together. Furthermore, according to Black's IMDb, he has two credits for television series, The DL Chronicles, and The Bold and the Beautiful. 
View this post on Instagram
Lea's son appeared in Real Housewives of Miami alongside his mother. He also befriended Adriana de Moura's son, Alexandre Sidi aka Alex. Both Rj and his father appeared in the show occasionally. After the show, RJ especially is leading a private life.
Did You Know RJ Black's Parents Met In Court?
Lovers greet in every odd moment. One could find the love of their life in any situation. Well, in the case of RJ Black's parents, they met in a courtroom. RJ's mother Lea was a part of the jury in the William Kennedy Smith trial when the couple's eye met first.
Lea Black and Roy Black began dating shortly after the trial and shared their vows secretly on 7 October 1994. She is not an ordinary Roy Black's wife and RJ Black's mother. She is much more than meets the eye. While Roy fights in front of a jury, Lea continues her job as an author, a businesswoman, a charity fundraiser.
It will be a mistake to think if RJ's mother Lea Black's talent stops there. She is a former dancer, political activist, trained vocalist, and avid reader. Therefore, Lea Black's son is blessed to have such a beautiful and knowledgeable family.
However, Lea is the third wife of Roy Black, as he was previously married twice. While his first wife remains out of the scene, he was married to  Naomi Morris Black in 1984. Their conjugal resulted in a beautiful daughter Nora Black who works as a psychotherapist.
Let's hope RJ Black grows up as a responsible man. Also, let's hope we get to know a little about his life in the coming days.
Don't Miss To Follow SuperbHub For More Updates On Celebrity News, Entertainment, and Biography.