Lauren Ridloff's husband Douglas Ridloff is a poet and visual storyteller creating original works in American Sign Language. And in support of signing, his goal is to make ASL a part of the whole community, not just a part of a marginalized community. Douglas wants to make signing hip and significant.
Furthermore, he is also the owner, executive director and host of ASL SLAM. As a widely popular platform, ASL SLAM has now been established as a monthly event in Washington DC, Chicago, and Orlando with Douglas' oversight and guidance.
Journey To Stardom
Douglas Ridloff started composing poetry in American Sign Language when he was just a teenager. It all began after a well-known ASL poet named Peter Cook visited his high school. But for 10 years he hadn't done much in the way of slam poetry apart from a little dabbling. Eventually, it changed when his friend invited him to an informal gathering of college students, where ASL was used to respond to challenges and prompts.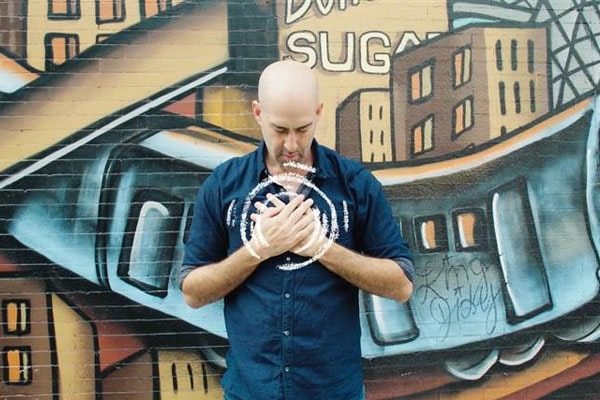 Douglas Ridloff started composing poetry in ASL when he was merely a teenager. Image source: NBC News.
According to Douglas, he was not interested. He at that time did ASL poetry and storytelling for fun at parties and backyard gatherings. But as time went by, he began joining in when there were gaps in performances. Gradually, he started paying more attention to the host's approach to the craft and began incorporating it into his own routine.
Eventually, Douglas became hosting ASL. The show has gone on tour to Michigan and Austin, and overseas to France. The ASL also visited Cuba, to work closely with the members of the deaf community. Meanwhile, Ridloff is now performing regularly in New York City, in a medium that he says has benefits and nuances that spoken word poetry does not.
Douglas Ridloff is an active member of ASL. Image source: Artstation.
So, for Douglas, what began as a passing hobby has evolved into its own unique art form and is appreciated throughout the world.
Net Worth & Earnings
Douglas Ridloff's net worth hasn't been revealed to the public yet. But one thing is for sure that he is known for his generous nature. Douglas has donated a lot of money for deaf children's charity and also helped amass a lot of money for them through his shows.
Nevertheless, Douglas Ridloff shares a comfortable life with his wife Lauren Ridloff and two kids.
Furthermore, Douglas has earned so much reputation and fame for his show. Well to put it in a simpler word his show ASL is quite popular among his fans. He has also toured many countries to support deaf children's education and has done charity works there too.
Furthermore, besides his show ASL, he has also contributed to the film industry. He is quite famous for his work in A Quiet Place, Sign Gene: The First Deaf Superheroes and Saturday Night Live. He also has his own website, where he posts acts of his shows and teaches sign language to people.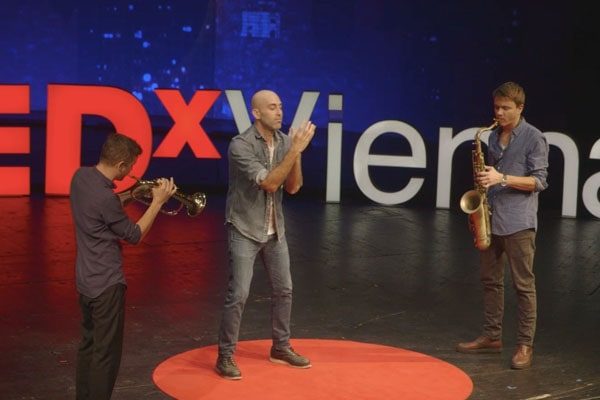 Douglas Ridloff has also contributed to many movies. Image source: Douglas's website.
Many might already know that Douglas Ridloff's wife Lauren Ridloff is also an actress and has starred in the blockbuster franchise The Walking Dead, New Amsterdam, etc. So, it would rather be safe to say both the husband-wife duo amass a considerable amount of wealth from their respected fields of expertise.
The Father Of Two That Loves Travelling
After Lauren Teruel was announced Miss Deaf America, the actress moved to New York and somewhere down the line met Douglas Ridloff. The pair shared great chemistry from the point they met. So, the couple took their relationship forward and got married. During an interview with Theater Mania, the duo of Douglas and Lauren opened up about how it all began for them.
Furthermore, Douglas Ridloff is a proud father of two children, Wyatt and Levi. He loves his two children a lot and has even mentioned that his kids were the best thing that ever happened to him. Plus, he even stated that they changed the perspective of his life and made him a better man.
View this post on Instagram
And one interesting fact about the Ridloff family is that they were been featured in John Legend's Love Me Now.
In addition, Douglas loves to post pictures, as well as acts of his shows and help inspire the deaf. He also loves traveling and has posted pictures of him and his wife traveling to exotic places. To conclude, Douglas is a man of inspiration who inspires people through his sign poetry.
For more updates on News, Articles, Entertainment and Biography visit SuoerbHub