Matt Lauer an American News Anchor who served NBC News( 1997 -2017) was fired on November 29, 2017, after he had allegations of inappropriate sexual behavior in the workplace. Meanwhile, Lauer's Ex-spouse Nancy Alspaugh still supports him "100 percent" and praises him as a charming and giving man.
Lauer who had been the cornerstone of the program for two decades was fired as NBC was presented with factual and evidential reasons.
NBC News Chairman Andrew Lack released the statement, "While it is the first complaint about his behavior at NBC news, we were also presented with a reason to believe this may not have been an isolated incident."
Lauer's Ex-spouse Nancy Alspaugh "I will give him my support 100 percent"
In an interview with Entertainment tonight on November 30, 2017, Lauer's Ex-spouse Nancy had only good things to say about him. Nancy who was married to Lauer from 1981 to 1988, gave an exclusive phone interview where she had defended Lauer's character.
Alspaugh said that she was shocked upon hearing the news of her ex-husband Lauer being charged with such allegations. She adds,
"He has been the best person that's ever held that job. I couldn't think and imagine that anything that he would have done, that would have been so out of character for him"
Nancy seems so supportive of her ex-husband despite the allegations he faced resulting him to be fired from NBC which he had served for two decades.
Lauer's Ex-spouse praised her ex-husband as incredibly nice, charming and willing person to help anybody. She added,
"I never saw him as a power monger or somebody who would abuse his position in any way"
Matt Lauer had also contributed to her nonprofit organization and helped her when her Husband(FOX executive H.Read Jackson) died on January 25, 2016, after being diagnosed with cancer and living-assisted life.
Alspaugh reached him when she heard the news of firing and given him her support, though she didn't hear back from him.  Nancy also said she spoke to the members of the family and reported the family is gathering inward trying to make the best out of the horrific situation.
She also added that she was close to Lauer's family, mother, sister, children and had met his current wife Annette. Lauer's Ex-spouse Alspaugh reached him a week before the news of allegation had broke as she wanted to tell him about a reporter who had approached her regarding the story.
Matt while deleted all his social accounts after the sexual harassment scandal. Today show had however released Matt Lauer's statement on its Twitter.
While Matt Lauer's current wife Annette may not agree with this. According to Page Six, Annette after such allegations has not filed for divorce yet but is in the process. Yes, Annette is likely to give a divorce to her husband Matt Lauer and sources of New York Times also reported that she had asked Matt to stay out of their Hamptons house.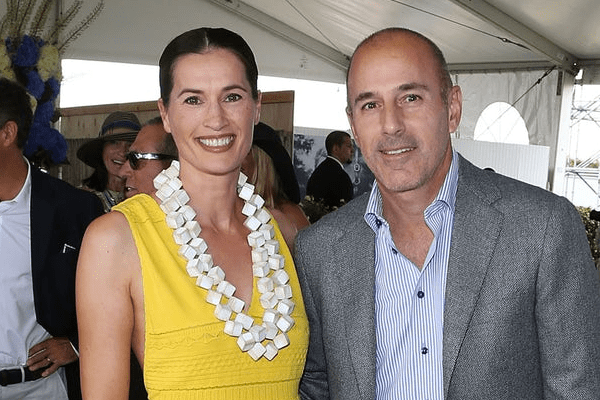 Matt Lauer with wife Annette Roque. Matt's wife Annette is likely to give him a divorce soon.
Source: In Touch Weekly
Matt Lauer's wife had also accused him once for his cruel and inhumane acts. In 2006, Annette filed for divorce for his acts but reconciled with him three weeks later withdrawing her charge. And was known to be living happily with their three children Jack Matthew Lauer, Romy Lauer and Thijs Lauer.
Sexual accusations, losing $25 million salary paying job, divorce from wife will definitely have a great impact on Matt Lauer's net worth, career, and his family life. He may have understood what he did was wrong.
However, supporting words from his ex-wife Nancy might have given him some encouragement to face the upcoming consequences.
Five Quick Facts on Lauer's Ex-spouse Nancy Alspaugh 
Nancy and Matt Lauer were married from 1981 to 1988 after brief dating. The couple was in a seven-year matrimonial bond but had no kids together.  Lauer's Ex-spouse Nancy is a producer and screenwriter best known for her work on Leeza Gibbons Show. Here are five facts about her:
 As a screenwriter, Nancy is nominated for few Daytime Emmys.
Nancy is a published Author(2003, Not Your Mother's Midlife: A Ten-Step Guide to Fearless Aging )
She remarried FOX Executive H.READ Jackson who died in 2016
 Nancy has an adopted son diagnosed with Autism.
She challenged Matt Lauer, on the Autism Act of Love Challenge in 2014.
Stay connected with SuperbHub for more celebrity news and Entertainment.