Larry King's net worth is estimated to be $150 million. He was earning around $30 million annually during his peak time period. Larry has managed to accumulate such a huge amount of fortune throughout his career as a television and radio host.
Larry King was born as Lawrence Harvey Zeiger and raised in Brooklyn, New York, U.S. He has been married eight times and has five children with different women. He is best known for hosting the show Larry King Live on CNN.
Net Worth and Earnings
As mentioned above, Larry King's net worth is estimated to be $150 million. He is an American television and radio host from which he has managed to acquire such a huge amount of wealth.
Larry King gained his first job in radio working as a disc jockey. At that time he was paid $50 per week. The station manager suggested him to change his name and two years later he legally changed his name to Larry King.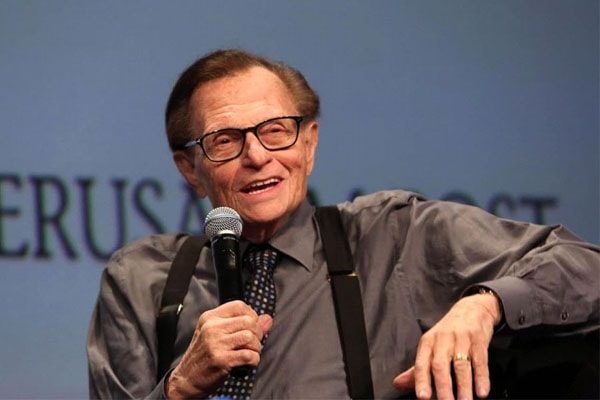 Larry King is an American TV and radio host with a net worth of $150 million. Picture source: The Jerusalem Post.
After that, he appeared in TV shows and began hosting the TV show Miami Undercover. Later he began working as the assistance of comedian Jackie Gleason. He also worked for several years for WIOD.
After 1978, Larry started to work on the National Radio broadcasting the Open Phone America. We bet Larry must have received a considerable amount of money for his work as a radio host.
Then in 1985, Larry King started to host a show under his name Larry King Live in CNN.
In the show, he would interview guests from controversial figures, prominent politician, alleged psychics, scientist and many leading figures of the entertainment industry.
According to CNN, Larry King has conducted over 30 thousand interviews in his career. And when he was in his peak,  Larry earned $30 million a year.
Other Endeavors
Furthermore, Larry King also co-founded Ora TV with Mexican businessman Carlos Slim. His company signed a multi-year deal with Hulu to carry Larry King Now. 
View this post on Instagram
He has remained active as writer and TV personality. Larry has also founded the Larry King Cardiac Foundation, which helps to pay cardiac patients who couldn't afford for the treatment. Larry is a generous man and has donated a lot to the different organization including Beverly Hills 9/11 Memorial Garden.
Recently Larry King filed for a divorce against Shawn King after 22 years of marriage. He has married a total of 8 times and Alene Akins is one of them.
Well, Larry could possibly be sharing some amount of fortune as alimony from his net worth as well.
---
Keep connected with SuperbHub for more News, Entertainment and Biography.