Can we all agree to the fact that motherhood brings a different charm in a person's life? And, Breaking Bad beauty, Krysten Ritter is blooming since she welcomed her baby boy with her long-term boyfriend, Adam Granduciel.
Well, the loving pair hasn't got married yet and Adam is yet to be pronounced Krysten Ritter's husband. Nevertheless, let's peek in the love-life of the notoriously private couple and know about Krysten Ritter's longtime boyfriend a little more.
Who Is Krysten Ritter's Partner, Adam Granduciel?
Big Eye actress Krysten Ritter's beau, Adam Granduciel, is a fantastic guitarist, singer, and record producer. Similarly, he is also the frontman of the indie rock band, The War on Drugs. The band has recorded four studio albums together and a former member of Kurt Vile.
Adam Granduciel's band, The War on Drugs, was formed in 2005 in Philadelphia, Pennsylvania. The group consists of Adam, David Hartley, Robbie Bennett, Charlie Hall, Jon Natchez, and Anthony LaMarca.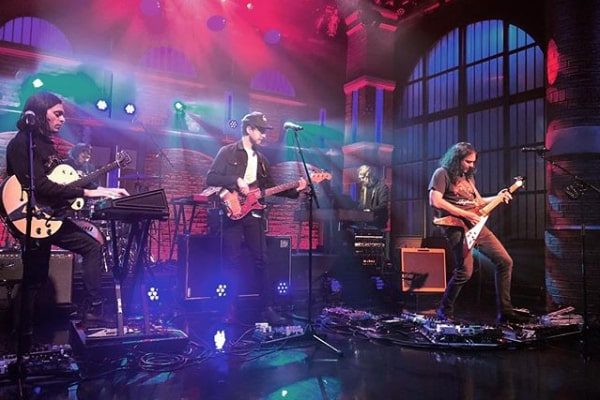 The band, The War on Drugs, is enjoying its successful years performing on various shows. Image Source: The War on Drugs' Instagram. 
Adam moved from Oakland and met Kurt Vile in Philadelphia and bonded over music and shared-love for the legendary Bob Dylan. Kurt would eventually leave The War on Drugs to pursue his solo career after releasing their debut studio album, Wagonwheel Blues, in 2008.
The War of Drug released its second studio album Slave Ambient in 2011 and received favorable reviews. But the bands' breakthrough came with their third album, Lost in the Dream, which was released in 2014. The album increased their exposure, and they began performing on bigger venues.
The band was signed to a major label Atlantic Records. Following the success, they dropped their fourth album, A Deeper Understanding, in 2017. The album was nominated for the 'International Album of the Year Award' at the 'UK Americana Awards' in 2018. Likewise, 'A Deeper Understanding' won the 'Best Rock Album' award at the Grammys.
So, Krysten Ritter's sweetheart is enjoying his successful career at the moment. Besides The War on Drugs, Adam has also worked as a music producer for 'Purling Hiss's 2013 album and contributed in albums of his former mate, Kurt Vile.
Adam Granduciel's Childhood
Ritter's better half Adam Granduciel was born on February 15, 1979, in Dover, Massachusetts, as Adam Granofsky. Born to Paula Granofsky and Mark Granofskym, Adam grew up alongside his older brother Burton Granofsky and graduated from  Dickinson College, where he studied painting and photography.
While growing up listening to metal music, Krysten Ritter's boyfriend experienced an electric guitar when he was 13 years old. He professed his guitar skill while jamming with class-mates during his high school days at Roxbury Latin School.
Although born in a middle-class family that would understand a career from a proper suited job, Adam chose his path to music and became successful as a musician. Seeing the son's success, papa Granofsky is a proud father.
In A Healthy Relationship Since 2014
Love is when you look into your partner's starry eyes and feel as if your universe is confined within this tiny human. People who find the human form of their world are lucky, and so is Krysten Ritter's boyfriend, Adam Granduciel.
According to US Weekly, the couple has been together since 2014 and are sharing their love to the fullest. All the chemistry started with Jessica Jones star, Krysten Ritter being a fan of the band, The War on Drugs. Both of them got in touch, went on some shows, and spent some quality days in New York.
The couple is wonderfully in love with one another since 2014. Image Source: Krysten Ritter's Instagram. 
The couple eventually fell in love with one another and started their 'serious relationship.' Despite lacking interest in marriage as she described in an interview with Playboy, she is now committed to her partner. In the interview, she revealed that she never dreamed about a wedding and told it was never her thing.
Even though she was not against the idea, she thought it was scary for her. She also joked about having separate houses, and the bank account could be the key to a perfect relationship.
The couple has been through highs and lows as Ritter's partner has struggled with anxiety and paranoia, even throughout his successful career. Through hectic schedules and constant touring, Adam Granduciel has remained loyal to his partner, and Krysten has been very supportive of him.
Let's hope the couple lasts for more years to come and hit milestones together.
New Parents
Adam Granduciel and Krysten Ritter birthed their firstborn, Bruce Julian Knight Granofsky, in 2019. Although there are no traces of them walking down the aisle, they have decided to move further in their relationship with their baby as it always starts a new phase in a couple's life.
Adam Granduciel's baby mama, Krysten Ritter, walked through the red carpet with her baby bump spreading her motherhood-glow. She continued to update her 1.2 million Instagram followers throughout the later stages of her pregnancy.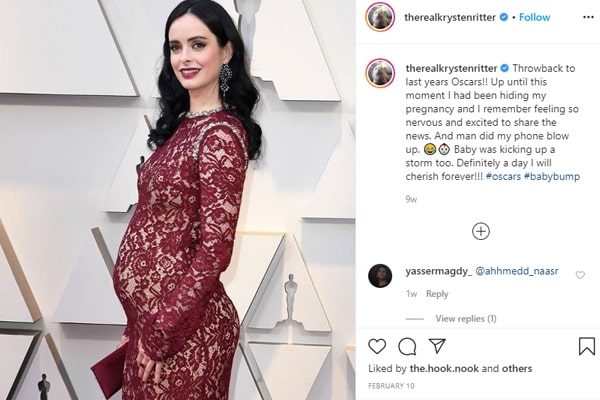 The Blacklist actress, Krysten, showed her baby-glow to the Oscars. Image Source: Krysten Ritter's Instagram. 
The couple celebrated about their baby at a music-themed baby shower in early June, which was accompanied by their family and friends, including Mike Colter.
Thus, with the arrival of their little one, a new phase has begun for both Krysten and Adam. Let's hope the couple bond over their baby while managing their schedules.
Don't Miss To Follow SuperbHub For More Updates On Celebrity Entertainment, Biography, and News.