Politician Tulsi Gabbard is married to Abraham Williams. The adorable pair of Tulsi and Abraham tied their wedding knots on April 9, 2015.
Tulsi Gabbard was previously married to Eduardo Tamayo. Here are some facts you should know about Gabbard's second husband Abraham Williams.
Who is Tulsi Gabbard's Husband Abraham Williams?
Abraham William is a Freelance Cinematographer and Editor. According to him, he loves capturing images of people, their emotion, character and telling their story. He is so excited about producing beautiful, cinematic images through his creative camera work and lightning.
View this post on Instagram

Abraham Williams is also credited for several short movies such as Last Taxi dance, Knight Watch. He has also worked on the full-length movie The Candle & the Curse.
The Lovely Relationship Of Abraham Williams and Tulsi Gabbard
Williams was hired as Cinematographer to work on Gabbard's campaign shoots. This is where they got to know each other and fall in love.
Gabbard says that Abraham Williams asked her out on a date while they were attending a common friend's birthday party. While they were on Hawaii, the couple often used to go on hikes, play sand volleyball, surf and enjoy each other's company.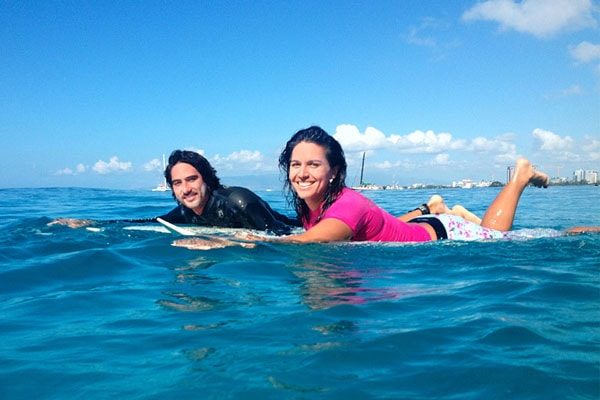 Tulsi Gabbard and her husband Abraham Williams surfing. Picture source: People. 
Abraham William Proposed Tulsi In A Romantic Way
Tulsi Gabbard had kept her relationship a secret before the wedding took place in April 2015. Williams proposed her for the wedding on the ocean while they were surfing. Here is how Abraham proposed Tulsi in her own words:
By the time we got there and were paddling out, the sun was just about to dip under the horizon. He paddled quickly out to the lineup, way ahead of me, and waited as I slowly made my way out. Then he paddled over, pulled out a double-tethered contraption attached to a gold duct-tape-covered flotation device, with a beautiful ring attached, and said, 'I have a question for you: Will you marry me?
The couple tied their wedding knot in 9th April of 2015 in Kahaluu, Hawaii. Gabard was 33 and William was 26 at that time. A Hindu Priest performed the wedding Ceremony.
Abraham Williams and Tulsi Gabbard's wedding ceremony. Picture source: New York Times. 
As of now, Tulsi Gabbard is running for 2020 Presidential campaign and her husband William shot the video for his wife's Presidential campaign.
SuperbHub for more News and Entertainment.