Yasi Hofer is a talented German guitarist and singer. Her real name is Yasmin Ines Hofer and was born on 25 October 1992 in Ulm, Germany. Yasi excels at electric guitar and had started playing one since the age of twelve.
Yasi's Journey in Music
Yasi started her childhood like any other child. She began playing the violin at a very young age. At the age of twelve, she decided to conquer the world of music through an electric guitar. A few months after she started learning electric guitar, her guitar teacher introduced her to Steve Vai, her new and only idol.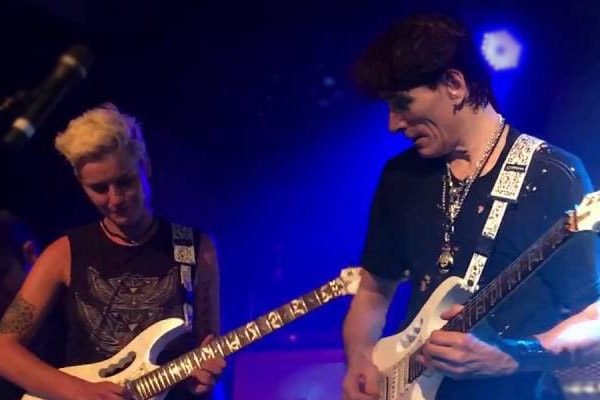 Yasi Hofer and Steve Vai performing together, Image Source: Yasi Hofer/ YouTube.
A whole new world of possibilities and music opened to her when Yasi met Steve Vai. She became so focused on her music that she would quit all her other activities. She would analyze and practice all the songs of Steve Vai and spend almost ten hours a day, practicing.
Yasi's Journey To Fame
After a while of being soulfully concentrated on music, Yasi began uploading her attempt to master Vai's music on YouTube. Her attempts quickly earned her good fame and Steve Vai's attention. He would follow her progress by watching all her videos.
In 2007, Steve invited Yasi to join him on stage to play in the song, " Answer". It was in her hometown. Yasi's appearance with Steve was such a success that she was headlined in all the local newspapers. All the musicians in town and the world were talking about her. This enabled her to write and record her first EP.
Education and Academic career
Having a taste of that fame and realizing her potentials in music, Yasi was now sure that music was the biggest goal of her life. So she quit school at the age of 15 and got a chance to study music at the "Musikhochschule Stuttgart".
After 3 semesters there, she applied for a scholarship in the World renowned "Berklee College of Music" in Boston. And thanks to her talent and skills, she won the scholarship.
Yasi's  creations
Yasi released her debut album called "Yasi" in 2014. The CD  featured 3-time Grammy Nominee Philip Bynoe and german Bass Legend Hellmut Hattler as well as other great musicians from Berklee College of Music. Her CD release concert was celebrated by 600 fans in the Roxy concert hall in her hometown.  She toured as a guitarist with the band Voxxclub through Germany and neighboring countries.
Yasi has toured promoting her music with her band. Also, she has shared the stage with many artists including UFO, Chris Thompson, Steve Vai, Savoy Brown, Hellmut Hattler, Gil Ofarim, and Neil Young.
Yasi released her second album called "Faith" in 2016. This album includes music greats like Marco Minnemann and Hellmut Hattler. Yasi toured through Europe presenting her new music. Here's a piece of beautiful music from her album faith:
Yasi's third album "Freedom" is already on the market as of 2019. She plans to tour through Europe with the music all through the year. Also, as of May 2019, she plans to release a new music video as well.
More about Yasi Hofer
Yasi Hofer is active in social media as well. She has a Facebook page with over 12,700 followers as of May 2019. She also shines on Instagram with over 7,800 followers. Going through her Instagram, we can see her respect for her idol, Steve Vai.
View this post on Instagram
Yasi Hofer started gaining fame from YouTube. She created her YouTube channel in June 2006. Her YouTube channel has over 22,000 subscribers. She also has a website as well where she keeps her fans updated about her concerts, music videos, and albums.
Apart from her understanding of music, Yasi understands the value of love, life, and smile. She loves animals and life, no matter how small, is precious to her. She is actively involved in animal rights and is a vegan.
For more Entertainment, Biography and Articles, stay tuned with Superbhub.