Published Date 11th Sep. 2019, 14:20 pm
The Formula One Finnish racing driver, Kimi Räikkönen's net worth is $150 million. The demon racer has managed to amass such a huge wealth from his career as a formula one racer and from various top brand endorsements. However, he has made most of his fortune from his career as a racer.
Kimi Räikkönen was born on 17 October 1979, in  Espoo, Finland. The handsome racer currently drives for Alfa Romeo Racing. He is married to fitness model Minttu Virtanen, after his divorce with his ex-wife Jenni Dahlman. The couple Kimi and Mittu share two children; daughter Rianna Angelia Milana Räikkönen and son Robin Räikkönen.
Net Worth And Earnings
Aforementioned, Kimi Räikkönen's net worth is $150 million. He has managed to collect his wealth from his career as the formula one racer and also from various brand endorsements.
Kimi who won the Formula One World Championship in 2007 has raced for Ferrari, McLaren, and Lotus. Today he is one of the most renowned F1 racers all around the world.
View this post on Instagram
Kimi Räikkönen has a high fan following on his Instagram. Looking at his Instagram, we can see that he loves traveling to new places and is fond of playing golf.
Earns Stupendous From Formula One
Kimi Räikkönen has signed a deal with Alfa Romeo Racing which provides him with a reported salary of $45 million a year making him the highest-paid Finnish Sportsman.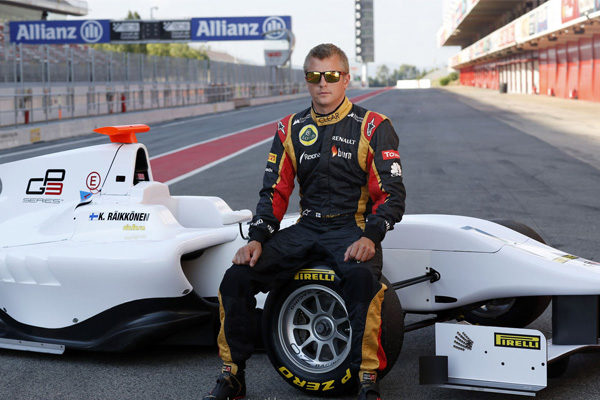 Kimi Räikkönen has signed a deal with Alfa Romeo Racing with a reported salary of $45 million a year. Image Source: kimiraikkonenspace.
The 39-year-old is the fourth highest-paid formula one racer after British racer Lewis Hamilton and German racer Sebastian Vettel and similarly, Daniel Ricciardo who have estimated annual salary of $49 million,  $45 million and $49 million respectively. 
Income From Other Sources
Kimi Räikkönen also earns from various endorsements. The stunning racer is endorsed by the sports equipment company Oakley, jeans company Wrangler, and shampoo company Clear. Also other brands are there like coffee brand Nescafe, beverage company Hartwall and others.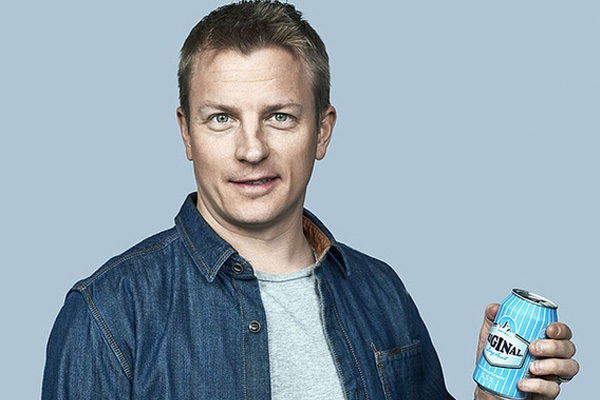 Kimi Räikkönen advertising for beverage company Hartwall. Image Source: Veikko Kahkonen.
Kimi Räikkönen owns massive assets. Talking about his car collection, he owns Ferrari Enzo worth $3.2 million, Ferrari F12 worth $690K, Rolls-Royce Wraith Black Badge worth $350K. Furthermore, he also owns Ferrari 488 worth $320K, Lotus Evora S worth $240K.
And on top of that, Kimi owns a massive mansion in Baar, Switzerland worth $35 million. He also had a house in Helsinki, Finland which he sold for $26 million.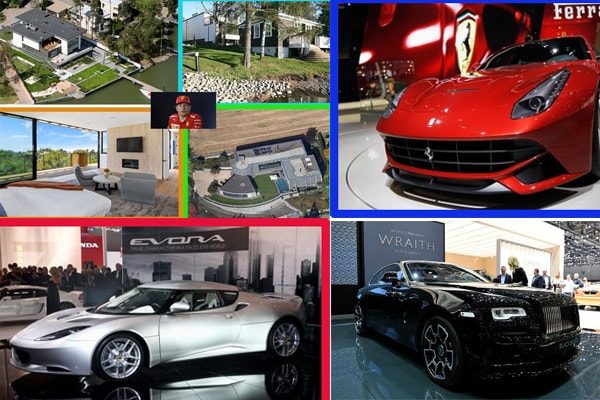 Kimi Räikkönen has a beautiful house and different car collections. Image Source: Motor1/Sportskeeda/Pinterest/Cars.
Hard work and success go hand in hand, Kimi Räikkönen's life describes it.
Raikkonen often took part in charity football matches and charity races. He helps to raise funds for Fondazione Telethon, an organization dedicated to cancer research. Therefore, Kimi is a generous human too.
For More News, Entertainment, Biography Keep in Touch With SuperbHub.