The amazing Slayer guitarist Kerry King has found the love of his life. His wife, Ayesha King has found a way to Kerry's heart and is currently residing there. Fans are hoping that the amazing couple, Kerry King and Ayesha King, will stay together for the rest of the days. And, it does look like it because the two have a lot of common interests.
Kerry King's wife Ayesha King was born on June 30, 1977. As of 2019, she is 41 years old. She is an aerial performer and instructor, and a model as well. Her modeling career rose her to fame and her marriage to the Slayer's lead guitarist added to the fame.
As stated above, Ayesha King has a lot of common interests with her husband Kerry King. One of the easily noticeable things is tattoos. Kerry King is a metal band guitarist. So, it is not new for him to have a tattoo. But to have a wife who also shares the same love for the tattoos, Kerry beat the odds.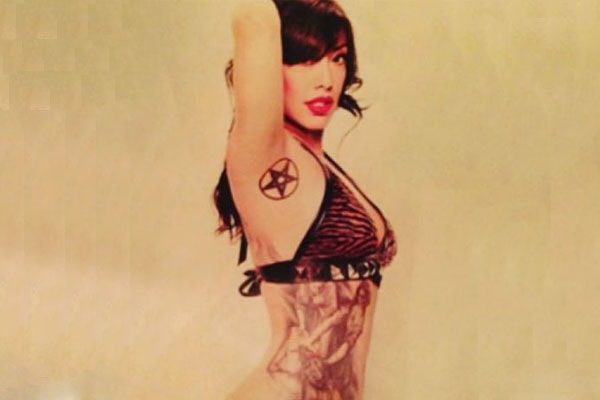 Ayesha King loves getting tattoos like her husband, Kerry King. Image Source: Ayesha King's Instagram.

Ayesha King is an atheist, just like her husband. Going through Ayesha King's Instagram account, we found that she loves animals, books, opera, and art. She has cats as her pets and often uploads pictures of them.
View this post on Instagram
Kerry King owns a reptile house and herpetology nursery called Psychotic Exotics. Ayesha likes to go and see the reptiles as well. Kerry King is a snake collector and Ayesha King seems to be fond of cats.
Ayesha: The Biggest Fan Of Kerry
As to when the couple married, there is not much information. In an interview with Christina, Kerry King said, " She told me we were getting married when we went to Vegas." Now that's one of the most rocking ways to get married.
Ayesha King is likely the biggest fan of her husband. She loves him playing the guitar and often expresses her love for metal plays. Kerry King and Ayesha King often visit events together, giving rock poses for the photo. They way they sync with each other tells that they really are a 'one in a billion' couple.
For more Entertainment, Biography and Articles, stay tuned with Superbhub.