Owners of the Red Barn Homes LLC and Real Estate Entrepreneurs, Couple Ken and Anita Corsini's relationship dates back to Junior year at the University of Georgia.  The pair have been living and working together since the 2000s.
Together Ken Corsini and his wife Anita have bought and sold a large number of houses in Metro Atlanta since 2005. The power couple is the owner of the Red Barn Homes in Woodstock and hosts the show Flip or Flop Atlanta. Ken and Anita Corsini net worth is thus accumulated to be $12 million.
Ken and Anita Corsini net worth
The couple started their business Red Barn Homes LLC in 2005. Ken's business knowledge and construction skills with Anita's creativity and Real Estate Skills have made them produce the best outputs.
In an interview with AJC and Radio TV talk, Ken Corsini shared;
"The 2008 real estate downturn actually launched our business. We didn't have a lot of momentum before the crash."
So, the duo started their business when the economy was down. But, that really helped them as they had minimum to lose. Soon, the Corsini's business boomed with their partnership and they sold a high volume of houses around metro Atlanta.
The couple was approached by HGTV after finding out their relevant works and potential.
House flippers make their career and lifestyle appear as fun and happy on television. But, to achieve success, they require decades of hard work which Ken and Anita have tirelessly done. Ken and Anita Corsini net worth is now in millions and will increase accordingly.
Anita Corsini shared in an interview;
"There was excess of houses to flip when we launched the business. But, today's market is the opposite. There are not enough houses in the market and prices are rising. Everything has to be off the market."
And they are working on it as they know the real estate market of Atlanta so well. In an article of Huffington Post in 2017, it is mentioned that stars of HGTV are reportedly paid $5 to $10 million. Former Flip or Flop hosts Tarek and El Moussa collected an estimated money of $ 4 million.
Hence, the famous present stars Anita and Ken also might collect around $4-$5 million. The show has subsequently added more sums and riches to Ken and Anita Corsini net worth.
Ken and Anita invest in a selective old and abandoned properties in Atlanta. Then the restoration and renovation procedure takes place. They often find vintage things and goods and also encounters filthy old refrigerators with decomposed stuff in it.
Corsini's Red Barn Homes
Red Barn Homes is a Limited Liability Company established since 2005 and have bought and sold over 600 houses in Metro Atlanta. The couple makes a perfect working team as they share an easygoing rapport.
Red Barn Virtual Design helps the clients to work with the team and create a personalized custom design for any rooms. The process is done online and can be done in any rooms, style, budget, furniture, accessories, and artworks. The designs are included in a package and comprise:
| Design Package | Price |
| --- | --- |
| Chicken Coop (mini design package) | $225 |
| Goat Corral (small spaces package) | $675 |
| Hay Loft (larger spaces package) | $825 |
| Homestead (complex design package) | $775 |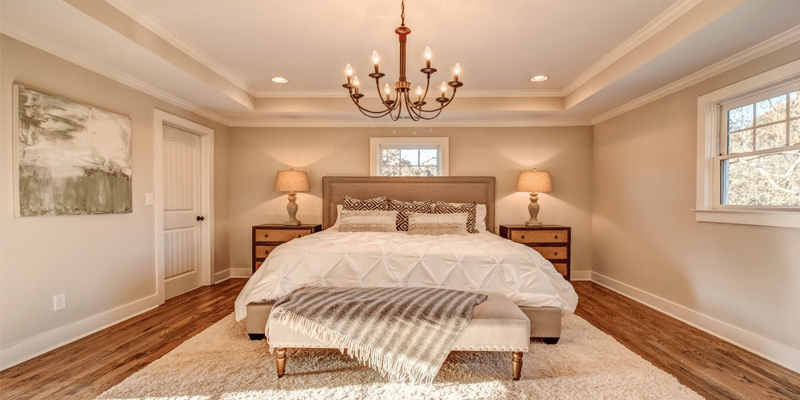 Image Source: Red Barn Homes LLC
Virtual and completed bedroom by Red Barn Homes design
Since starting the business, Ken has spoken about Real Estate and has written blogs for many sites as Bigger Pockets and Realtor.
Ken also runs a real estate investing podcast "Deal Farm" on iTunes. The Show is about satisfied Real Estate investors speaking on their Best deals with Host Ken. Ken Corsini net worth thus is reaching heights with extra income and return from investments.
Georgia Residential Partners
Ken also owns a Real Estate Company Georgia Residential Partners. Ken had founded the company in 2005 and has put his hands in hundreds of Real Estate dealings and transactions. The company specializes in two categories of properties:
| Properties | Price Range | Area | House Models |
| --- | --- | --- | --- |
| Class A | $80,000 - $130,000 | Owner Occupied Areas | New Models |
| Class B | $50,000 - $80,000 | Rental and Owner occupied areas | Old Vintage |
Ken mainly targets the profitable investments in the Atlanta market and has an extensive knowledge of the Real Estate business mechanism.
Anita Corsini is also a part of the team of the house searching Website in Atlanta which provides a free home valuation in just 30 seconds. The site has a listing of expensive houses around Canton with courtesy of Red Barn Real Estate.
The list includes $1,020,000 to $922,250 houses. Anita Corsini net worth also is incredible as she is the woman with multi-talent and never fails to give her best.
Ken and Anita Corsini net worth is amassed to $12 million from their Real Estate business and Flip or Flop show.
Ken received a Bachelors Degree in Risk Management and holds a Master's Degree in Residential Development from Georgia Tech. Ken then got his general contractors license which enabled him to explore more new construction opportunities.
While Anita holds a Masters degree in Mathematics from Georgia State University. Anita is a mother of three children and a devoted wife to Ken. Anita got her Real Estate License in 2007.
The couple met in their Junior year at the University of Georgia.  Ken originally lived in San Jose, California and moved to Marietta outside of Atlanta. While Anita was moving from Raleigh to Texas and finally to Georgia.
Anita and Ken live in a house once owned by the famous wrestler, Ole Anderson in Lake Hartwell along with their children. They bought the house in 2011.
Stay with SuperbHub to get updated about Ken and Anita Corsini net worth, Relationship, and Real Estate Career.