Late Keith Flint split with his wife DJ Mayumi Kai last year. His bandmates reported that after the divorce with the wife, Keith suffered depression.
On Monday, 4th March 2019, Keith Flint was found unresponsive at his home. It was reported that Keith begged his estranged wife to return home before hanging himself.
Keith Flint And Mayumi Kai Divorce
Flint and Japanese DJ Mayumi Kai got married in 2006 and moved out of the city to $1.97 million Essex mansion. He describes his wife Mayuma as the woman who saved his life from drugs and shagging around.
Late Keith Flint along with his estranged ex-wife Mayumi Kai. Picture Source: Daily Mail. 
However, their relationship couldn't last long and the pair divorced last year after spending 12 years of married life together. Keith didn't reveal the exact reason behind their separation. However, split from his wife Mayumi Kai plunged Keith Flint into depression.
Keith Flint called his ex-wife and pleaded for reconciliation before he apparently took his own life. The Prodigy star put his 15th-century mansion for sale just before his death in order to win back DJ Mayumi Kai. Keith always believed that they could make back again and made various phone calls pleading with her.
Keith Flint Committed Suicide
Flint was assigned a full-time security guard because his bandmates were worried about his safety. His bandmates told that Flint had fallen into depression after his split with ex-wife Mayumi.
Flint was last seen by the locals two days before his death as he ran the Chelmsford Park. He was happy during his last supper at his local on Saturday just hours before the incident. The singer was casually dressed up, was having a normal conversation and joking around. It was reported that he seemed really positive and proud of his self-improvement.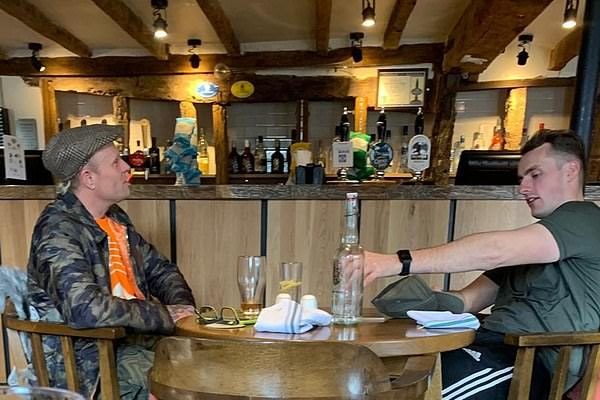 Keith and his personal trainer at a restaurant having supper before the suicide. Picture Source: Daily Mail. 
Unfortunately, the Prodigy frontman was found unresponsive in his home on 4th March, Monday 2019 after police and emergency service were called to the property. The Prodigy's co-founder Liam Howlett told that he took his own life. Journalist Rob Hadgraft tweeted the picture showing sympathy on the demise of the talented singer.
We offer our deepest condolence to the late Keith Flint.
---
SuperbHub for more News and Entertainment