Kate Albrecht is the household name who built her lifestyle brand called Mr. Kate and has written multiple books. The YouTube star is the daughter of Starz CEO Chris Albrecht and Annie Albrecht. Therefore, she is not new to the business world and thus is successfully running her own business with her husband, Joey Zehr.
If you are a fan of Mr. Kate's videos, you must be used to seeing "Grammy" who babysits her son Moon Albrecht Zehr. But are you curious to know more about the extraordinarily talented, Kate Albrecht's parents? Let's dive right in then.
Who Is Kate Albrecht's Father?
Kate Albrecht's father is a media executive and was the Chief Executive Officer and re-upped his position as President of Starz. The former Chairman and CEO of HBO spent 22 years at HBO and was credited for critically acclaimed series such as The Sopranos, Sex, and the City, Deadwood, Six Feet Under, Band of Brothers, etc
He was born on July 24, 1952, in Queens, New York, U.S, as Chris Albrecht. He started his career performing at the Improv in New York City with his then-partner Bob Zmuda. Following his success, he went to become an agent at International Creative Management (ICM).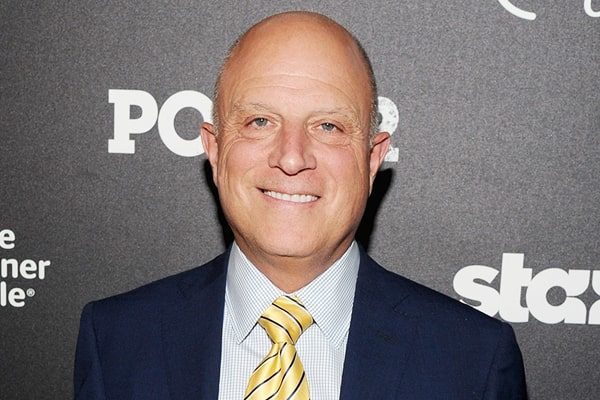 The best word to describe Mr. Albrecht is a brave or risk-taking personality. Image Source: Bryan Bedder/Getty Images. 
Albrecht began working at HBO in June 1985 as senior vice president. Furthermore, he spent seven years as president of HBO Original Programming before becoming Chairman in 2002. Similarly, Albrecht served as the President of HBO Independent Productions from 1990 to 1995. During the time, he looked at the development and production of comedy series, including Martin and Everybody Loves Raymond.
Furthermore, HBO became the leader in entertainment and sports programming with some successful series like Entourage, The Wire, Band of Brothers, and many more under his leadership.
How Much Is Chris Albrecht's Net Worth?
All the hard work has paid off and raised Chris Albrecht's net worth to $160 million. He had re-upped his deal with Starz in 2016 and will be adding the president to go with the CEO title. According to The Hollywood Reporter, Starz said Albrecht would receive a basic salary of $1.5 million and bonuses under his new contract.
In 2015, Kate Albrecht's father made $2.4 million, and the year before, he was paid $2.5 million. Likewise, Chris made $30.5 million in 2013 and $12.9 million in 2012. Chris Albrecht's earnings allow him to enjoy his life luxuriously and gives him the strength of a risk-taking attitude.
The former Starz and HBO chief, Chris Albrecht, is teaming up with Legendary to produce TV series for the international market. The venture will operate separately from Legendary TV but will continue to have administrative support and services from the Legendary TV.
Let's hope everything runs well in papa Albrecht's life as he has gone through tough phases, which cost him his prestigious job as the CEO of HBO. Curious? Let's get to know more about what happened.
Why Did Chris Albrecht Resign From HBO?
Unfortunately, Chris Albrecht had some bad drunk memories as he was arrested in May of 2007. The former HBO chief executive was arrested on suspicion of assaulting his then-girlfriend outside the MGM Grand casino. He was choking his former girlfriend, Karla Jensen, as she was "pissing him off."
Albrecht was arrested and spent 12 hours in jail. Furthermore, HBO paid a settlement of at least $400,000 to Sasha Emerson during a confrontation in her office in 1991. Therefore, Time Warner, the parent company of HBO, demanded Albrecht's resignation.
A few years later, the incident, Chris realized that his actions were stupid and unfair; therefore, he has been leading a great life with his wife, Tina Trahan. The couple shared their vows in 2016, and the couple is going strong since.
Before Tina, the media mogul was married to Annie Albrecht, with whom he tied his knots in 1981 and share two beautiful daughters, Kate, and Tess Albrecht. The couple divorced after 19 years of marriage in 2000 when Kate was 17 years old. Likewise, Chris Albrecht married his second wife, Montana Coady, in 2011, and the age difference was 34 years.
Chris Albrecht's daughter, Kate, mentioned the marriage in her book called Hot Glue Gun Mess and confronts that she did not attend the wedding to save her face as her step-mother was three years younger than herself. However, the marriage fell apart in 2015.
Let's hope everything is going well for Mr. Albrecht. Now, let's talk about Mrs. Albrecht, who has maintained a pretty low profile since their split.
Who Is Mr. Kate's Mother?
Mr. Kate, aka Kate Albrecht, is a fortunate woman to have her mother together to babysit her son during her busy schedule. Kate Albrecht's mother, Annie Albrecht, was an actress in New York who went to her former husband, Chris Albrecht, to support her acting.
There isn't much in her accounts, but Mr. Kate's video reveals that the former couple shared home. The ex-couple had gone to the same high school in New York City. Furthermore, Chris Albrecht proposed his ex-wife a drunken evening, and Annie puked in his hands. Funny proposal.
View this post on Instagram
Moving on, Chris Albrecht and Annie Albrecht tied knots in 1981 and gave birth to Kate, famously known as Mr. Kate. Their second child, Tess, followed a few years later, and they were a happy family. In one of the blog, Mr. Kate mentioned that she appreciates her mother's honesty.
Mr. Kate's mother often shared her wild youth with her and would accept that she was into drugs and everything except heroin. Annie Albrecht's raucous stories kept Kate away from chemicals. However, the marijuana tale was quite mild for her. Mr. Kate's mother was a rowdy woman and did everything right for her children to understand what will happen to their bodies as they grew up and nurtured them to become very independent.
Although Chris Albrecht's first wife was everything, their forever ended after 19 years of marriage. Mr. Kate has mentioned the horrible feeling of dealing as a divorcee child in her room makeover video featuring Jason Nash. Whatever the outcome of the wedding was, Ms. Annie Albercht continued to live and raise her children to be influential people. She appears in a few videos of Mr. Kate, helping her by babysitting their newborn.
Let's hope Mr. Kate's parents are doing well individually and wish for their better future.
Don't Miss To Follow SuperbHub For More Updates On Celebrity Entertainment, Biography, and News.