Kasie Hunt and Matthew Mario Rivera were married May 6, 2017, at Shenandoah Woods. Kasie Hunt's Marriage was a non-denominational ceremony. Beautiful correspondent Hunt looked adorable in her bridal gown.
Kasie Hunt's Marriage with Matt Rivera
Kasie Hunt's wedding ceremony took place at Shenandoah Woods in Virginia. The marriage was attended by enough colleagues and family.
The highlights of Kasie Hunt's wedding included Hunt's dance with her 91-year-old grandfather, the bride's own acoustic-guitar performance at the campfire and much more.
Kasie Hunt's Marriage with husband Matthew Rivera at Shenandoah Woods, Stanley in 2017
Regarding the wedding Hunt stated;
"We were so touched that so many of our friends and family were willing to make the trek out to spend a weekend celebrating away from all the noise and distraction of our crazy lives in journalism"
Kasie looked beautiful in her white wedding gown designed by Carol Hannah Bridal. This stunning picture was captured by Duhon. Overall, the ceremony became memorable for Kasie, Matt, and the attendees.
Kasie and Matthew met at the set of NBC News in Washington. Hunt is the network's Capitol Hill correspondent and Rivera is the senior digital producer of "Meet the Press".
According to MSNBC, the lovebirds had gone to a long hike on California. In one dramatically silent place, Matt bends down on his knees to purpose his love. So romantic!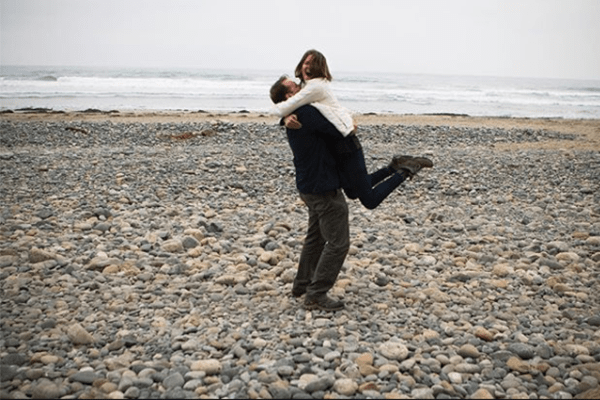 Kasie with boyfriend Matt at Big Sur California. A YES moment!
Image source: Kasie Hunt's Instagram
Hunt and Rivera: Parents and Early Life Facts
Hunt, 31, graduated Magna Cum Laude in International affairs from George Washington University(2006) and received a master's degree in sociology from St John's College, Cambridge. She is a daughter of Krista Hunt and Bruce Hunt. Hunt's father manages real estate design for University of Pennsylvania's Health System in Philadelphia. Her mother teaches yoga in Easton.
Matt Rivera, 35, graduated from N.Y.U. He is the son of Loraine Vetter and Daniel O. Rivera. The groom's mother, a registered nurse, who works at St. Catherine of Siena Medical Center in Smithtown. Rivera's father retired as a lieutenant in the New York City Sheriff's Office.