Karen Gillan is a Scottish actress and model who is famous for portraying the role of Nebula in the Marvel Cinematic Universe (MCU) movies. With Avengers: Infinity war breaking box office records, the entire cast is under the spotlight. However, not all MCU stars earn or have net worth around $260 million like Robert Downey Jr.
Along with others, Karen Gillan obviously has earned a good sum of money and accumulated a hefty net worth. But as an MCU star, the earning is much less than we usually assume.
Karen Gillan's net worth is $2 million. She made most of her money from her role as Nebula in Marvel Cinematic Universe (MCU) as well as her modelling commitments.
Having started her career in 2006 by starring in the TV series Rebus, Karen has starred in as many as 51 movies and TV series. This includes the hit TV series Dr.Who, Jumanji: Welcome to the jungle and Outcast. These movies have helped her attain a good amount of net worth.
However as an Avengers' star Karen Gillan's net worth is $2 million. But it's just the beginning. As Karen has a long way to go. She is a brilliant actress and very committed to her roles. We can see that from how she shaved her head and lost her pretty red hair for her role in the film.
She has made most of her money through her multiple movie roles as well as through various various modelling ventures.
Also read: Pom Klementieff Net Worth
Earnings from movies
The movie, Jumanji: Welcome to the jungle released in December 20, 2017 itself became the highest-grossing Sony Picture's film of all time both in domestic box office with earning of $403.714 million and crossing $950 million in global box office.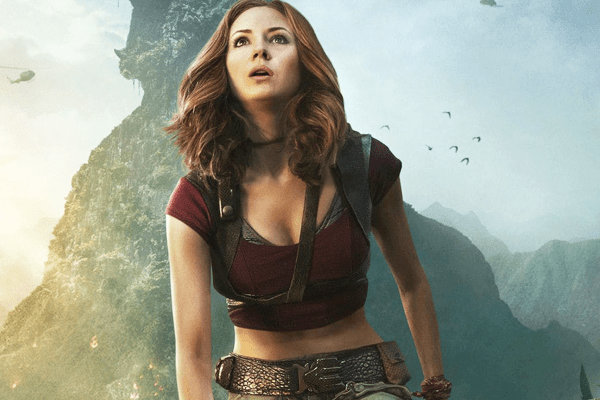 Karen Gillian's net worth; Her film Jumanji: Welcome to the jungle was the highest grossing Sony Picture's film. Source: screen Rant
Karen Gillian definitely received a good check for her performance in the top-earning Sony Picture's movie starring alongside Dwayne Johnson, Kevin Hart, and Jack Black.
Karen Gillan's net worth  has been boosted by her appearance in the biggest movie franchise ever, the Marvel Cinematic Universe(MCU). She has appeared in three MCU movies: Guardians of the Galaxy, Guardians of the Galaxy Vol.2, and Avengers: Infinity War.
She portrays the role of Nebula, blue skinned-bald alien, one of the adoptive daughters of Thanos, a powerful villain in the film with whom every MCU hero unites to fight and save the world.  Karen Gillan reportedly received more than $1 million for Infinity War.
Avengers: Infinity War has already earned $725 million in 4 days of release. Karen stars in the movie alongside Mark Ruffalo, Chris Pratt, Chris Evans, Robert Downey Jr., Scarlett Johansson, Jeremy Renner and many more celebrities.
Earnings from modelling
In addition to her movie roles, Karen also earns quite a lot of money from various modelling ventures. She constantly appears in cover of magazines like Style, Alexa and many more.

The 3o year old Kate also has other modelling ventures. She has voiced advertisements for The Royal Bank of Scotland and eHarmony helping to increase her net worth.
Gillian's Car Collection
Karen Gillian loves driving cars. She owns a collection of lovely cars that she drives around.

She currently owns a Audi A4, Audi A8, Jaguar E type convertible, Ford Mustang and a Mercedes S Class.
Karen Gillian has recently moved from Los Angeles to New York.
While interacting with W magazine, she had said that she had grown up at her hometown watching popular series Friends. Thus, now when she is in the  New York City, she has found herself an apartment with brick wall, but still need to get some friends there.
Karen Gillian added that she had been establishing a routine for herself.
Karen writes screenplays like she had already done for movie, 'The Party's Just Beginning' (and has also directed two short films in 2015). She have been drinking a lot of coffee and love the pizza there at New York.
It's certain that with more involvement in highest grossing movie projects, along with her screenplay writing, this gorgeous beauty is going to make a golden space in Hollywood. Karen Gillan's net worth is certain to increase.
For more news and entertainment, visit Superbhub.