People dream about earning from their passion and live without regret. But the dream comes with extra hard work and dedication, because of which, only a few people get to live their dream. Among the few is America's former basketball player, Juan Dixon.
Starting the basketball journey since 2002, Juan Dixon's net worth has been escalated to $6 million as of now. As the current head coach for Coppin State University in Baltimore, Juan is living his best life with his The Real Housewives of Potomac wife, Robyn Dixon.
Let's dig more about the father of two, Juan Dixon's net worth and earnings.
Juan Dixon's Net Worth As NBA Player
As aforementioned, the spontaneous former basketball player Juan Dixon's net worth is estimated to be a grand amount of $6 million because of his career in Washington Wizards. Dixon's primary source of income was his revenue from a basketball career as he was signed with remarkably expensive contracts by Washington Wizards.
With the rise in the career, Juan Dixon's salary was always increasing. With the skills and abilities, he proved that he was suitable to remain in the team. Dixon's career started when he was drafted 17th by Washington Wizards in the 2002 NBA draft. He spent his initiating three years of his NBA career with the Wizards before being signed with Portland Trail Blazers in 2005.
Juan Dixon's agent, Calvin Andrews, revealed the contract was worth $8 million.
In Dixon's initial career, he started 42 times and played over 70 games. His skills enhanced after he joined Portland as the number of assists and shooting percentage increased considerably.
Furthermore, he was traded at the 2007 NBA trade deadline to Toronto for Fred Jones and future considerations. Similarly, he was traded from the Toronto Raptors to the Detroit Pistons in exchange for Primož Brezec and cash consideration.
Likewise, the Washington Wizards signed Dixon to a one-year deal for $1.03 million. Similarly, he signed a contract with the Atlanta Hawks on September 28, 2009, but was waived a month later.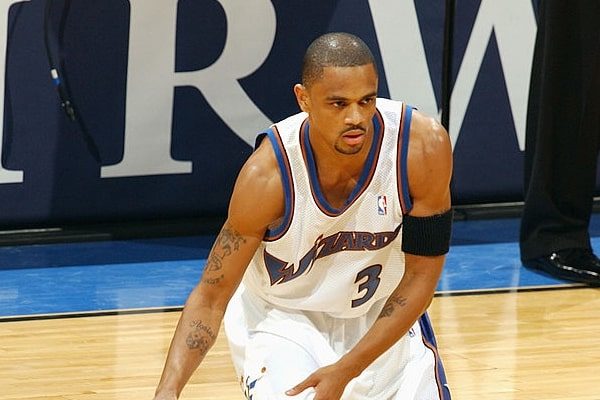 Juan Dixon has an estimated net worth of $6 million. Photo Source: Getty Images.

With experiences, Juan Dixon's net worth continued to multiply along with his fame and reputation. However, he was suspended indefinitely by FIBA after testing positive for steroids in February 2010.
Some of Juan Dixon's past salaries are listed below:
| Season | Team | Salary |
| --- | --- | --- |
| 2002/3 | Washington Wizards | $1,172,400 |
| 2003/4 | Washington Wizards | $1,260,360 |
| 2004/05 | Washington Wizards | $1,348,200 |
| 2005/06 | Portland Trail Blazers | $2,500,000 |
| 2006/07 | Toronto Raptors | $2,550,000 |
| 2007/08 | Detroit Pistons | $2,550,000 |
| 2008/09 | Washington Wizards | $998,398 |
Throughout his career, he has proved himself a spectacular personality and late on stepped away from the professional playing career after playing a season at Bandırma Banvit in Turkey before entering the coaching world.
Juan Dixon's Earnings As A Coach
Juan Dixon was a prolific player who earned a huge name and fame from his career as a professional NBA player. He started his coaching career on November 27, 2013, teaming up with Maryland Terrapin coaching staff as a special staff under head coach, Mark Turgeon. The average salary of the assistant coach is $41,621 per year.
Therefore, Dixon's earning was quite impressive from his job as a special staff in Maryland. Moreover, he was hired as head coach of the women's basketball team at the University of the District of Columbia on October 14, 2016. According to Paysa, the average salary of the head coach at the University is $69,926 per year.
Likewise, he was hired as a men's head coach at Coppin State after a 3-25 season. Dixon's average income as a head coach at Coppin State is estimated at $66,097 per year.
Plus the former player and now a coach must also be taking home a considerable amount of money from his Juan Dixon Basketball Camp.
As of now, Dixon's net worth has proliferated along with his career. The man has experienced great ups and downs but has never given up on his dreams. Now that Juan Dixon's pockets are deep, he is living a grand life with his wife, Robyn Dixon, and children Corey Dixon and Carter Dixon.
Don't Miss To Follow SuperbHub For More Updates On Celebrity Entertainment, Biography, and News.