Born on August 20, 1985, Joshua Daniel Flagg grew up to be a real estate agent, author, and television personality. Furthermore, he is widely known by the name, Josh Flagg. Through all the hard works and dedication, Josh Flagg's net worth has stretched to $35 million.
The phenomenal luxury agent Josh Flagg has amassed a considerable fortune in his name, which was possible because of his endurance. Let's get to know more about Flagg's net worth and earnings in detail.
Josh Flagg Net Worth And Earnings
Aforementioned, the real estate mogul, Josh Flagg's net worth, is $35 million. He has managed to amass such a hefty sum through his multifaceted career, which includes an author and a television presenter.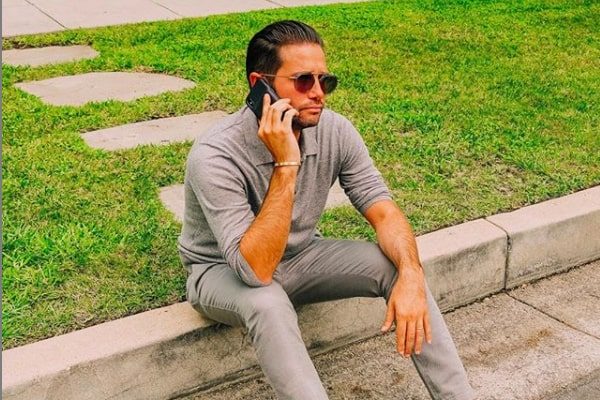 The real estate agent, Josh Flagg's net worth is considerably massive. Image Source: Flagg's Instagram. 
Flagg has experienced immense success in the real estate market. Following the victory, he has been featured on Forbes' 30 Under 30 in 2012 as a record-breaking agent.
Josh Flagg's Career As A Real Estate Agent
Growing up in LA, Flagg carved his path as a real estate agent at the age of 18 as a high schooler under Bruce Nelson in Bel Air. He has experienced a very successful career as an agent and has had many record sales counting the $25 million residential sales in Beverly Hills.
Flagg has earned his reputation as an elite agent for his pricey sales. Thus his celebrity clients include Adam Levine, Steve Aoki, Tom Ford, and Shonda Rhimes. As of now, Flagg is associated with one of the most reputable real estate agencies, Rodeo Realty.
View this post on Instagram
Josh Flagg has sold over $2 billion worth of property and is amongst the top five estate agents in LA. Furthermore, according to Josh Flagg's Linkedin, he owns a real estate firm called "Josh Flagg Enterprises" and is the co-founder of Flaggship Media Group.
Similarly, according to Celebrity Net Worth, he started his real estate firm called "John Flagg Estates" with Keller Williams in 2009.
Earnings From Flagg's TV Career
The dapper agent, Josh Flagg's fame, rose when he appeared on the reality TV show called Million Dollar Listing Los Angeles in 2006. Madison Hildebrand and Chad Rogers accompanied him. The show followed their careers as the real estate agents in LA.
Although the show continued with its original members, Josh Altman joined the show in season 4 until Hildebrand left in 2013. Josh made his final appearance in its 10th season in 2017. And we can assume Josh Flagg's salary to have been a grand one.
The show definitely pumped Josh Flagg's net worth a great deal and gave him the well-deserved fame as well.
Josh Flagg's Writing Career
Besides being a real estate magnate and a television personality, Josh Flagg has expanded his resume as an author. He had published his first book,  A Simple Girl: Stories My Grandmother Told Me, in 2009. The books are about his grandmother, Edith Flagg who had survived the holocaust and later became a prominent figure in the American fashion industry,
Likewise, Flagg's second book, Million Dollar Agent: Brokering the Dream, was published in 2011. The book is presented as an autobiography that deals with his journey from a child to dominating the real estate world and the rise as a reality TV star.
The book received excellent reviews and sales, which might have had a slight influence on Josh Flagg's wealth. Besides books, he also launched his app called Star Maps in 2012. The app uses GPS that allows users to find the property owned by celebrities with details about the home.
Josh Flagg's Personal Property
Beside selling multi-million homes and setting the records of billions of sales, it is no wonder that Josh Flagg's property would look any less lavish. The estate agent purchased the 4,565 square foot Beverly Hills estate for $5.9 million in 2018.
The property was built in 1928 and had five bedrooms and four and a half bathrooms. While Josh Flagg and his husband, Bobby Boyd, were all giddy about the renovations, the energy of the house was quite messed-up and quoted the home haunted.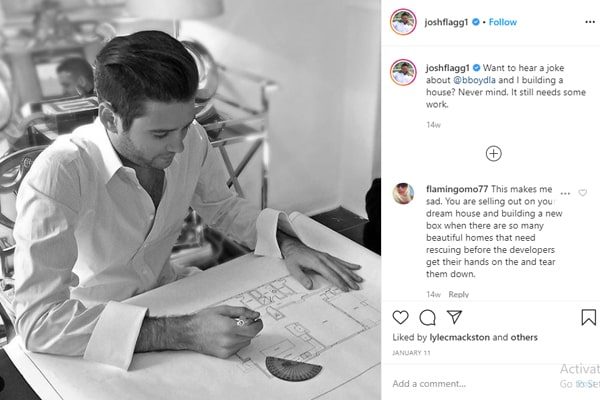 Josh Flagg's plans on renovating his home has been delayed. Image Source: Flagg's Instagram. 
According to Variety, Josh Flagg had listed his Sunset Strip cottage up for sale at $2 million. He had acquired the property in 2013 for $1.6 million from David Katzenberg. Flagg's other features include the estate he had bought from Michael Filerman. Similarly, he also owns his grandmother's penthouse in Century City.
Along with love for architecture, Josh Flagg loves to travel around the globe and has visited more than 60 countries. Likewise, he is a collector of fine arts and automobiles too.
As of now, Flagg is living his best life with his husband, Bobby, in their Beverly Hills home. Let's hope Josh Flagg's net worth and fame continue to grow along with his successful career as a real estate agent.
Don't Miss To Follow SuperbHub For More Updates On Celebrity Entertainment, Biography, and News.