The Escape Plan: The Extractors actor and real estate mogul, Josh Altman's net worth is $30 million. Juggling his career as an actor, a real estate agent, investor and author, Altman has managed to explode his bank account with cash flow.
The Million Dollar Listing Los Angeles' star Josh Altman was born on March 10, 1979, Newton, Massachusetts, US to a Jewish family. Today, Altman is enjoying a blissful married life with Heather Bilyeu Altman and two children, Alexis Kerry Altman and Ace David Altman.
Let's dig deeper into how Josh Altman's net worth took a complete curve.
Josh Altman Net Worth And Income
Aforementioned, Josh Altman's net worth has escalated to $30 million since his career debut. He is managed to earn this sturdy amount as a real estate agent and an investor. Furthermore, his other endeavors include his fame as a tv personality, actor, and businessman.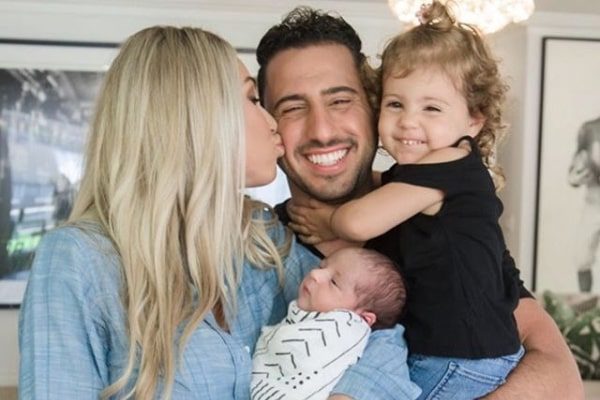 Josh Altman is growing wiser and wealthier every day. Image Source: Altman's Instagram.  
Josh Altman has successfully painted his career as a real estate magician in a thriving market. Likewise, his presence in the show, Million Dollar Listing LA, helped him create his name a big reputation.
Josh Altman's Real Estate Career
The reason Josh Altman's net worth has elevated such rapidly is not just his pretty face but also by the negotiation he does as a deal maker. Likewise, he is one of the most promising estate agents honing in properties located in Holmby Hills, Bel Air, and Beverly Hills, also known as the Platinum Triangle.
Josh Altman's career as a successful real estate agent started from the bottom. He began as an investor and flipper. He accomplished flipping houses without losing money once. Furthermore, Altman started his real estate finance company along with his brother, Matt Altman forming 'The Altman Brothers' specializing in the Platinum Triangle.
Similarly, they are versed at the Sunset Strip and Hollywood Hills area. While the brothers ran their multi-million company, they sold over $100 million worth of property by 2011. The Altman Brothers also have sold over $40 million worth of properties. The sales also include the sixth-highest sales in LA history, i.e., $16.5 million estates in Beverly Hills.
Similarly, Altman's noteworthy sales also include the selling of an Ocean Drive condo for $10.5 million. The deal was recorded as the actual sales of Santa Monica for a condo. Following his success, The Wall Street Journal ranked him #30 in the national team sales in 2013 with $200,000,000 in sales.
Following their sales and successful deals, Josh Altman's net worth and salary began doubling rapidly. According to his LinkedIn, he has also been a part of reputable agencies; Douglas Elliman Real Estate and Hilton & Hyland.
From Penniless To A Millionaire
It needs a surreal amount of dedication to become a millionaire, and that doesn't happen overnight. According to the Cheatsheet, Josh Altman was left without a penny in his mid-20s as he recalls, their business was ripped off entirely in the late 2000s.
Altman recalls, making money and spending it with the same speed as they were unable to track the money. He reveals that they never thought that the money would stop, but then, the economy collapsed, and their business alleviated drastically. He reminisced the moments they were millionaires at the age of 26 to broke within a year.
However, the failure pumped Josh, and eventually, the brothers made a banging return to the business with more knowledge. They built their empire from nothing to selling over a million dollars a day.  
As of now, the Business Journal's list of residential brokers has ranked Altman #4 with 105 units sold in LA. Furthermore, the Altman brother's sales have topped over $400 million by 2018.
Josh Altman's Earnings From TV
Besides being the real estate tycoon, Josh Altman is also a television personality. Josh appeared in the reality tv show, Million Dollar Listing: Los Angeles with co-stars Madison Hildebrand and Josh Flagg during the fourth season in 2011.
The show follows three estate agents as they sell expensive homes to their clients. The show did not just ennoble their fame but also gained them, notable clients. The Romper claims that the stars could make up to $10,000 per episode once the show has proven its success.
Hence, Josh Altman's salary from the show must be massive as the show went, as the reality TV series was a hit, which would ultimately proliferate his net worth as well.
Similarly, Josh Altman has also appeared on several episodes of Keeping Up with the Kardashians, The Real, FabLife, and many more. Moreover, according to Altman's IMDb, he has a movie credit for Escape Plan: The Extractors, which made $1,766,092 worldwide.
Income As A Motivational Speaker and An Author
There are a lot of sides to the real estate magnate, Josh Altman's career. Today, he is one of the most sought out businessmen as he has gained knowledge through his extensive experiences. Thus, the expertise has allowed him to speak about various topics confidently as a motivational speaker.
As a successful entrepreneur and a motivational speaker, Josh Altman's net worth is aided in an average of $107,173 annually. Along with his triumphant career as a motivational speaker, Altman is also an author. He published his first book, "It's Your Move: My Million Dollar Method for Taking Risks with Confidence and Succeeding at Work and Life" in 2015.
The book was a hit amongst young entrepreneurs and has benefited Altman's fortune greatly.
John Altman's Personal Properties
The business mogul has a great eye for properties, which is why we can expect his house to be exquisite and lavish. Altman listed his home in Hollywood Hills for $8 million in 2017. Today, Altman is living his best life in his family home in Beverly Hills.
Josh Altman and his wife turned to one of his listings, a 1930s traditional home that had been resting on the market for months. The couple renovated the home into their dream home, light and airy collaborating with  Mitchell Gold + Bob Williams. The home is incredibly beautiful, cozy, and rightfully compliments the fun-loving family.
View this post on Instagram
Let's hope Josh Altman continues to funnel big cash in his bank account and earn reputation along with the cash flow.
Don't Miss To Follow SuperbHub For More Updates On Celebrity Entertainment, Biography, and News.