The famous comedians, Jordan Peele, and Kenan Thompson have a net worth of $12 million and $9 million respectively. Both have earned their respective net worth from their career as a successful comedian and actor.
Jordan Peele is known for his comedic acts on Comedy Central series, Key & Peele whereas, Kenan Thompson gain recognition from the famous American show, Saturday Night Live.
Jordan Peele Net worth and Earning
Jordan Peele's net worth is $12 million, He earns his income from being a comedian, actor, writer and director. Peele made his directorial debut with the movie, Get Out in 2017. The movie fetched $100 million at the box office with the debut feature. His movie later went to gross $255 million worldwide. The talented actor Daniel Kaluuya plays the lead role in the movie.
The movie also got several nominations for the category of Best Director, Best Picture and  Best Original Screen Play at the Academy Awards in 2018. With his accumulated net worth, Peele is currently enjoying a happy and relaxed life with no signs of discomfort.
Kenan Thomspon Net worth and Earning
Kenan Thompson is a comedian and writer. His net worth is $9 million. He earns mostly from his successful career as an actor, comedian, and writer.
Thompson is popularly known for appearing in the American show, Saturday Light Live. Though his actual salary is still under review. However,  the first year cast members of the show earned up to $7000 per episode. Members could earn around $147,000. Similarly, a second-year cast member can earn $8,000 per episode which is $168,000 per season and $15,000  per episode for the cast member that sums around $315,000 per season.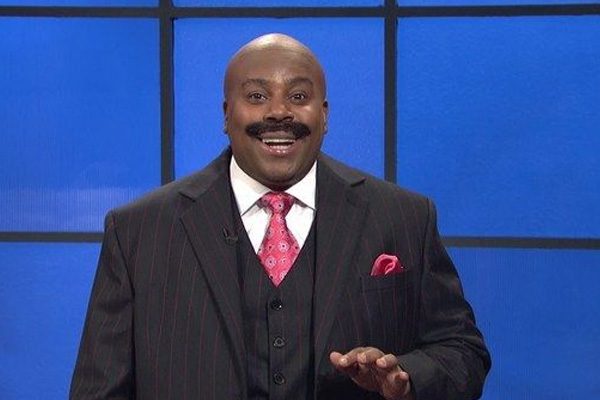 Kenan Thompson at the American TV show, Saturday Light Live. Image Source: Pinterest
Hence, the veteran comedian like Kenan Thompson is expected to earn more than $300,000 per season as he has been with the show, Saturday Night Live from 2003. He has earned a substantial sum of fortune from his career in acting from movies that include Barbershop, Snakes on the Plane, Going in Style has further boosted his overall net worth.
Hence from the above mentioned net worth of both the famous American comedian. Jordan Peele seems to have more net worth than Kenan Thompson as Peele has a net worth of $12 million and Thompson's net worth is $9 million as his net worth.
SuperbHub for more News and Entertainment