Published Date 08th Jul. 2019, 15:22 pm
Jon Stewart's wife Tracey McShane is an American author, a former veterinary technician, vice president of the portrait project and founder of Moomah the magazine. She is also famous for her book titled "Do Unto Animals: A Friendly Guide to How Animals Live," and "How We Can Make Their Lives Better. " 
As for her husband, Jon Stewart is an American writer, comedian, director, producer, actor, and Television host. He is famous for hosting The Daily Show on Comedy Central. He has been married to Tracey McShane since 2000. Here are some facts about Tracey McShane and her love life.
Who Is Jon Stewart's Wife Tracey McShane?
Tracey Lynn Stewart (née McShane) is an animal rights advocate, author, former veterinary technician and founder of Moomah the magazine. She came into limelight after getting married to Jon Stewart. Tracey started her career as a professional graphic designer after attending California College of Arts and Crafts and Drexel University.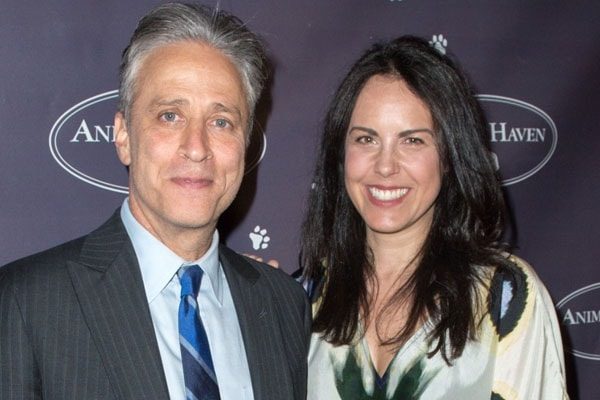 Jon Stewart's wife Tracey McShane is an American author and also a former veterinary technician. Picture source: Getty Images.
Alongside that, Tracey has also worked at the Bronx Zoo as a veterinary technician after receiving a degree in veterinary science. She is also the founder of Moomah Magazine which was initially founded as Moomah Cafe. Later it was shut down and continues to preserve in the form of Moomah the Magazine.
Tracey and Stewart have purchased a $4 million farm in New Jersey, which is used as an animal sanctuary for abused animals.
The lovely Tracey McShane has published her book titled Do Unto Animals: A Friendly Guide to How Animals Live, and How We Can Make Their Lives Better. It is reported that Tracey McShane is Vegan.
Tracey McShane and Jon Stewart's Love Life
The beautiful couple of Tracey McShane and Jon Stewart had met on a blind date. After that, the couple tied their wedding knot in 2000 after dating for almost three years. The lovely couple changed their last name to Stewart legally on 19th June of 2001.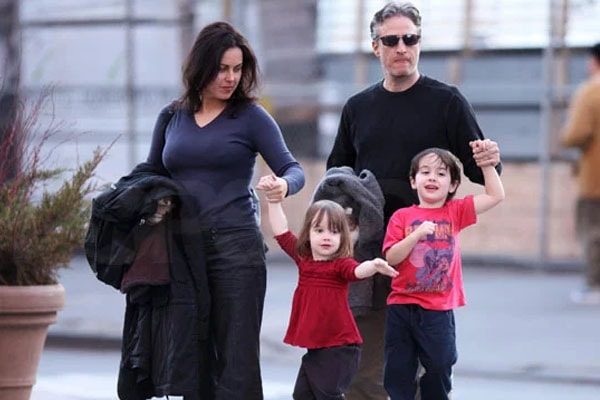 Tracey McShane and Jon Stewart along with their children. Picture source: Pinterest.
Tracey and Jon together have two children. The pair welcomed their first child Nathan Thomas Stewart on 3rd July of 2004. And after two years the couple welcomed their second child named Maggie Rose Stewart on 5th February of 2006.
We believe Tracey is living her life to the fullest alongside her husband and children.
Keep connected with SuperbHub for more News, Entertainment and Biography.