Johnny Depp's ex-wife Lori Anne Allison is a professional makeup artist, famous for her unique fashion sense. Is this 60-year-old fashion artist still single or dating someone after her divorce? Who could be Lori Anne Allison's boyfriend?
Lori Anne Allison's Boyfriend? Has She Married again?
Allison famous as the ex-wife of famous actor Johnny Depp got divorced in 1985.  Allison was upset for a while after her divorce, but now she seems happy and busy in her profession. She often ignores the media to describe her past love failure .
Well, Allison is too busy in her profession and have no time to make any boyfriend or husband and is possibly single since her divorce. There are no evidence of Lori Anne Allison's Boyfriend yet.
She was in love with make-up from the age 8 and is making a good living from her professional career.
Allison is however in friendly relation with her ex-husband Johnny Depp. Though, they have separated for a long time- precisely 33- years now, they have maintained a good relationship. Moreover, Allison has always supported Depp in every aspect she could.
Johnny Depp and Ex-Wife Lori Anne Allison
Allison married Johnny, an American actor, musician, and producer; on December 20, 1983. She was 25 and Johnny was 20 when they tied knots according to Daily Mail. The lovely pair was living a prosperous and happy life, but sadly their romance ended after two years.
Allison and John separated due to some severe problems between them. According to People, there was no known extra-marital affair issue from her side. But, Johnny started dating Twin Peaks actress, Sherly Fenn after they met on the set of the student Film Dummies in 1985.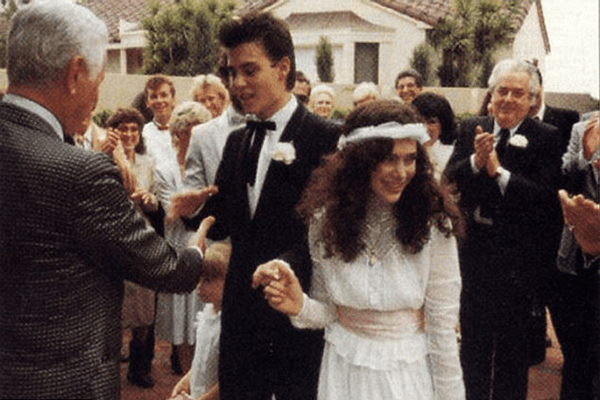 Johnny Depp and ex-wife Allison in their marriage ceremony on December 20, 1983
Source: Dailymail
Johnny moved on but there were no signs of Lori being engaged with someone else. The pair had no children as their relationship was too short and both were busy in their profession.
Even after 33 years of their separation, Lori hasn't left Johnny's side. Moreover, Allison clarified that he is a very soft-hearted person when Depp was accused in the case of domestic violence by his another wife Amber Heard.
In Johnny's defense, she said he had never been harsh on her in their married life. He had never been physical to Lori. In fact, he hasn't even screamed at her in anger.  Lori didn't even accept Depp abusing Heard's dog. According to TMZ, Lori and Johnny also had a dog during their marriage and Johnny loved him like a parent to his kid.
Knowing all this, we can assume that the differences between Lori and her ex-husband was certainly not Johnny's abusing behavior but it was something else. Probably, Johnny's extramarital affair with Sherly Fenn.
Mini Bio of Lori Anne Allison
Lori Anne Allison was born on September 6, 1957, in the USA. Her profession as a makeup artist began with the help of her very good and talented friends, Adam Ant and Christina Applegate.
Allison had moved to Los Angeles to become a recording engineer and started doing makeup for films and televisions. And now, she is a proud owner of Serendipity Lip Glosses which launched in 2015.
For more updates on celebrities' entertainment and relationship details, keep in touch with SuperbHub.