John Cusimano is an American singer of the rock Band The Cringe. This handsome guy is married to beautiful Rachael Ray Show host "Rachael Ray." The couple exchanged vows and became husband and wife in September 2005. It's now more than a decade of their marriage, and still, they have solid bonding.
John Cusimano's wife, Rachael Ray and John became life partner, twelve years ago in Montalcino, Tuscany, Italy. The lovebirds first met at the birthday party of a mutual friend in 2001. Since then, John and Rachael dated each other before getting married in 2005.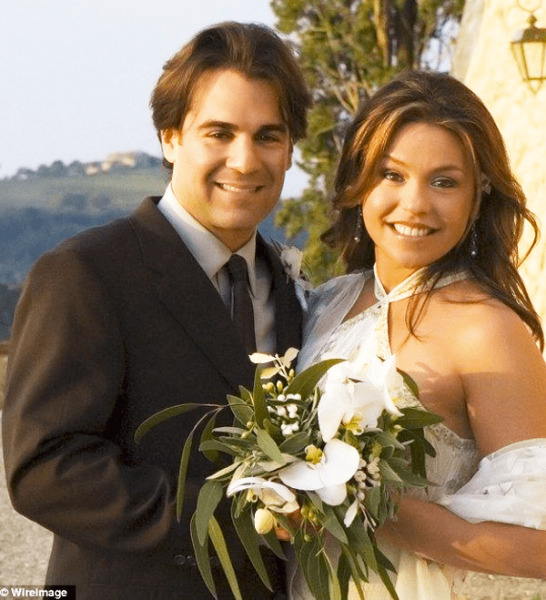 Groom John Cusimano and Bride Rachael Ray on their wedding day
John Cusimano and Wife, Rachael Ray Renewed Vows
Once again John Cusimano's wife, Rachael Ray and John renewed their marriage vows in Italy. Yes, they married again!
It was September 19, 2015, their 10th wedding anniversary and they celebrated the occasion in the same destination, Tuscan castle, Italy,  where they first married.
To make it more beautiful and memorable, Rachael looked gorgeous in her Bridal Gown and John wore a wedding suit, and both were looking adorable. For the second time, the couple took the vows saying,
"I will still be with you and always choose you under any circumstances. Also, I love You more than all the Whiskey in Heaven"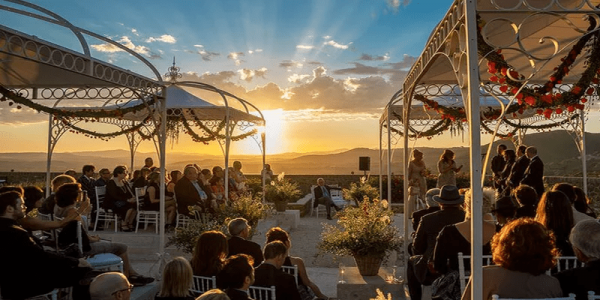 Image Source- People
John Cusimano and Rachael Ray remarried again on their tenth anniversary. Brilliant sunset made their wedding look more beautiful.
In detail, the event was a total family affair. Her sister, Maria, served as the matron of honor, niece, Vivian as the flower girl and her puppy, Isaboo, walked her down the aisle. Similarly, John Cusimano's bandmate, James "Roto" Rotondi was also present in their wedding.
The renewed wedding ceremony was followed by a dinner catered by the castle. There were other celebrity guests as well including Guy Fieri, Adam Perry-Lang, Anne Burrell, Michael Schlow and Ken Oringer.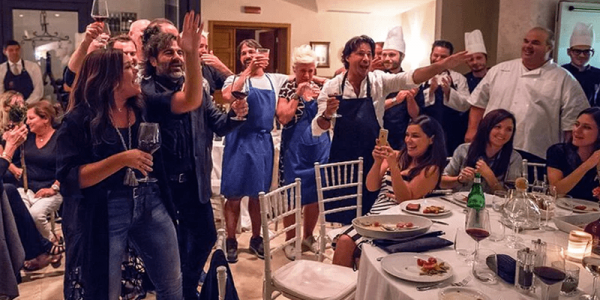 Image Source- People
Dinner Catered by Castle after the renewed marriage of John M Cusimano and Rachael Ray.
John Cusimano's wife, Rachael Ray was thrilled, excited and surprised by their renewal of marriage vows. The overall event was really exciting and memorable.
First Date and Valentine 2018 Celebration
John Cusimano's wife, Rachael became nostalgic in her show The Rachael Ray Show recently as she recalled the night they first met before marriage. It was their mutual friend's party, and John told Ray that he made a dinner himself a night before.
Initially, Rachael thought that John is gay. Later in their dinner date, John clarified her that he is not gay. Finally, they stayed awake until 4 am. It was actually their first date.
John and Ray celebrated the Valentines 2018 too. Interestingly, the couple is following the same trend of celebrating Valentine over a decade. That is John makes a playlist and Ray makes his favorite Pasta Carbonara.
Ray is one who does most of the cooking and John handles the cocktails. So sweet!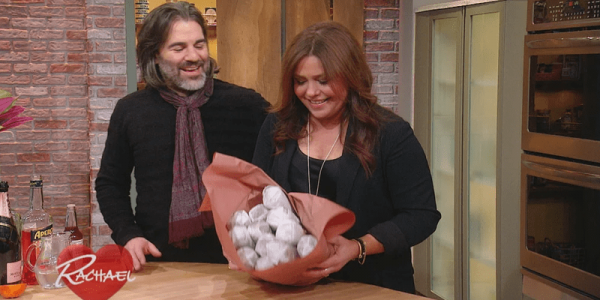 John Cusimano and wife Rachael Ray Celebrating Valentine in 2018.
Rumors of Divorce
Clearly, John and Rachael are having a great time and enjoying each other's company. In fact, there was a hoax regarding their divorce.  According to Daily Mail, in 2013, Rachael Ray's husband, John was constantly visiting Manhattan Swingers Club.
John was a frequent customer of Checkmate, a club which is a venue for a couple and single ladies only. Importantly, John was spotted six times in the New York club with different female other than her wife. This gave hints that John might be cheating his wife. But, it's not. They are celebrating every romantic moment together.
John Cusimano's wife clarified in an interview with People saying;
"I have known where he is every night since we've been married."
Ray's husband Cusimano also added that he loves to be in home after a hard and long day work and help cook dinner. He said that he is the happiest when he gets curled up in bed with his wife Rachael and their puppy.
Quick Facts on John and Rachael's Relationship
John and Ray got married in 2005 in Tuscan Castle, Italy.
These two sweethearts met at mutual friend's birthday party in 2001.
The lovey-dovey couple exchanged vows again in the wedding ceremony at the same place, Italy in their tenth anniversary.
After twelve years of marriage, the couple is still childless. Rachael Ray is not pregnant yet.
John believes Ray is the biggest fan of the band "The Cringe."
Stay with SuperbHub for more Entertainment and celebrity updates.