Rubina Satriani, born in 1955 is a Singaporean and the wife of Joe Satriani, one of world's most popular and commercially successful solo guitar performer.
Rubina Satriani and Joe Satriani first interacted through their mutual friends at a birthday party in the year 1979 in California. After being in touch with each other for a while and dating for two years, they reportedly decided to tie the knot in 1981. Their exact date of marriage hasn't been revealed.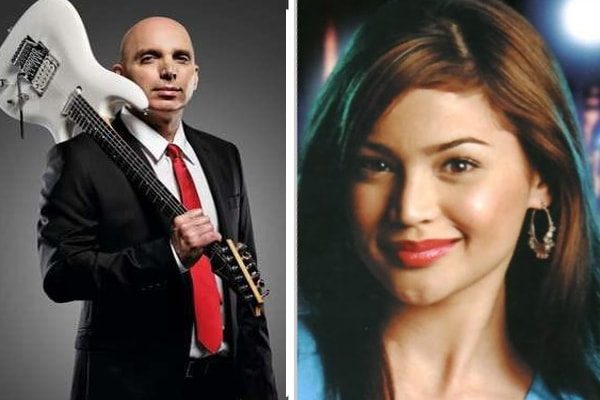 Joe and Rubina Satriani have been married for 38 years and still going strong. Image Source: Pinterest.

According to Straits Times, Joe Satriani fell in love with his partner Rubina at first sight. The pair have been married for 38 years with their relationship still going strong.
Joe Satriani's wife Rubina Satriani seems to be a fan of her husband's incredible music. She has been supporting him ever since they met. The amount of successful music that Joe has produced seems to have made their relationship even stronger.
Being a married couple, Joe and Rubina have been very loyal to each other. There have not been any rumors or fan theories about either of them being involved in any kind of love affairs, extramarital affairs or even any sort of rumors of divorce. Joe even has a song named Rubina dedicated to his pretty wife and is very popular.
Well as for Joe Satriani's wife Rubina Satriani, she is working and she does guitar paint jobs. Seems like Joe's incredible music may have played a big part for her being such a passionate professional.
Do The Couple Have Any Kids?
Over the course of their married life, the couple of Joe and Rubina became parents to their son Zachariah Zane Satriani (Z. Z. Satriani), who is currently 22 years old. He has immense respect for both his father and mother.
Zachariah occasionally tours with his dad so that he can learn and watch his dad perform on the stage. Apparently, Zachariah's name's short form has a hidden fact. Z.Zs song was played by Joe when Zachariah was in his mother's womb.
According to Phrydom, Rubina, Joe and their son Zachariah live in San Francisco, California.
Are The Pair Active On Social Media?
Among the three family members, it is Joe who seems to have the largest number of followers in his social media. Whereas, Rubina seems to be away from the media limelight.
View this post on Instagram
Having a small but popular family is a dream of every individual in the modern world. This Satriani family has set an example of being successful while avoiding public gazes as well.
For more Entertainment, Biography and Articles, stay tuned with Superbhub.