An ideal couple, Van Jones and Jana Carter are married for life. Jana Carter's husband Van Jones once proudly said that his wife holds the family fort in an interview with Oakland magazine.
Jana certainly has a significant role to play in his success and identity as a CNN news commentator, attorney, and author. The duo is blessed with two children and is living a pretty awesome married life.
Jones-Carter Marriage and Special Bond
Though the lovely pair hasn't shared their marriage date yet, we can still assume that they have been together and in love for long years.
We know that Jana Carter's husband, Jones is an American TV personality, a non-practicing attorney, political contributor, author, and co-founder of non-profit organizations like Dream Corps.
But, it's interesting to know that Jana Carter also comes from a political family and is the niece of James Earl "Jimmy" Carter Jr.(39th President of the United States). She has also served for Common Ground's USA Racial Healing Program as the Director of the search.
This shows that the pair certainly shares common grounds and interests making their bond and understanding stronger.
Jana and Jones are each other's support system in whatever they do.
In an interview with Oakland Magazine, Van Jones said that when he gets too busy in his work, away from home, his wife Jana handles everything. He said;
"My wife, Jana used to run marathons and climb mountains. She is a power tool kind of girl. Jana's very independent which actually makes it easier for her. She's very resourceful. She is not just sitting there waiting for me to fix the plumbing."
Jana also never fails to support her husband in whatever he does, speaks or stands for. She is active on twitter and her most tweets are related to her soul mate Van Jones.
Jones really feels proud to introduce his wives to his colleagues and renowned public figures. Whenever possible, Jana has been a part of her husband's achievements and they attend different parties and function together.
A post shared by Van Jones (@vanjones68) on
Jana and Van Jones's Children
Happily married, Jones couple is blessed with two cute children. Their first child, Mattai Jones, and second son, Cabral Jones.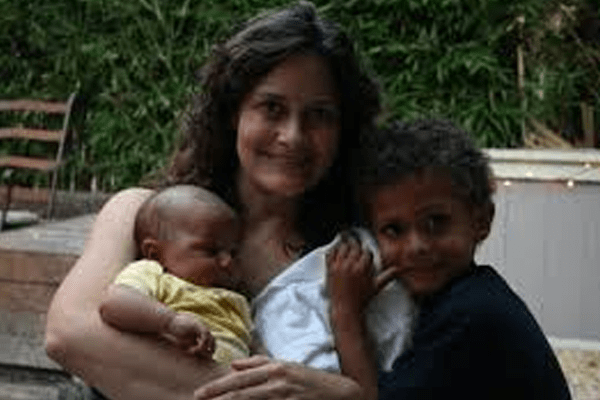 Jana Carter with their two children, Mattai and Cabral Jones.
Jana and Van Jones love their kids. Jana, a very caring mother is undoubtedly giving her full time and best care to her two boys.
Carter herself is one of the sixth children of father Billy Carter and mother Sybil Spires. She grew up with her five siblings. Jana thus certainly knows the value of a family and how to perfectly balance her home.
Jones too never fails to set his quality time aside to spend with his children. He believes in giving them best upbringing as his dad, Willie Jones did. In one of his posts, he has mentioned about his father saying;
Willie Jones was a good man, who fought segregation and pulled his entire family out of poverty. Our whole generation has gotten soft. Let's stand up, fight hard and make these guys proud. #resist #lovearmy
Little Van Jones looks like his dad just as Mattai has his father Van Jones's looks. Time flies but leaves such awesome memories!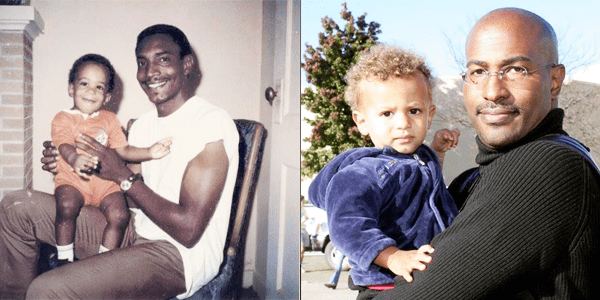 (Left) Little Van Jones with his father, Willie Jones and  Little Mattai Jones with dad Van Jones(Right).
Jana and Van Jones' eldest son Mattai is an incredible athlete, great basketball and baseball player. Van Jones is really proud of him and often expresses his pride by saying;
He is a scholar, an athlete, a musician and a gentleman. I couldn't ask for better kids, and I learn so much about life from these boys every day. #feelingblessed #prouddad
This post also shows that his first son might have born in the year 2006. He's already in his teens and probably will be 13 in 2018.
Jana Carter's husband is a loving father and adores his two sons a lot. He can't stop to share his feelings for them. For his littlest guy, Cabral Jones, he posted a sweet message in his Instagram.
The made in heaven couple is living a happy life with their children and there are no rumors regarding their separation or divorce. They are busy collecting best parenthood memories and thankful for everything they have.
God Bless the sweet family!
Jana Carter Related to Jimmy Carter?
People speculated that Jana might be related to a certain Jimmy Carter. Those people were not wrong as Jana happens to be the niece of former American president Jimmy Carter.
Jimmy Carter was the 39th president of the United States and was in office from 1977 and 1981. He also served in the navy for 18 years and was the recipient of the 2002 Nobel Peace Prize. At the age of 93, he is the longest-retired president of US to still be alive.
Quick facts on Van Jones 
Born on September 20, 1968, Van Jones graduated in law from Yale University.
He is also an actor and producer for CNN Newsroom (1989), The Messy Truth with Van Jones (2016) and 13th (2016)
Jones 's two books, The Green Collar Economy, 2008 and Rebuild the Dream, 2012 is the New York Times best-selling books.
Jones was named one of the Environmental Heroes in 2008 by Time magazine. By the end of the same year, he also won $100,000 National prize from The Nation Institute for creative citizenship.
He has founded social organizations including The Ella Baker Center for Human Rights, Color of Change, Rebuild the Dreams, and The Dream Corps.
He currently also serves as president of Magic Labs Media.
Jones resides in Los Angeles with his wife Jana Carter and two young children.
Webby Awards honored Van Jones with 2017 Special Achievement Award for his social media use during the election in 2016 and his video series, The Messy Truth.
Van Jones is famous for his election night coverage giving a very heartfelt speech. He has mentioned it has been hard to be a parent that night as the election results are not in favor of them. They are afraid of what would be the breakfast for their kids next morning and how will they explain that to them?

For more updates regarding Jana Carter's husband, children and other facts, keep in touch with SuperbHub.