James Spann, 61, is an AMS Certified Broadcast Meteorologist and host at ABC's Weather Brains. Emmy Award winner Spann is a married man and has two kids. James Spann's wife is Karen Spann. The lovely pair has two amazing sons; J.P Spann and Ryan Christopher Spann and even grandson, Kason Paul.
James Spann's Marriage to Karen Spann
It's been 36 years since their marriage and James and Karen seem inseparable couple. The duo became husband and wife after exchanging vows on June 6, 1981.
They are married for more than three decades now and they have known each other even before their wedding. They started as friends, became best friends and finally life partners. In her Instagram post, Karen wished her husband in his birthday addressing him as best friend and partner.
"Happy Birthday to my best friend and partner in crime."
James and Karen Spann long-term successful marriage prove that they are an ideal couple.
Together they have cherished every moment in their life and have supported each other. Chairman of Trinity Medical Centre, James Spann spent many years of his career in Birmingham's ABC 33/40 as a meteorologist. He is known to have done a lot more than just his job. James Spann weather live stream was most-watched in Alabama and everyone believed his words.
James Spann's wife, Karen Spann is a rush counselor and shared the similar efforts and beliefs towards her work as her husband.
The sweet-hearts faced every tornado and sunny moments in their life and also worked together to get blessings from the needy people.
For an instance, on April 27, 2011, tornadoes, Spann did his best to learn and implement the ways to provide warnings timely. And also things to do after the warning to the people in emergencies.  He also voiced his concern on his blog that generated a lot of traffics.
After four days of the tornado outbreak, James along with his fellow companion went to look if anyone needed help. He found Heather and Gary Adams with their nine children abandoned from their house due to the tornado.
James Spann's wife Karen did her best to help the Adams family to set up their temporary home by cleaning up the Airstream trailer. And James used his email list and weather blog requesting donations, volunteers, and supplies in order to build them a permanent home.
This power couple obviously has received many blessings and best wishes from their joint social efforts. Heather Adam also said;
"He's meant a lot to our family. Spanns to come out and help us, be our friens and spend so much time with our kids. It's been a blessing to us."
Likewise, James Spann's effort to aware of and inform people about the possible threat continues even today. He recently awarded people about the possible threat/ severe weather setup for Alabama on May 17 and the following week.
James also informed his followers about the end of risks of severe storms for the northern half of Alabama.
James Spann Birthday and Anniversary 
We know that James Spann and Karen married on June 6, 1981. Karen actually chose the marriage day on her husband's birthday. There's a reason behind it. She chose the day so that her husband James could never forget their anniversary. She's really a clever wife.
In their 36th anniversary, Karen shared a picture on Facebook. She wrote,
"He married me on his Birthday. I chose this knowing he'd never forget our anniversary .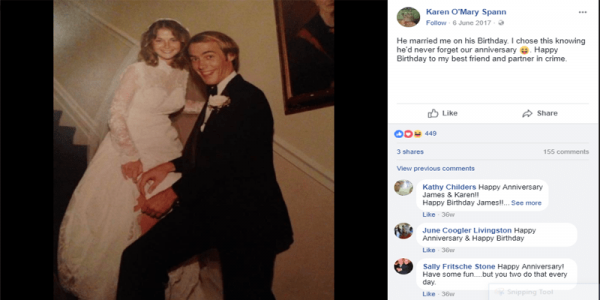 Groom James Spann with his bride Karen Spann on their wedding day.
Spann's Big Family With Kids and Grandkids
The Spann couple currently lives in Bermingham, Alabama. They are very close with their kids and spend a lot of time together. They are proud parents of James Paul Spann, 33, and Ryan Christopher Spann, 20.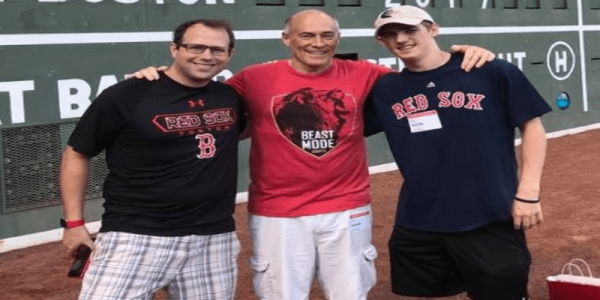 James Spann with elder son, James Paul and youngest son Ryan Christoper Spann.
Also read: James Spann's net worth
Now, the duo is even blessed with a grandkid. Their eldest son James Paul became a father on July 1, 2013.  Being a grandparent is a real happiness. And James and Karen live the joy by often spending their time with their grandchild, Kason Paul.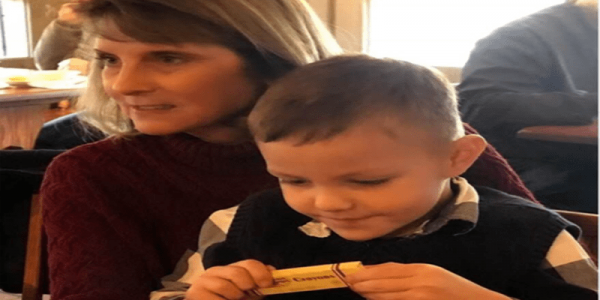 James Spann's wife Karen Spann with her grandchild, Kason.
A Tornado damaged James Spann's House & His Wife Is Safe
A deadly tornado striking Alabama hit James Spann's house on Thursday. He was live on television.
Thus, Spann took a moment to text his wife to make sure she's fine in the shelter. Furthermore, the Emmy-winning weatherman rejoined the broadcast after 15 minutes and continued the show.
Spann revealed that his house had major damage and assured that his wife was okay. Moreover, he took to Facebook to share the loss and captioned, "My wife was home when it hit, but she got the warning, was in our in-home shelter and is fine."
Spann continued, "while we lost many trees, the home is intact, and we will not have to 'rebuild." He managed to gain his fans' admiration yet again as he took care of his family and continued the show for hours to inform the community.
Quick facts on James Spann's Wife and Marriage
Currently, James and Karen live in Bermingham, Alabama.
Active in the field since 1978, James Spann is still currently working for Birmingham's ABC affiliate, WBMA-LD (ABC 33/40).
The couple became soulmate on June 6, 1981. And, it was James birthday too.
James and Karen are grandparents of a grandson, Kason Paul Spann.
Whenever James is free from work, he likes to spend his time with his wife, son, and grandson. Also, he utilizes his spare time he enjoys amateur as his hobby.
Leigh Spann, WFLA meteorologist is often linked with James Spann. People believe that they are somehow related. But the truth is they are not.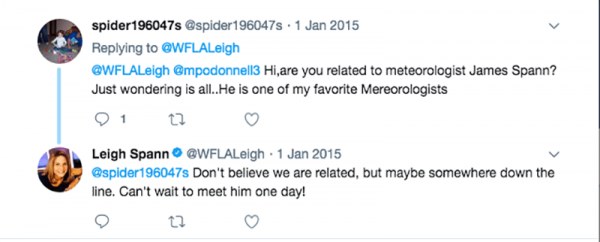 Stay updated with us on SuperbHub for more entertainment.