There is no other man who would rock the stage with his guitar, make audiences flip with laughter than Jack Black. The Jumanji: Welcome to the Jungle star is not just an actor but a singer, songwriter, and comedian. With all the grindings, Jack Black's net worth has escalated to $30 million today.
So, what made the chubby brown man become this successful, let's get to know in this article.
Jack Black Net Worth and Earnings
Although it took 15 years after the graduation to approach his wife, Tanya Haden, Jack Black's net worth did not shy away to escalate quickly. Since the debut day, Black has been grinding and winning in his career as an actor and singer.
It is because of the continuous effort that has led Jack Black's net worth to reach $30 million. Black's journey to television started at the age of 13 in 1982 from a television commercial for the game Pitfall. Gradually, he landed on small roles on prime time television shows as Life Goes on, Mr. Show, The X-Files, etc.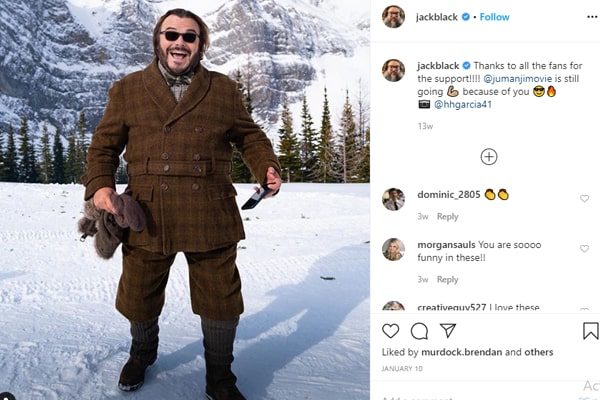 Jack Black's net worth grew steadily with his career. Image Source: Black's Instagram.
Slowly but steadily, Black's career in Hollywood began growing as he co-starred in the film High Fidelity in the 2000s as John Cusack. "John Cusack" is considered to be his breakthrough role as he began doing leading roles in films such as Year One, Gulliver's Travels, Nacho Libre, etc. According to Jack Black's IMDb, he has more than a hundred movie credits, which include The House with a Clock in Its Walls, The D Train, Bernie, etc.
Few of Jack Black's movies are listed below with their box office collection:
| Name Of The Movie | Budget | Box Office Collection | IMDb Rating |
| --- | --- | --- | --- |
| Jumanji: The Next Level | $125,000,000 | $796,575,993 | 6.7 |
| The House with a Clock in Its Walls | $42,000,000 | $131,457,147 | 6.0 |
| Jumanji: Welcome to the Jungle | $90,000,000 | $962,102,237 | 6.9 |
| Gulliver's Travels | $112,000,000 | $237,382,724 | 4.9 |
| The Holiday | $85,000,000 | $205,841,885 | 6.9 |
| School of Rock | $35,000,000 | $131,095,614 | 7.1 |
| Shallow Hal | $40,000,000 | $141,069,860 | 5.9 |
| Saving Silverman | $22,000,000 | $26,086,706 | 5.9 |
| High Fidelity | $30,000,000 | $47,126,295 | 7.5 |
| The Cable Guy | $47,000,000 | $102,825,796 | 6.1 |
Besides being on a big screen, Jack Black is also seen in the television series such as Mr. Show with Bob and David, The Brink, Great Minds with Dan Harmon, The Last Man on Earth, Drunk History, Metalocalypse, etc. Likewise, Jack has voiced some great characters in anime movies like Broken Age, Metalocalypse, Kung Fu Panda franchise, Goosebumps, Brokerage, Brütal Legend, and more. 
Thus, seeing all the movie credits Jack Black has owned, his primary income source is acting. However, there are more than acting to make him a multimillionaire.
Jack Black's Earnings From Musical Career
Besides Jack Black's blooming career as an actor, he is a successful musician as well. He is the lead singer and guitarist for the hard rock band, Tenacious D along with Kyle Glass. The metal band has released four albums titled self-titled debut, The Pick of Destiny, Rize of the Fenix, and Post Apocalypto.
The albums and tours have helped Jack Black's fortune a great deal. Furthermore, Jack Black's band, Tenacious D, helped the United Mitochondrial Disease Foundation to raise awareness of the diseases. Similarly, they funded the organization in LA in December 2001. Black also appeared on The Ellen DeGeneres Show called "Ellen the Musical" alongside Kristin Chenoweth and Olivia Olson.
Moreover, Jack Black has also appeared on Dave Grohl's Probot album, providing vocals for the hidden song, 'I Am The Warlock.' He has assisted many singers in their records and thus proved his musical abilities. The satirical nature of their music has been entertaining audiences since 1994. Therefore it has supported Jack Black's net worth as well.
Income From YouTube
Jack Black has started his own YouTube channel that aids a very tiny fraction of his wealth. Since the channel named "JablinskiGames" was launched in 2018, the yearly income from the videos is estimated somewhere between $26.5K – $423.6K, which is kind of significant.
Jack Black's YouTube channel features him and his random yet funny activities for the world to see. Since YouTube is all about approaching the fans and getting in touch, Black's motive could mean the same. Let's hope he benefits both financially and emotionally from YouTube.
Jack Black's House
We are at the constant race of being satisfied with everything, retiring and living in peace surrounded by our beloved. Maybe the "providing" instinct is one of many reasons a person thrives on earning while doing what they love. A similar case relates to stars with regular people as a home is a significant purchase.
Jack Black has proven to have keen eyes for some edible estates and made profits out of it. According to the Los Angeles Times, Jack bought a house for $5,965,000. The house originally belonged to Red Hot Chilli Peppers bassist, Michael Balzary, who had purchased the home for $3.85 million in 2008.
The two-story 1915 house stands as more than half an acre was renovated by Flea and added a Topanga Canyon ambiance. According to Variety, Jack Black had listed his Beachwood Canyon house for $1,699,000. The residence has three bedrooms, three bathrooms, a pool-sized yard, and many more.
As of now, the King Kong star, Jack Black, is at the peak of his life as he is the father of two young boys, Samuel Jason Black, and Thomas David Black, with the love of his Life, Tanya Haden. Let's hope Black's net worth continues to flourish along with his career in the future, along with his polished reputation.
Don't Miss To Follow SuperbHub For More Updates On Celebrity Entertainment, Biography, and News.