Feelings don't come with a validity card, nor is it fluid.  Emotions flow in whatever directions. Thus, alienating a relationship that involved a perfectly abled and disabled individual is absurd.
Famous YouTuber, Shane Burcaw, and Hannah Aylward go through such absurdity now and then. Shane Burcaw, who was diagnosed with spinal muscular atrophy as an infant, has been romantically involved with high school graduate, Hannah since 2015. Let's get to know more about the interabled couple more.
Who Are Shane Burcaw And Hannah Aylward?
Shane Burcaw and Hannah Aylward is a beautiful couple who came together through the internet. Born on May 28, 1992, Burcaw was diagnosed with spinal muscular atrophy (SMA) as an infant and is wheelchair-bound since. Hannah Aylward's boyfriend is a fantastic writer who has written about living with the disease, SMA. His optimistic nature and humorous character have earned him fame among youths.
After diagnosed with SMA, the talented, Shane Burcaw was wheel-chair bound. Image Source: Jeremy Cohen.
Shane is also an author who has published a commercially successful and critically acclaimed book named, Laughing at My Nightmare, in October 2014. Similarly, he has also published a few other books called Strangers Assume My Girlfriend Is My Nurse in 2019 and Not So Different: What You Really Want to Ask About Having a Disability in 2017. Besides books, Hannah Aylward's to-be husband runs an excellent blog.
Likewise, Shane Burcaw's girlfriend, Hannah Aylward, is a social personality with a gorgeous face. Hannah Aylward graduated from a college in Minnesota, and Shane was there to accompany her in her happy moments.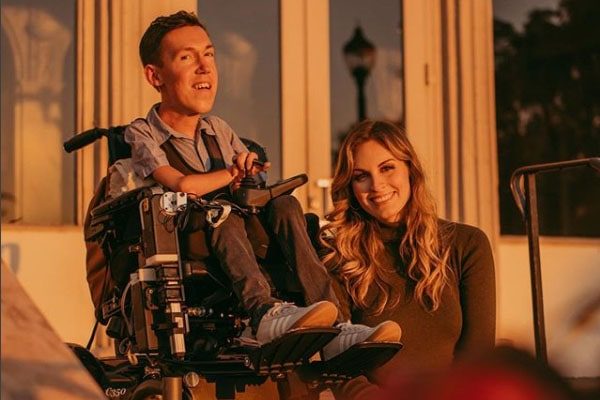 The couple stood firmly for one another during their hard times. Image Source: Hannah's Instagram.
Aforementioned, the couple met through an online service, and thus, they started talking to one another via video calls. The fated couple began dating in 2015 and has been sharing their romance through YouTube videos. Shane Burcaw's relationship with Hannah Aylward is beyond precious and is just a pair of humble people.
Shane Burcaw's relationship with Hannah Aylward
Disability does not mean you cannot date anyone or have desires. S/he is human and needs affection, love, and care. Thus, to remove the misunderstanding regarding the romantic life of a disabled person, the thoughtful couple started their channel called Squirmy and Grubs.
Although the interabled relationship started via the internet, they introduced their parents. In fact, during their first Q&A, the couple revealed that Shane loved Hanna's parents' company and vice versa. Through their media presence, it was very evident that the couple were indeed in love with one another and were in a mission to abolish the misconception in society.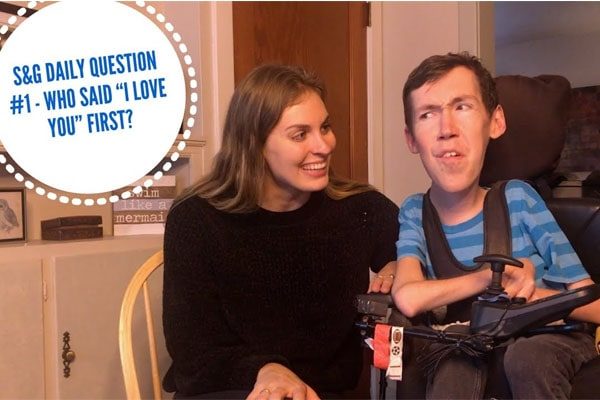 The beautiful interabled couple, Shane and Hannah share their experience on their channel. Image Source: Squirmy and Grubs/ YouTube.
Moreover, the couple is misinterpreted as a mother-child or siblings. According to Daily Mail, a man in a beer shop mistook Shane for her baby and asked if she wanted a lollipop for him. Shane's girlfriend was dumbfounded.
Hannah continues that these kinds of things happen with them constantly, which is not a matter of sadness but frustration. Despite receiving the negativity and passing across the judgemental eyes, the couple is firm. Furthermore, the couple travels around the globe together.
Shane's girlfriend even designed a particular car for him so that he could travel with her wherever and whenever. "Through thick and thin," this couple suits the quote as the couple have been through some serious times and has stuck to one another very closely.
Furthermore, the couple got engaged to be married soon. Shane announced the proposal through their YouTube channel on June 16, 2019. The couple looked exceedingly happy together and are excited for their wedding coming spring. Likewise, they also plan to have their own family one day. Blessings and blossoms are all we want for the adorable couple.
Motive Of The Channel And Harsh Comments
Because people are not used to seeing kindness, seeing a genuine relationship and understanding makes them scream "judgments." Also, considering them "unique" or "special" only makes the situation worse. Thus, the adventurous couple, Shane and Hannah, aka, Squirmy, and Grubs, are determined to change people's perspectives on how they see interabled relationships.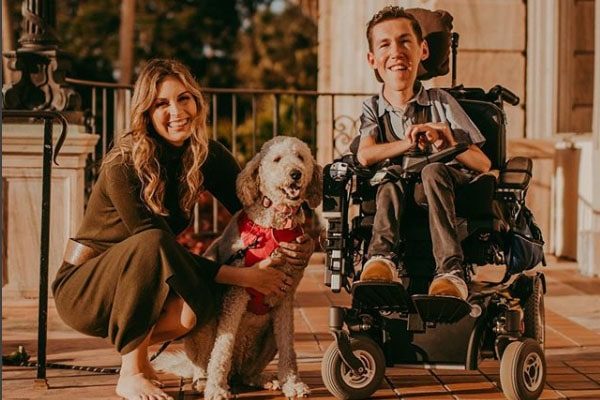 The couple, despite being interabled, is perfectly normal. Image Source: Hannah's Instagram. 
Shane Burcaw did not let the disease have control over his life and thus found refugee in comedy. He sought for love and a loving partner. The widely-spread misconception made Shane's partner Hannah become his caretaker, nurse, or siblings in front of people's eyes.
Because of the widespread misconceptions about disability, people tend to see Hannah's boyfriend, Shane, as someone who could not possibly be involved in a romantic relationship. The mindset that forces a person sitting next to a disabled person becomes a nurse is a disability itself.
Therefore, they decided to launch their YouTube, Squirmy, and Grubs in 2018. The beautiful couple has been sharing their undeniable chemistry and is answering as many queries. Many people find the couple adorable, but few would despise Hannah for choosing a disabled man over any abled man.
View this post on Instagram
Despite many positive responses and respectful words, few exist who'd accuse Hannah of being pretentious and asking her "creepy" questions. Shane has taken the rage from YouTube to Instagram and displayed how cruel people can be regarding a strangers' relationship.
Though Shane may need some extra assistance, the love between the two is just undeniable and are truly magical together. And, we hope to hear the news of the lovely pair of Shane Burcaw and Hannah Aylward getting married soon.
Don't Miss To Follow SuperbHub For More Updates On Celebrity News, Entertainment, and Biography.