Who does not know about the shirtless wonder and the wild nature of the punk rock world? Iggy Pop's lewd controversies are all over. Besides, he managed to win the heart of millions and had numerous relationships.
Iggy was blessed with son Eric Benson from his relationship with Paulette Benson. To know more about who Iggy Pop's son is, let's roll down.
Son of Outrageous Performer, Iggy Pop
Iggy Pop has a son with Paulette Benson namely, Eric Benson. Eric was born in 1970 when Iggy was only in his early 20s. There's not much about his childhood despite the fact that Iggy Pop's son went to his concert as a kid.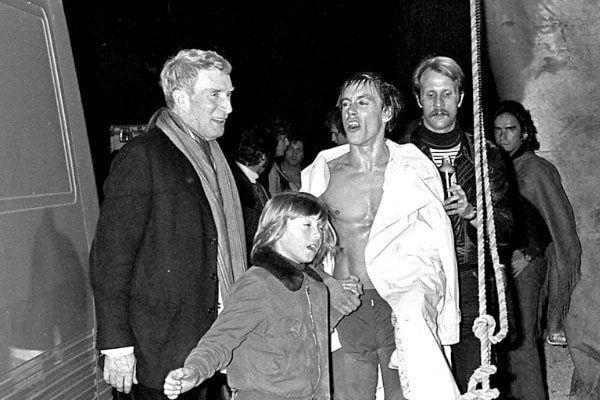 Eric Benson's father, Iggy Pop performed on many big stages and Eric witnessed the madness during his toddler years. Image Source: Pinterest.
Because Iggy was completely soaked in addiction, glamour, and sex, he did not think of the consequences and tagged son, Eric into addiction, who was barely a teen. Later, the father-son duo had few rocky years.
Eric Benson has chosen to live his life out of the spotlight. However, he's seen crashing into some public events in the last couple of years along with his wife.
Pop's Son Is A Married Man
Unlike Iggy Pop, his son has maintained a pretty low-profile about himself and his private matters. Despite that, he's seen in a few events with his wife, Sandrina Koemm Benson. Iggy Pop's daughter-in-law is an editor in chief at LeaflyDE.
The couple was also spotted together at the birthday party of Iggy Pop at Kino Intl on April 20, 2017. Sandrina lets us peek into her life with her husband or Iggy Pop's son through her Instagram posts.
View this post on Instagram
The duo travels a lot and shares a lot of good memories. No trace of a baby is evident on her Instagram, but according to The Guardian, the couple has a baby girl.
Eric's father Iggy Pop has married three times. His first wife was Wendy Weissberg. He then went on to marry Suchi Asano with whom he was married from 1984 to 1999. And currently, Iggy is enjoying his life with his beautiful wife Nina Alu.
Father-Son Relationship
Iggy's son seems to have grown up along with his father. Thus, both of them have a pretty good relationship with one another. Despite there's very little about Eric, he enjoyed a good family environment and maintained a sound relationship with his parents.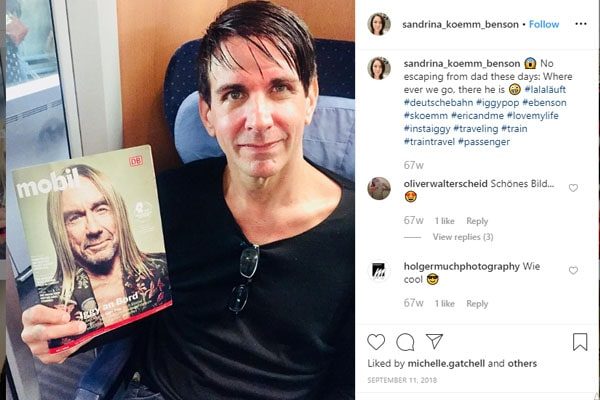 Like father, like son. Image Source: Instagram. 
Eric Benson is away from social media and is leading a simple, silent life with his family. It's nerve-wracking to see how similar Iggy and Eric look. Let's hope Eric comes out in public with a little more of him and let people know about his whereabouts.
Make Sure To Follow SuperbHub For More Updates On Celebrity News, Entertainment, and Biography.