Crazy Rich Asian's actor Henry Golding has also got several tattoos on his body. Like other film stars, he also loves to paint his body with unique symbols and traditional tattoos.
Henry Golding is an English-Malaysian actor, model, and TV host. He is best known for his work as Nick Young in Crazy Rich Asians alongside Constance Wu. Here are Henry's tattoos along with their meaning.
Henry Golding's Tattoos
Tattoos are a badass instrument of self-expression and passion. Although tattoos are gaining acceptance in mainstream culture, however,  it is still rare to see the actors with tattoos.
View this post on Instagram

But Henry Golding is not one of them, he has got several tattoos which he got throughout his career. He has different taste and way of receiving a tattoo on a body as he has got his first tattoo in the traditional way.
Firts Tattoo on Right Arm
Henry Golding got his first tattoo on his right arm. The tattoo on his right arm is on Iban and was designed by his father which is translated as" Child of Sarawak, Son of Margaret and Clive. " He received that tattoo in traditional hand-tapped bejailai tattoo by Ernesto Kalum of Borneo headhunters.
Other Tattoos
Besides that, Henry Golding also has a tattoo of eggplant flowers on his shoulders. The flowers on his shoulders seem like blooming just from his shoulders. However, he hasn't revealed the meaning behind those tattoos. He also has got another tattoo of a bird flying on his right arm. It seems he is obsessed with birds and wants to be free as they fly freely in the sky.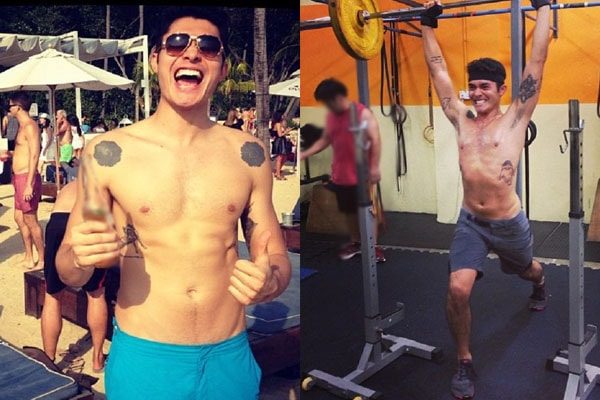 Henry Golding has got several tattoos on his body. Picture source:  Netshark.
Henry Golding has got another tattoo of an ancient soldier carrying a watch on his left arm. This tattoo must have hidden meaning but he hasn't revealed yet. He also has got another tattoo on his left upper waist and right upper waist. Every single tattoo must have got a special meaning for Henry.
For more News, Biography, and Entertainment keep in touch with us on SuperbHub.