Television producer and Author, Josh Gates is currently unraveling history on his adventurous show Expedition Unknown.  While busy at work in his former show, Destination Truth, Josh Gates heart fell on his co-star Hallie. Josh Gates marriage to Hallie Gnatovic took place in 2014, after building the foundation of their relationship for five years. The couple is blessed with a son Owen.
Josh Gates Marriage to Hallie Gnatovic
Around 2007, Josh Gates and Hallie met on the reality T.V. show Destination Truth. Josh hosted the show and Hallie was the researcher. Josh and Hallie worked there for five years. Meeting and working every day, they fell in love and started dating.
The couple took their relationship to the next level and exchanged their vows on September 13, 2014. Josh Gates marriage to Hallie Gnatovic was a private ceremony in a Hidden Pond resort in Kennebunkport, Maine.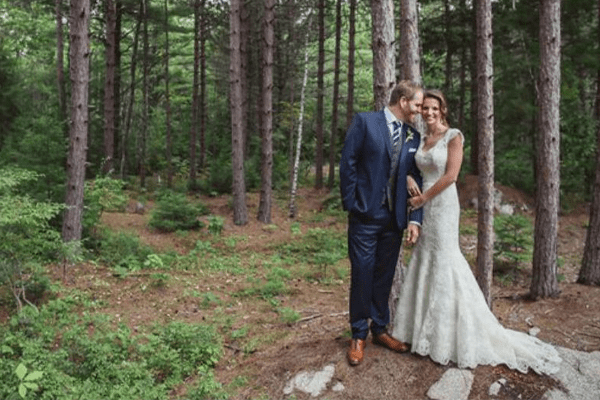 Groom Josh Gates and Bride Hallie Gnatovic wedding in Kennebunkport, Maine
Image Source: lockerdome
Welcomed their Son Owen in 2016
Within a year of Josh Gates marriage to Hallie, the couple was blessed with a son on February 12, 2016.
Josh was filming an episode of Expedition Unknown when he heard the news of becoming a father. Hallie contacted him via a satellite phone to tell him the good news, while his camera crew was still filming.
It became sensational and happy news to all Gates fans as the recorded phone call also aired on December 2, 2015. It was the episode of Christopher Columbus on Expedition Unknown.
After completion of the show, Josh became quite emotional and had shared the good news with his production crew. Josh Gates son, Little Owen was born on February 12, 2016. Hallie tweeted thanking everyone who gave the warm wishes.
Josh Gates son arrival made the Gates family complete and happy. Josh definitely looks very glad and proud to be a father in the picture.
His little explorer might really have looked adorable in that tiny shirt.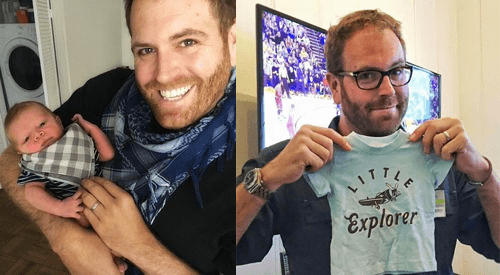 Josh Gates son Owen; Little Explorer
Little Owen is growing day by day and loves watching Astronauts on Space Station. The little boy will soon follow his dad's adventures and continue the legacy.
Currently, Hallie Gnatovic works as a therapist while Josh continues exploring and unraveling archaeological remains and ancient history. Despite his busy and hectic time schedules, he spends quality time with his family.
On February 19, 2017, the couple had enjoyed their boarding on The Pan Am Experience, Josh was relentlessly trying to recreate an authentic 1970s flight by holding a cigarette with his wife Hallie.