Arejay Hale is the drummer and percussionist of the popular band, Halestorm. He was born in 1986 in Philadelphia Pennsylvania. Hale's interest in music became active when he was only three. And he continues to pursue his career in music with the band Halestorm.
Arejay has a sister named Lzzy Hale. Lzzy is also the singer and guitarist of the band Halestorm. The siblings published their first EP, Don't mess with the time man,  when Arejay was eleven and Lzzy was Fifteen. They grew up in Red Lion, York County, Pennsylvania. Roger Hale, Arejay Hale's father was Halestorm's original bassist.
Arejay Hale's Career
Besides being a drummer and a percussionist, Arejay Hale has been strengthening his skills of songwriting and singing as well. Plus, the drummer has often expressed his interest in film, TV and theatre acting. But due to his busy career and constant demand in music, he seems to have found it difficult to involve himself in music and acting at the same time.
Regardless of the difficulty, Arejay is still pursuing acting after moving to Los Angeles in 2012. He has been studying courses in drama, comedy, character development, live theatre, musical and script writing.
Arejay Hale's band, Halestorm has been a successful one since its formation. The band was formed in 1997. In 2013, the band won a Grammy for the 2012 single "Love Bites (So Do I)".  Hale himself won a Revolver Golden God award in 2013.
Arejay Hale's net worth is estimated to be at $1.2 million. He earns his fortune from his career as a professional drummer. He is constantly traveling places in order to perform in different concerts and events. Alongside his stylish lifestyle, he also loves traveling.
Relationships and Family
Arejay Hale was born to parents Beth Hale and Roger Hale. As mentioned above, Arejay's father, Roger Hale, was the original bassist of the band, Halestorm. Arejay's elder sister, Lzzy Hale is the guitarist and the singer of the same band.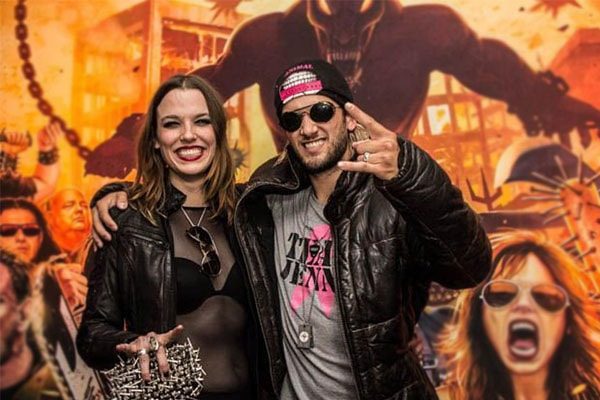 Arejay Hale with his sister Lzzy Hale, Image Source: Loudwire.
As for his relationship status, Arejay Hale is married to his beautiful wife Jessie Covets. They have been married since 2014. Arejay Hale's wife Jessie Covets is a pop singer.
Going through her Pinterest account, it seems that she likes different makeup styles. She also posts about Arejay. She even has a board named My boyfriend is better than yours.

Arejay and Jessie have been in a marital relationship for quite some time now, they are yet to have a child of their own.
For more Entertainment, Biography and Articles, stay tuned with Superbhub.