Do forever really exist, or is it just a word made to make the concept of love endurable? Whatever it is, forever for the majority is just a concept. Thus the majority include Gretchen Rossi and her relationship with ex-husband Chris Rossi. The RHOC star, Gretchen Rossi, is a gorgeous woman enjoying her motherhood at her 40s.
Let's get to know who Gretchen Rossi's husband for 3 years, Chris Rossi, in detail further below.
Who Is Gretchen Rossi's Ex-Husband, Chris Rossi?
Marriage is a life-long deal two people sign on to spend their whole life together. However, as mentioned above, eternity can only remain a concept to few and end up separating. Similar is the marital relationship between Gretchen and her husband of three years, Chris Rossi.
Gretchen Rossi's ex-husband, Chris Rossi, has always remained a secretive person and prefers his life away from the limelight. However, Rossi's ex-husband is a Hollywood screenwriter and producer and occasionally comes forth the camera.
According to Rossi's IMDb, he has five acting credits, and three writer and producer credits. The most notable works of Gretchen Rossi's former partner is Meadowland starring Olivia Wilde, Luke Wilson, Elisabeth Moss, and Giovanni Ribisi. Reed Morano directed the blockbuster movie.
Beside Meadowland, Chris Ross has developed and sold movies and tv scripts for several leading producers in Hollywood. Furthermore, he was selected to the Young and Hungry List of the industry's top new screenwriters in 2012.
Chris Rossi's latest projects include 'The Lights,' Squatters, Adolescence, Exhaust, and Goodnight. Moreover, according to his Linkedin, it reveals that he has also started a career as a screenwriting instructor/mentor. The brilliant writer collected his skills from his wording skills from Cornell University. He graduated in English from the university.
Is Gretchen Rossi's Ex-Husband Married?
Well, the person you've been might not be the missing puzzle, and thus you just need to find the one to be fulfilled and create the forever. Chris Rossi found his zing after his separation from The Real Housewives of Orange County, star, Gretchen Rossi.
Chris Rossi, aka Christopher Rossi, found the love he sought for in Quantico star, Anna Khaja. According to Khaja's IMDb, the couple has been married since 2006 and in love with one another. Chris Rossi's wife, Anna, is an actress known for her role as Rachel in Silicon Valley, Quantico, Yes Man, and many more.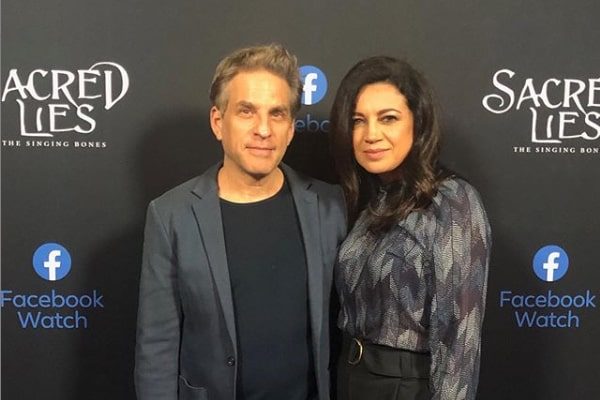 The couple has been married for more than a decade and still shares a passion for one another. Image Source: Khaja's Instagram. 
Anna has more than 60 acting credits in IMDb and has many halted projects. Unlike Rossi's previous marriage, the couple does not shy away from showing off their love for one another via social media. Interestingly, Chriss Rossi's wife is half-Pakistani and a powerful woman.
Even after years of being together, the couple still enjoys their time together and has great respect for the sacrifices that they chose to make their careers. Furthermore, in an interview with Celebuzz, she told that Chris being married to an actress might have helped him become a better writer.
Chris Rossi's Relationship With Gretchen Rossi
Before finding Chris Rossi's love of his life, he was married to the reality tv star, Gretchen Rossi. The couple was married from 2004 to 2007 before Gretchen decided to step in the reality television show's world. Although they had spent their time together sharing love and memories, the pair had to fall apart to lead a successful life of their own.
Thus, Chris and Gretchen divorced in 2007 and began their ideal life with their respective partner. Gretchen went on to the show with late fiance, Jeff Beitzel. Unfortunately, he couldn't be the part of the show and be with Gretchen for long.
A few controversies surrounded Gretchen Rossi throughout her RHOC career. As of now, she has been in a relationship with Slade Smiley for more than a decade. Moreover, the couple even welcomed their first child, Skylar Gray, honoring Smiley's cancer-stricken son Grayson Smiley.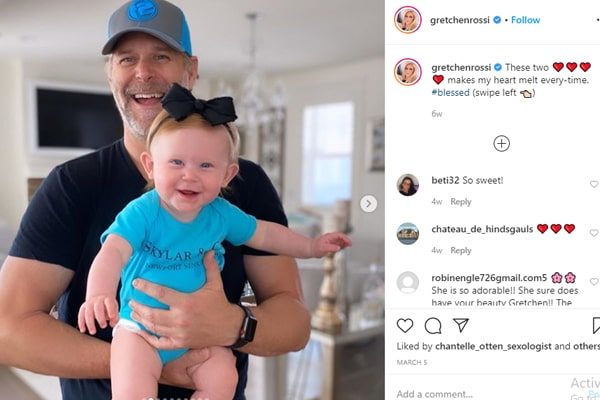 The couple welcomed their baby in 2019 and are enjoying their life. Image Source: Gretchen Rossi's Instagram. 
Despite having a child together, the couple is proving that labeling a relationship is not necessary, and you can enjoy your relationship without bondage.
Although Gretchen and Chris went their separate ways, both of them are happy and striving. That's all that matters, isn't it? Let's hope everything goes well, and they remain comfortable in their individual lives.
Don't Miss To Follow SuperbHub For More Updates On Celebrity Entertainment, Biography, and News.