George Foreman is a successful boxer later turned entrepreneur is considered one of the wealthiest boxer in the history of professional boxing. George Foreman's net worth is $300 million. Well, if we are not mistaken then Floyd Mayweather is possibly the richest boxer in the world with his estimated net worth of $560 million.
The former boxer, George Foreman earns such a massive fortune from his career as a boxer, author, and entrepreneur. Foreman was a spokesperson for Salton Inc for the company's fat reducing grill machine. His namesake product, George Foreman Lean Mean Fat-Reducing Grilling Machine went to sell over 100 million units and proved a commercial success in the market.
Keeping the talks of money aside, George Foreman had to lose his daughter Freeda Foreman after she committed suicide.
Net Worth and Earnings
As mentioned above, George Foreman's net worth is at $300 million. By the 1980s the talented boxer, Foreman had already earned $5 million through his boxing career. But unfortunately, George's net worth of $5 million was lost due to his lousy investment and his extravagant lifestyle. George had to return to the boxing arena to support his family.
However, his luck of ill financial problem came to a halt when Salton Inc. now known as Russell Hobbs Inc. approached him. Salton Inc. is a company specializing in manufacturing home appliances. Being the brand ambassador of the company prove to be a beneficial move to both the company and Foreman as George Foreman Grill became a household name in home appliances throughout the world.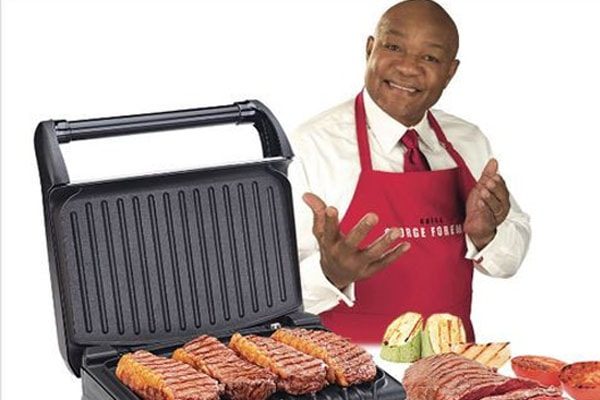 George Foreman earned more than $200 million from endorsing George Foreman Grill. Image Source: Medium.
The exact amount of George Foreman's salary from endorsing George Foreman Gill is not revealed. However, according to several reliable sources, the company paid him $138 million in 1999 for the right uses of his name. Before that, Foreman received a 40% profit for each grill which was sold at the market. Then later on as the grill's sales increased, Foreman went to receive $4.5 million per month in payout in its peak selling time. So, it is estimated that Foreman has obtained more than $200 million from the endorsement.
Following the financial success, Foreman experienced from George Foreman Grill, he got an endorsement deal from InventHelp, a company behind INPEX, American's largest invention show.
Earnings From Book
In addition, George's other source of income comes from the books he has published. The books vary in their genres from the motivational self-help books, autobiography to cookbooks which also includes recipes to use the George Foreman Grill.
View this post on Instagram
Nevertheless, George enjoys a lavish lifestyle thanks to his net worth of $300 million.
SuperbHub for more News and Entertainment