Frances Conroy, 64, is a famous actress known for her exceptional acting in TV series Six Feet Under.  Conroy had to struggle a lot for her career. During her struggle, in 1992, she met her fellow actor Jan Munroe. Later, the meeting turned to dating and the duo was in love. Finally, they got married. Conroy and Munroe tied their knot in 1992.
Amazingly, it has been 26 years of their marriage and still, they show same solid bonding in their relationship. Frances Conroy's husband, Jan Munroe is a famous actor known for the role in Catch Me If You Can.
Read: Frances Conroy Eyes damaged in an Accident
Frances Conroy's husband, Jan Munroe, and Conroy are still lovely as a pair and they often visit award shows, social events together.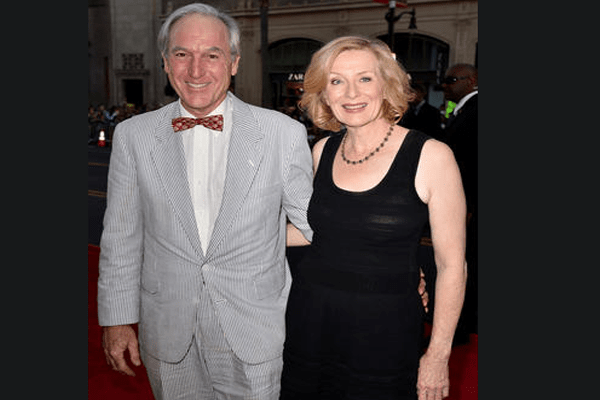 Frances Conroy's husband, Jan Munroe and Conroy at American Horror Story Season 4 premiere.
Image Source- CBS News
Conroy and Munroe Have No Children
Frances and Jan Munroe don't have kids together.
Although Conroy and Munroe do not have children, they celebrate and contribute to each other's life. Unlike, they don't even seem depressed for not having kids.
People frequently ask her questions about being childless. In 2003, in an interview with News Week, she said,
"Everyone's been a mother to someone. I was my mother's mother at one point"
Conroy's mother suffered from dementia before she died in 1997. Conroy looked after her mom for long like a mother.
She said,
I wasn't dealing with a child growing up, learning to walk. I was dealing with someone learning how to do new things. I remember putting her on the subway and I said, OK, Mom, what are you going to do? You're going to call me when you get home, right? You're going to unlock the door, and then you're going to go in and call me.
She laughed and said:
We had a system, and it worked pretty well. She was my baby doll.
Whatever the reason be for not having kids, Frances Conroy's husband, Jan Munroe has always been supportive of her.
Also, Frances never misses a chance to praise her husband. Here is the video of award show where Frances Conroy is awarded by Best Actress in  TV series Drama. Conroy beautifully acknowledged her husband Jan Munroe while giving the speech after receiving the award.
She said,
Thanks to my husband Jan Munroe whom I love with all my heart.
Currently, Frances is living together with husband, Jan Munroe in Los Angeles, California.
Quick Facts on Frances Conroy and Jan Munroe
Frances Conroy and Jan Munroe are now married for 26 years and they do not have any children together.
Before marrying with Jan Munroe, she was already married to Jonathan Frust.
Frances Conroy says, someone has to be a mother of someone and she was her mother's mother.
Frances Conroy's husband, Jan Munroe is a famous face from the movie Catch Me If You Can and Poseidon.
For More Entertainment Updates, be with us on SuperbHub.