Passion, hard work, and dedication are the words to worship if one wants to gain success. Australian personal trainer and author, Kayla Itsines and her partner, Tobi Pearce, has proven it to be true. A distant dream of becoming a millionaire one day came true only because the duo had the patience and was dedicated.
Today, Kayla Itsines' net worth combined with her fiance, Tobi, is $486 million. The recently engaged couple is a happy couple with the same goal. Let's dig in more about how Kayla Itsines's net worth managed to escalate at once.
Kayla Itsines' Earnings Alongside Her Partner
Kayla Itsines was an athlete as a child and was fascinated by the healthy living. Today, at just 28 years old, Itsines is an app owner, is an author, and has a wide range of workout merchandise. Furthermore, all these contribute to Kayla Itsines' net worth significantly.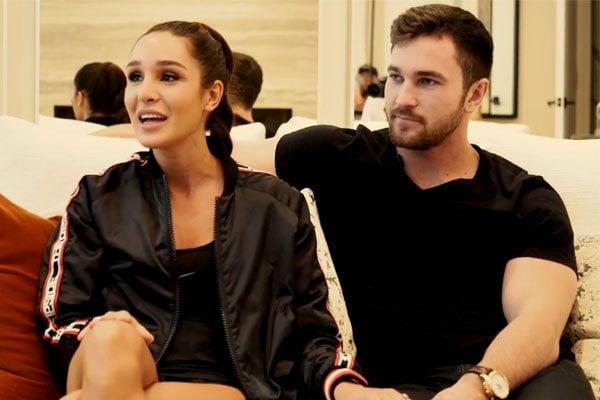 Kayla has managed to carve her name in Forbes and became the most influential person at such a young age. Image Source: Entrepreneur.
Kayla Itsines met the love of her life, Tobi Pearce, in 2012. Both the partners shared the same dream and were ready to work for their passion. Thus, "BBG- Bikini Body Guide," a 12-week fitness program, was born. The couple worked together with sheer dedication and made the program a huge success.
With the increasing fame and Kayla Itsines' massive 12.5 million followers on Instagram makes her legible for huge endorsements. Moreover, she can charge up to $150,000 per Instagram post. Likewise, following the success, the 2018 Financial Review Young Rich List revealed that Kayla and Tobi Pearce's entire net worth is $486 million.
Key to Kayla Itsines' Key To Enormous Success
As Kayla Itsines' company grew, her ideas manifested in different directions. She realized that her followers are from different corners of the world and decided to launch a fitness app called SWEAT in 2015 alongside her to-be husband, Tobi.
SWEAT became a huge success and made a whopping $77 million in 2018. The app also came with a meal plan, and the app is meant to replace a monthly gym. Furthermore, it is an excellent app that offers content that provides fitness insights. Additionally, their target is women mainly in their 20s to mid-30s.
Moreover, this app offers a little of everything, yoga, gym, pregnancy workouts, etc. Thanks to the re-launch of their app in May 2017, Pearce's and Itsines' wealth increased by a staggering amount of $405 million in just a year.
Kayla Itsines' Fitness Merchandise
With all the dedication and hard works,  the couple managed to build their empire, and Kayla Itsines got enlisted as the 30 Most Influential People on the Internet in Time Magazine. Likewise, Forbes also listed her as Top Influencers – Fitness 2017.
View this post on Instagram
Furthermore, earnings from her e-books and app are a part of Kayla Itsines' fortune. Her fitness merchandise also plays a huge role in aiding in her net worth. Few of the items are listed below with their respective prices.
Workout Essential Pack: $72.68
Recovery Pack: $46.25
SWEAT skipping rope: $26.42
SWEAT 1L Drinking bottle: $19.82
Polar FT4:$65.95
Along with her merchandise, her e-books are equally popular. Their prices are listed below.
Bikini Body Bundle: $79.27
H.E.L.P : $46.24
Bikini Body Workouts Guide: $46.24
All the goods and merch have helped Kayla Itsines' fortune to grow in a gigantic manner. Although she's earning well, she is not showing any signs of stopping.
Kayla Itsines' Earnings From Tour
Kayla Itsines is an energetic woman with a knack of fitness and business. She took her profoundly successful BBG program on roads and across the world, running various events regarding fitness. According to Business Insider, her first US tour in 2015 sold out in less than an hour.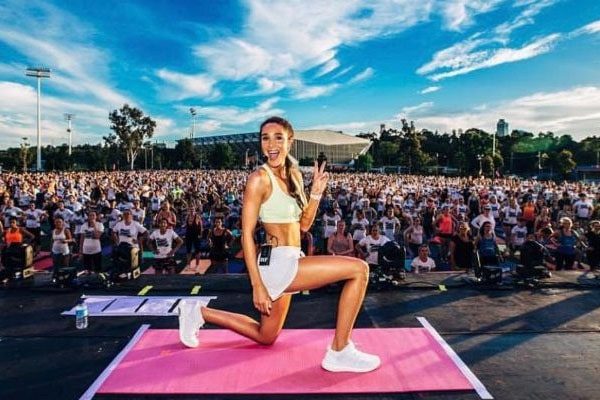 To Kayla Itsines' surprise, her first tour in the US was sold out within an hour. Image Source: Pinterest.
Kayla Itsines has made things clear about focusing on women's fitness. Moreover, she has assisted millions of women in their fitness journey. Itsines' tour/stadium overflowed with her fans and admirers. All these processes are personal for her, and she tends to keep in touch with her clients' progress.
The grounded nature of Itsines has made her who she is today. And her passion for fitness and habit of listening to her audiences is the key to full stadiums. Not to mention Itsines's net worth is also aided by the tour.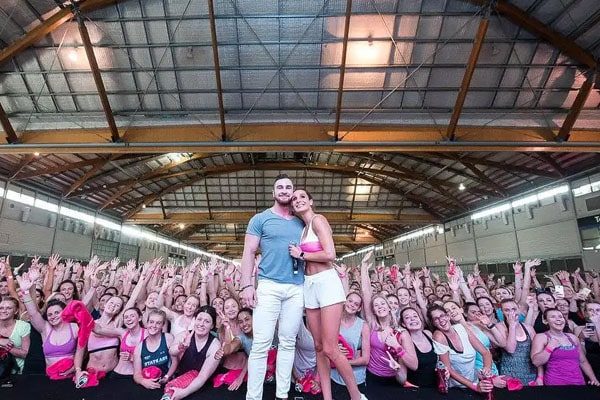 Kayla Itsines' focus is on women and their fitness. Image Source: Pinterest.
Furthermore, Itsines loves traveling around the world without having to work every single day.
Itsines' Property
Every child has a dream to pay off their parents' debt when they grow up or start earning their living. Well, Itsines was no exception to it at all. The first thing she did was to pay off her parents' house. She revealed that she used to imagine if someone gave her $1000, what would she do. Also, she told that it was her goal.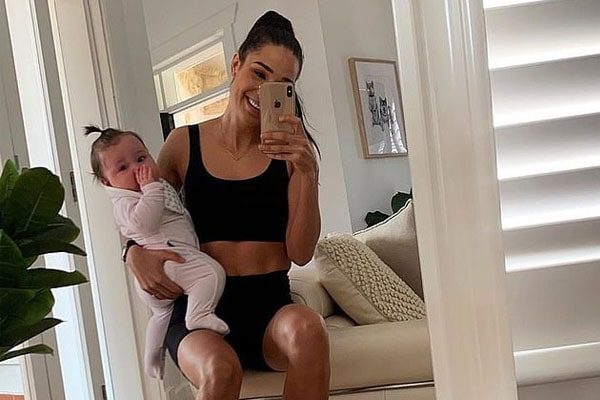 As a child, Kayla Itsines' dream was to pay her parents' debt. Image Source: Kayla's Instagram.
Throughout her journey, Kayla Itsines' net worth grew enormously, and she was able to fulfill her goal. She paid off her parents' house as a Christmas gift and made her parents all emotional and teary. Although Kayla Itsines's property is not public, she believes she gave her entire to her parents.
The Australian native, Kayla Itsines, lives with her to-be husband, Tobi Pearce, and her baby girl, Arna Leia Pearce, happily and proudly. Let's hope the SWEAT empire grows in the upcoming days.
Don't Miss To Follow SuperbHub For More Updates On Celebrity News, Entertainment, and Biography.