Miranda Lambert revealed on Valentine's Day that she got married to Brendan McLoughlin on 26 January of 2019. The 35-year-old Miranda tweeted the wedding picture of her with NYPD Officer Brendan McLoughlin.
Talking about Brendan Mcloughlin, he is open-minded and one of the brave officers who is good looking. Here are some facts about Miranda Lambert's Husband Brendan Mcloughlin:
Brendan Mcloughlin is a New York department police officer. He is assigned to NYPD's Manhattan Midtown South Precinct. He is from Staten Island, New York, U.S.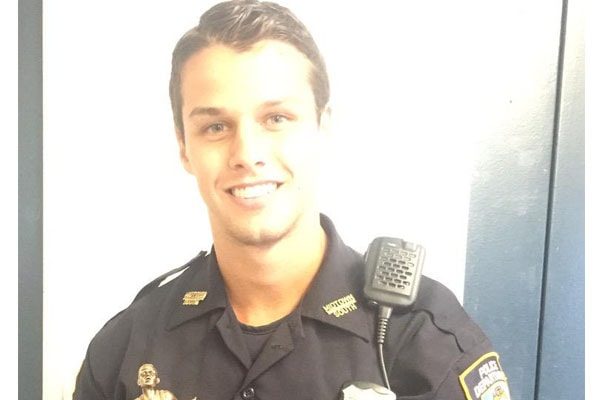 Miranda Lambert's husband, Brendan Lambert is an NYPD officer. Picture source: NYPD's twitter. 
Brendan followed his mother's footsteps into law enforcement. His mother is a retired NYPD detective.
Brendan Had Tried Modeling In Young Age
Brendan Mcloughlin was raised in Staten Island and went to Monsignor Farrell High School. When he was nineteen, he tried a hand in modeling. The blue-eyed and good looking boy Brendan was featured on the Model Mayhem Website before joining NYPD. He wrote on the Modeling site stating,
"My name is Brendan Mcloughlin. I am 19 years old and live in New York. I am on this site to build my portfolio. My style is all american boy/ abercrombie/ sporty but I'm open minded, so feel free to network with me, share your ideas, and organize sessions,"
Once He Caught A Bank Robber
Brendan is doing best on his job. He caught a bank robber for which he was congratulated for a job well done by NYPD Midtown South precinct. The NYPD honored him for his effort to stop a bank robber.
 Brendan is Younger Than His Wife Miranda
Brendan and Miranda have an age difference of 8 years. Brendan is just 27 and his bride Miranda is 35 years old. He is the youngest man with whom Miranda is linked. However, they are so much in love with each other and are often spotted together having a romantic time.
Miranda Lambert with her handsome husband Brendan Lambert. Picture source: Pinterest. 
Has A Child From the Previous Relationship
Brendan became a father for the first time in November 2018. The girl from his previous relationship gave birth to their son in New York. According to some source, the legitimacy of the baby registry is in Brendan's and his ex-girlfriend name.
SuperbHub for more News and Entertainment.