Angeline Saris is a talented bass guitarist. She was born on 30 April 1978, in San Rafael, California. She has proved her talent by expressing her skills with Narada Michael Walden Band, Zepparella and Angelex.
Angeline's Journey as a Bass player
Angeline started actively pursuing her career in music at San Rafael High School. There, she played bass in a jazz band. After high school, she attended UC Berkely for pre-law and graduated with a BA in Rhetoric.
When Angeline was in California, she continued to study bass through extracurricular Cal Jazz program. After her graduation,  she played with many other bass players.
Angeline has amazed her fans with her bass skills and her tours with Narada Michael Walden Band, Ernest Ranglin and Zepparella. Going through her Instagram, we found that Narada Michael Walden happens to be her mentor and one of her favorite drummer.
View this post on Instagram
Angeline also has a collaborative project with drummer Lex Razon called Angelex. Her special one-off performances with Carlos Santana, Neal Schon, Steve Vai, Richie Sambora, Orianthi, Dionne Warwick, Ronnie Spector have also been one of her notable performances.
Angeline is a great teacher to learn with as well. She has taught at the Warwick Bass Camp, the National Guitar Workshop, in the Martin County and LA Unified School District.
Here's one of her great works, the track Space train by Angelex. It features Angeline Saris and Lex Razon.
Angeline's Gear
Talking about her Gear, Angeline's strings are from GHS. She also uses EMG pickups and Mono cases. As for pedals, she uses West coast pedal boards. Her amplifiers are from Fenders as stated on her website.
Angeline likes to understand her instrument before she plays it. She believes, in order to channel her energy, her passion into her instrument and fully express her talent, she needs to understand her instrument and her bond with it.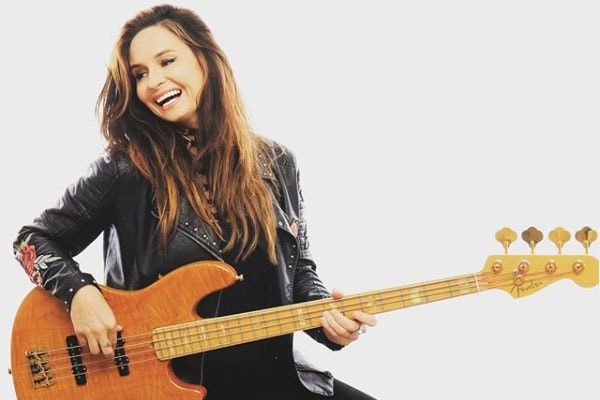 Angeline Saris with her guitar. Image Source: Guitar Girl Magazine.
Speaking of her bond with instruments, Angeline is fluent with 4 and 5 string basses and electric upright. She can also have a quick read on charts. She writes tracks and has co-written tracks off of the album, Thunder, including the title track.
Angeline at Present
In recent days, Angeline is being involved in concerts and teachings. On May 11, she gave a rhythm section clinic at the Soundfest with James Stafford of Hot Buttered Rum. She gives Bass lessons at Bananas at large as well.
She has recently been featured in magazines. The gorgeous Angeline was on the cover of the Bass musician magazine and was featured on the Bass Player Magzine holding a Warwick Triumph Electric upright.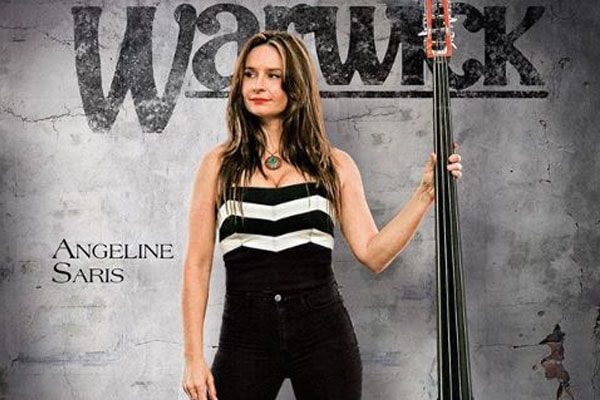 Angeline Saris Featured in Bass Player Magazine, Image Source: Angeline Saris's Instagram.
Relationships and Family
Angeline Saris can be a beast when it comes to expressing her talent. But it seems she likes she is secretive as well. Her family does not seem to be in the spotlight as well.
Angeline has not revealed much about her relationships as well. Her social media accounts contain posts that are mostly focused on her career. She likes it when her personal life is kept private and intends to keep it that way.
For more Entertainment, Biography and Articles, stay tuned with Superbhub.