Director of award-winning Crazy Rich Asians hit the jackpot when he met the love of his life, Kristin Hodge. Jon M. Chu's wife is an absurdly talented graphic designer and a loving mother of two adorable children. The couple had shared their vows in 2018 and were in a relationship before their fame.
Although Chu's wife, Kristin, rose to fame because of her husband, her abilities are praiseworthy. Let's get to know who exactly is Kristin Hodge, and how did the couple meet.
Jon M. Chu's Wife, Kristin Hodge Is A Graphic Designer
A lucky woman can bring great fortune and happiness in a man's life. "In the Height" director, Jon M. Chu is experiencing the proverb pretty well as he is married to a gorgeous and a talented graphic designer, Kristin Hodge. It's fun to be sharing a family with a creative weirdo because they're always colorful and thoughtful.
Aforementioned, Jon M. Chu's wife is a graphic designer currently working at ATTN as an art director. She's been associated with the media company since 2015 and has worked for many celebrities, including Ariana Grande, Tori Kelly, etc.
With Kristin Hodge's talent and skills, she has made a reputable name for herself in the industry. According to her Linkedin, she has extensive experience of more than a decade. Before moving to LA, she had got her MFA in Communication Design from Parsons School of Design. She has been working with various companies as a designer, advisors, etc.
Besides taking on projects for artists like Justin Beiber, Cody Simpson, Carly Rae Jepsen, Madison Beer, she got to examine her skill in the tech world as a senior designer at a music fan-club startup called Fahlo.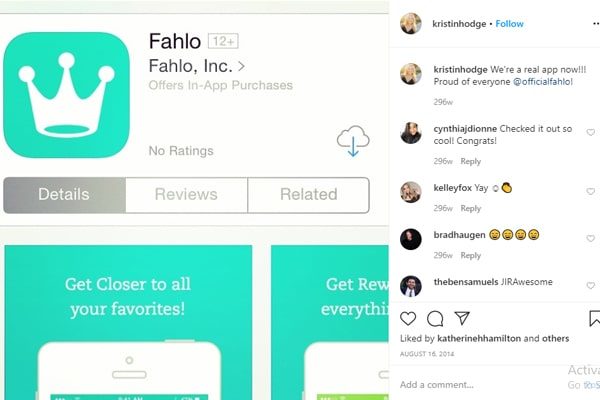 Kristin Hodge's career caught its pace pretty well because of her hard work. Image Source: Hodge's Instagram. 
Likewise, she also worked as a design consultant for Love the Edit and Girl Who Code. Kristin Hodge's other work experience involves Hafta Have and Pencil of Promise.
Grew Old Alongside Two Siblings
Although exposed to the world as Jon M. Chu's beloved partner, she has maintained her personal information to herself. Graduating from the New York University in Marketing communication and Digital design, Hodge went on to get her MFA from Parsons School Of Design.
Although Hodge's parents are out of the limelight, she posts about her father, Jim Hodge, and mother now and then. That being said, she grew old with her siblings, Carter Hodge and Kelsey Kittleson. While going through Kristin Hodge's Instagram, she seems to be a nature admirer.
View this post on Instagram
Jon M. Chu's sweetheart is all about her family and career.
Jon M. Chu's Lavish Wedding
Jon M. Chu and Kristin dated for a long time before deciding to share their vows. The wedding was lavish, and every moment was meticulously planned. Going through Chu's wife, Hodge's Instagram, she has been sharing about the couple's vacations since 2014.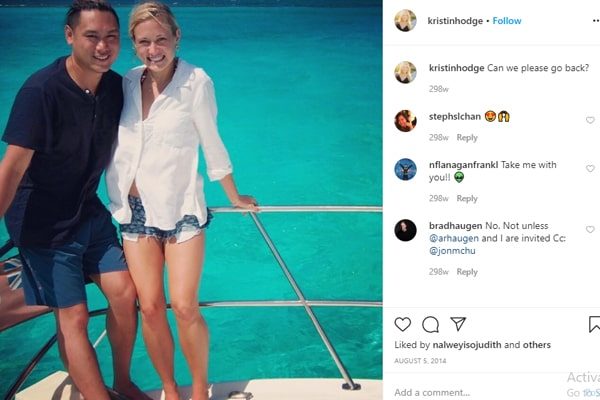 Although the couple has been together for a long time now, they still share the same passion and support. Image Source: Hodge's Instagram.
Hence, it is believable that the couple has been dating before the time. Falling in love and supporting one another throughout their career path since then. The couple had welcomed their daughter, Willow, a year before their marriage.
After a year of welcoming their first child, the couple decided to tie the knot in front of friends and families in 2018. The wedding took place in Meadowood Napa Valley and Calistoga Ranch. The grand wedding was planned by A Good Affair Weddings and the florals by Amy Burke Designs.
The couple welcomed their second child, Jonathan Heights Chu, in 2019. Kristin and Jon M. Chu's son's middle name, Height, is inspired by the movie In The Heights, he was filming at the time. The couple shares a splendid bond and cherishes the family dearly.
Jon and Kristin appear on many events looking great together. Let's hope Jon M. Chu's wife succeeds in her career as a graphic designer, and the family blossoms as a beautiful flower without withering one bit.
Don't Miss To Follow SuperbHub For More Updates On Celebrity Entertainment, Biography, and News.