The British YouTubers, Emily Canham, 20, and boyfriend Jake Boys, 21, parted ways in February 2017. They had traveled together, filmed vlog videos together and lived together since 2014 according to Clevver. Their affair was kind of relationship goal any person could ask for.
Sadly, they couldn't continue together along their paths and had to part ways. Let's have a comprehensive look at both sides of their story.
Emily Canham and Boyfriend Jake Boys Relationship
Jake and Emily had a public relationship for 3 years. They met through YouTube in 2014. They had named their duo as "Jemily" and together created many vlogs. Emily Canham's boyfriend Jake Boys look so much in love with his girl. The couple had spent months trying to find a perfect place to continue living together but things between them didn't come along.  
In February, the lovebirds parted and went different ways. Their relationship didn't come together despite both being supportive of each other. Emily explained in her vlog that she was nervous and felt awful to announce publicly of her break-up with her boyfriend.
The duo who were so committed at one point now doesn't follow each other on social media.
Emily Canham publicly spoke of her break-up on Instagram.
Emily Canham's ex-boyfriend Jake Boys Response on their break-up
Noone can get over soon from a break-up. It's the same for the boys. Emily Canham's boyfriend Jake had also posted a heartfelt aspiring message on his Instagram. Jake on the break-up post focuses on Emily and how lucky he was to have spent the last two and a half years together with his "best friend".
He also stated about meeting Emily, and all the moments they cherished while dating.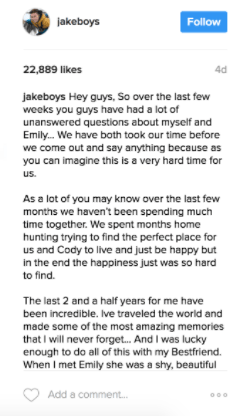 Emily Canham's ex-boyfriend Jake Boys tweet about his moments with Emily. Image Source: Jake Boys Twitter
Emily Canham's boyfriend Jake responds to the whole not following each other on social media thing as a start to move on.
He states in his youtube vlog "Why I HAD TO UNFOLLOW HER & KEEP MOVING FORWARD!"  that people tweeting about them on how good they "together were" as a "Kick in the face". He has moved on his life with a positive attitude respecting her.
Are Emily and ex-boyfriend Jake friends now?
Presently they have both unfollowed each other on social media to workout on the break-up and move along.
After their break-up, they went to Orlando just as good friends. Speculations and questions were raised about whether they were still together?
In reality, they were just spending quality time with friends to cherish their moments together. Emily also stated that it took her six months to overcome their break-up. She is enjoying her single life and being happy with herself.
Emily is living in London now and makes vlogs on her channel Emily Canham, and Emily Canham Vlogs. The earnings from her channels have definitely contributed to  Emily Canham Net Worth.
Jake currently lives in England and is working out on gyms and making his daily vlogs.
Be in touch with SuperbHub for more interesting entertainment news and details.