American professional wrestler Ember Moon is riding through the ranks in WWE. After a successful run in WWE's developmental territory NXT, she has moved on to the main roster and appears in the RAW brand, where she has been positioned as one of the prominent women on the show. Which this success, Moon has collected a net worth of $1 million.
Before joining WWE, Moon worked for several years in the independent circuit for several promotions like Shimmer Women Athletes, Women Superstars Uncensored, Anarchy Championship Wrestling, and many more as she established herself in the field of pro-wrestling before eventually joining WWE in 2015. Thanks to years of hard, she has been able to earn a lot of money and add to her net worth.
Ember Moon's net worth is $1 million. She recieves a salary in a range of $250K-$400K in a year from from WWE. She makes additional money from merchandise sales and PPV bonuses.
WWE Salary
Moon, whose real name is Adrienne Reese, makes most of her money through the salary she receives from WWE. WWE wrestlers have varying salaries. On average, a WWE performer makes $500,000 in a year. But top stars make substantially more money. For instance, top stars John Cena and Brock Lesnar made $10 million and $6 million respectively in 2017.

Women, on the other hand, receive much less than what the men earn in WWE. A women wrestler makes about $250,000-$400,000 in a year. So, we can assume that Ember Moon makes that much cash every year from WWE.
PPV and Live Event Bonuses
Ember also makes good cash from PPVs and live event bonuses that she receives. Wrestlers get paid for their participation in PPVs and live events. She has competed in 4 Takeover events, receiving solid bonuses for each of them.
WWE generally conducts around 150-200 house shows for RAW and 50 house shows for NXT. Ember's participation in these events has led to her earning a lot of cheddar.
Earnings from Merchandise Sales
WWE wrestlers also earn a good sum of money from merchandise sales. WWE gives its performers a good share of the money they make from merchandise sales on WWE Shop.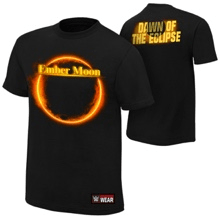 Ember Moon's shirt on sale on WWE Shop, Image source: WWE Shop
There is various merchandise of Ember Moon on sale on WWE shop. There are shirts, DVDs, and plaques of Ember Moon available to be bought. Ember receives a good share of money from these merchandise sales.
For more news, biography, and entertainment visit SuperbHub.