NBC meteorologist Dylan Dreyer's personal life is very blissful. Dylan, the weather anchor for NBC news is married to NBC news cameraman Brian Fichera. The colleague turned couple married in 2012 and are on top of the world.
The couple's life has had a lot of happy moments and none was bigger than Dreyer giving birth to their son Calvin Bradley Fichera in 2016. The couple was overwhelmed with joy after giving birth to the baby filling their home with joy and satisfaction.
From Girlfriend to Wife
Dylan met Brian when they both used to work for WHDH. They both had morning shifts and developed a special bond. Dylan was the weather anchor whereas Brian was the lead technician. Dylan recalls that she initially thought Brian's name was Tom.

They soon started hanging out together. They started spending more and more time together and became very close. Soon, Dylan realized that she had fallen for Brian. She chronicles their journey to becoming a couple on their wedding website.
Wedding Ceremony
After dating for over a year, Brian and Dylan finally tied the knot on October 6, 2012. The wedding took place in front of their close friends and family at the Cathedral of the Holy Cross, which is located in Boston.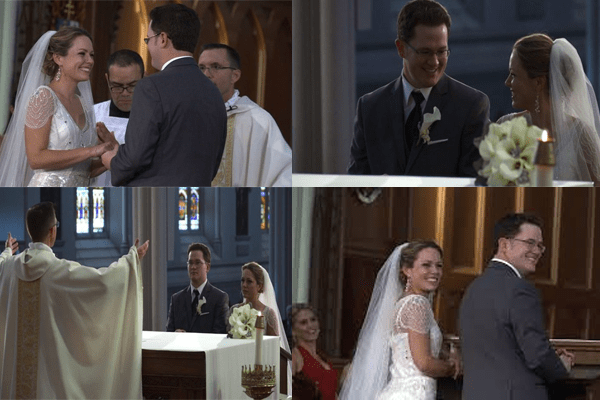 Brian Fichera and Dylan Dreyer's wedding, Image source: Kesha Sebert
The wedding ceremony was beautiful. Dylan was wearing a lovely white gown embroiled with jewels. She also had put on lovely diamond earrings. Brian also was looking super fancy in his dark grey suit with a matching tie. The couple looked lovely holding hands together.
After the wedding, Dylan and Brian engaged in a lovely dance and took a walk outside. The whole event was magical.
Dylan and Brian's son
After being married for over 4 years, Dylan and Brian were finally blessed with a son in 2016. In June 2016, Dylan announced that she was pregnant. Dylan gave birth to her son in December of the same year. Dylan posted about the childbirth on her Instagram page. They named the son Calvin.

During her maternity leave, Dylan shared multiple photos of Colin through NBC news. Brian wrote in a blog that they were initially hesitant to have a baby but then changed their mind. Well, we're glad that they did since the child is so lovely!

For more news, biography and entertainment, visit Superbhub.