21-year-old Fabiana Perez regrets not filing charges in 2016 against Danry Vasquez for repeatedly hitting and abusing her. Fabiana was brutally beaten and dragged in a stairway at Whataburger Field by her then-boyfriend Vasquez.
Fabiana 19 at that time did not file any complaints against the baseball player Vasquez out of fear, which she now regrets. The graphic video surfaced on the Internet sending shockwaves around the U.S. and across the Globe.
Danry Vasquez's Barbarous act
The exclusive footage released by KRIS-TV shows Vasquez entering with his ex Fabiana Perez and moments later slamming her backhanded with full force causing Perez's glasses to fall off.
Contains Graphic Video Viewer discretion advised. The footage is shown to highlight the issue of domestic violence.  
Vasquez repeatedly struck Perez four times making her fall unconscious on the floor and dragged her downstairs by one of her arms.
Vasquez's ex-fiance Perez seems to be threatened and doesn't react nor oppose to the action, it can be speculated that it was not the first time she was being abused by Vasquez as Perez seemed so habituated to the abuse.
Vasquez's ex-fiance Fabiana Perez 19 years old when abused, they knew each other from school and were committed to the relationship.  
Image Source: Dailymail
Perez says she got a lesson form the ill-act, Vasquez, on the other hand, completed an intervention program and the charges were dropped on him. Vasquez's ex-fiance Perez says if she had the conscience she has now things would be different and would have made another decision.
Vasquez's ex-fiance Fabiana Perez revealed she had stayed with her boyfriend for months after the violence and separated afterward. They were engaged at the time and Perez was scared of the consequence Vasquez would face is she's pressed charges, which she now laments.
Speaking to Univision, Vasquez's ex-fiance Fabiana Perez said she did not break up until months after the 2016 violence on her. Perez and Vasquez had been together for six years and were engaged the time the incident took place.
Danry Vasquez's Statement on his behavior.
24-year-old Vasquez now pleads for forgiveness and says that he is truly changed and matured since the abuse and domestic violence he made. While acknowledging the fact that the footage is hard to watch Vasquez realizes the scenes were powerful.
Vasquez at that time was playing for the Corpus Christi Hooks and the incident occurred at the home stadium Whataburger Field. Hooks had cut Vasquez in 2016 but his career wasn't over and went back to Venezuela to played two seasons, Vasquez then continued playing in America.
It was only in March 2018 after the video surfaced the media, Vasquez was released from the Lancaster Barnstormers after being wary of the video. Manager Ross Peeples stated Brancaster made a decision to cut ties with outfielder Vasquez following his behavior.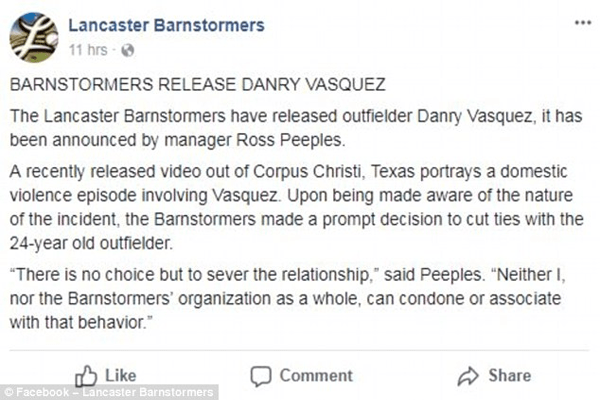 Danry Vasquez married his new girlfriend
Speaking with Elemergente, Vasquez said he is currently married but not with Perez whom he had brutally abused. Danry got engaged to another woman in November 2017 and got married soon.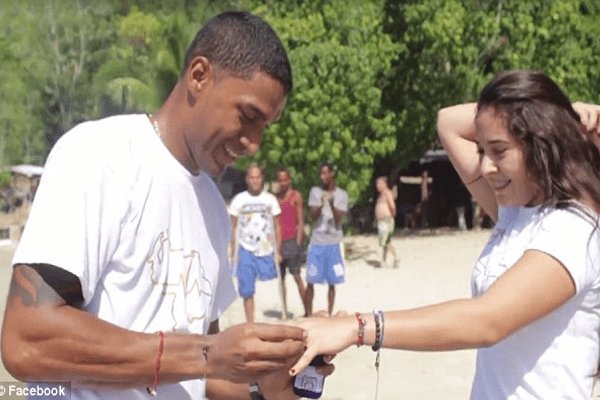 Danry Vasquez putting ring on his fiance on a Venezuelan beach.Image Source: Dailymail
Danry had the potential to become a baseball star. He had signed a $1.2 million contract with the Detroit Tigers at age 16 before being traded to Astros. Danry's attorney stated that he had come to the US at a young age with no parents and guidance but just his dreams.
But, all his dreams shattered because of this domestic abuse video that went viral and of course his own misbehavior.
For more Celebrity News and Entertainment: SuperbHub.