Sebastian Topete is a young aspiring American artist famous for his videos in musical.ly. The 18-year-old handsome Topete certainly is a crush for many. But, he is already taken. Sebastian Topete's girlfriend is Danielle Cohn, with whom he has even worked and taken tours together. These fellow lovers are having a great time and career together.
Sebastian Topete and girlfriend Danielle Cohn Relationship
Sebastian and girlfriend Danielle have made several videos in collaboration on YouTube. Danielle (renowned as Dani) recently made a shopping challenge video on her YouTube channel, Dani Cohn, published on Jan 19, 2018. The video was named as GIRLFRIEND and BOYFRIEND Buy Each Other Outfits.
It's really sweet to watch this cute teen pair buy each other gifts. And the cutest part is that they are open about their relationships and call each other girlfriend and boyfriend. They are gaining popularity sharing their lovely moments with their viewers.
Sebastian also appeared in a music video of his girlfriend Danielle's song Fix your heart.
They frequently appear on each other's social media accounts too. The duo posted this picture on their Instagram as they spent the surprise trip to  Hawaii.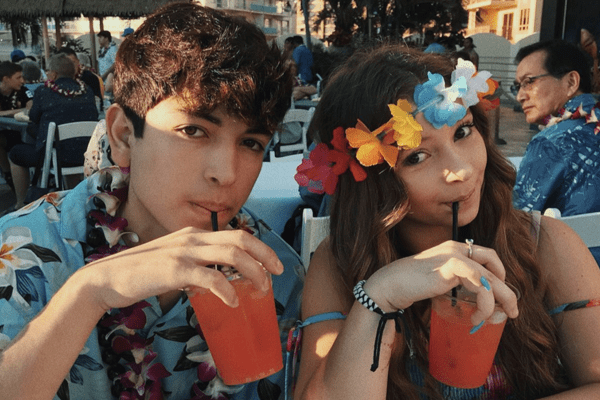 Sebastian Topete enjoying vacation with girlfriend Dani in Hawaii
Source: Danielle's Instagram
Here is another post from Sebastian's Instagram posted on Jan 30, 2018, captioned having silly times in Hawaii. This shows the lovebirds are sharing romantic moments and loving each other's company. Also, they frequently spend vacations and holidays together.
Sebastian and girlfriend Dani even spent their Christmas together. The couple seems supportive of each other and is even working together, they might be in a relationship for a long time.
The love-birds are career focused too. They have collaborated and will soon tour together starting from March 2018. The tour is set to be named as DIGITOUR ARTIC LIGHTS and the duo will be performing as Dani & Sebastian.
It's really amazing to work with the one you love. This young couple is sure to set fire to their performance as they have such good chemistry in this age.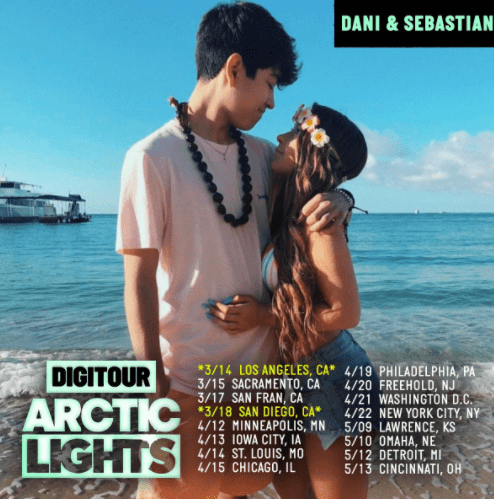 Caption- Sebastian and girlfriend, Danielle will be performing together in Los Angeles and San Diego.
Image Source:  Twitter
Sebastian Topete's girlfriend Dani is a Beauty with Brain
Sebastian Topete's girlfriend Dani is a 13-year-old American actress, model, social media sensation, and recording artist. In 2014, Dani was crowned Miss Florida Jr. Preteen.  She was also nominated for a 2017 Teen Choice Award for "Choice Muser."
Like Sebastian, Danielle( renowned as Dani), is constantly on the top 10 of the leaderboard on Musical.ly. Her Channel Dani Cohn has an average of 3-4 million views from her fans daily.
Dani is currently working on her debut studio album. She has attracted over 9 million fans via Musical.ly, Instagram, Youtube, and Twitter. Her Instagram account has 1.5 million followers as of February 2, 2018.
Quick Facts on Sebastian Topete and his musical.ly Career
Sebastian's career flourished from the musical.ly app in which he lip-synced many famous songs and gained a wide reputation.
He started his career in 2015 and has covered songs of various artists such as Lil Pump, Kid Cudi, Kalin, and Myles.
Sebastian is inspired by YouTuber Steven Fernandez (Steven F Honey).
Topete is studying at Maranatha high school and will graduate in 2019.
He plays baseball and has been on two teams covered by MaxPreps.