Yes, the 15-year-old Danielle Cohn is married to her boyfriend now husband Mikey Tua. Not only that, but she is also four-month pregnant, and the couple is expecting a baby on the upcoming August. Previously, Danielle was in a relationship with her ex-boyfriend Sebastian Topete.
Danielle Cohn is a YouTuber and Instagram star. She started her journey from Musica.ly(now TikTok). As of now, Danielle Cohn has got 1.2 million subscribers on her YouTube channel and has 3.5 million fan followers on Instagram. As Danielle Cohn is married to her boyfriend, is it just a publicity stunt or they got really married?
Danielle Cohn Married To Her Boyfriend Mikey Tua
On 13th April, Danielle posted a video of their wedding on YouTube which was held on 6th April of 2019. Elvis officiated Their marriage on the presence of the concern parties parents and close friends. Danielle was seen wearing a white gown design by Nova whereas Mikey wore a black coat with black jeans.
After they uploaded the video, many people thought that it might just be a publicity stunt or clickbait. However, Danielle Cohn's mom confirmed that it was severe and the adorable couple is actually married.
But the two can't legally be married because they are underage. In Nevada, under 16 need a court order to get their marriage legalized. And according to Mashable, there's no registered marriage license for Danielle Cohn and Mikey Tua.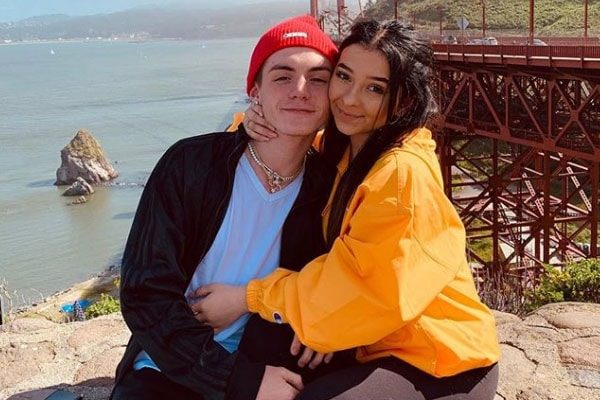 Danielle Cohn along with partner Mikey Tua. Picture source: Danielle Cohn's Instagram. 
However, the young lovebirds are so happy with each other as they often upload pictures on Instagram and Twitter getting cozy and romantic. The couple is about to welcome their first baby on the upcoming August.
Danielle Cohn is Pregnant With Mikey Tua's Baby
As stated earlier, Danielle Cohn is four-month pregnant. Danielle's partner Mikey Tua tweeted on 11th April citing he is expecting baby on the date of 14th August of 2019. After that, Danielle posted a picture on Instagram of Mikey kissing on her stomach with a yellow heart emoji as a caption.
View this post on Instagram

However, many people thought that it might be a prank. But looking deep through the picture we can see, she has a baby bump, and it is not a joke. So let's hope that Danielle Cohn will be able to welcome her first child without any hindrances and everything will go great for the newlywed couple.
Keep connected with SuperbHub for more News, Entertainment and Biography.