Danica Mckellar is a widely known Mathematics book writer and an American actress, a popular face in Hallmark channel. In fact, she has appeared in more than twenty-two movies, more than fifty television roles and six video game roles.
Daughter of Christopher and Mahaila Mckeller, She is a mathematics genius and has written more than seven books including 'Goodnight Numbers' and 'Ten Magic Butterflies' for kids. Meanwhile, three of Danica Mckellar math books were on the list of The New York Times children's bestseller.
Importantly, the books Goodnight Numbers and Ten Magic Butterflies are for kids under 0-5 and 4-6 respectively. That means her books are playing a vital role in developing kids mathematics concept.
Danica Mckellar Net Worth
Danica is a successful actress. She has portrayed unforgettable roles in the movie like Where Hope Grows and Heatstroke. Her career in TV and movies have certainly earned a lot of fame and money to add Danica Mckellar's net worth.
Along with an acting career, Danica Mckellar math books help to add to her fortune. Danica Mckellar's net worth reaches approximately $6 million.
Furthermore, her book Math Doesn't Suck was an instant success, and this was among Amazon's top 100 books of 2007. This book costs $11.45 for Paperback and $10.88 on Kindle.
Danica also shares her wonderful moment of signing a bunch of her books at the bookstore in her Instagram. Have a look at the video Danica made in her car after returning.
She is thanking all her fans to be a fun part of her life and interacting with her in social media.
Additionally, books like Kiss My  Math and Hot X: Algebra Exposed was 'The New York Bestsellers'. At present, 500,00 copies of books written by her have been sold in the market.
Here is the list of books and their prices, according to Amazon.
| Name | Price for Paperback | Price on Kindle | Price for Library Binding |
| --- | --- | --- | --- |
| The Magic Butterflies | $12.32 (hardcover) | $10.99 | |
| Math Doesn't Suck: How to Survive Middle School Math Without Losing Your Mind or Breaking a Nail | $11.45 | $10.88 | $28.20 |
| Goodnight, Numbers | $6.55 | $7.42 | |
| Kiss My Math: Showing Pre-Algebra Who's Boss | $12.38 | | $28.20 |
| Hot X: Algebra Exposed! | $12.72 | | $29.40 |
| Girls Get Curves: Geometry Takes Shape | $11.23 | | $29.40 |
| Bathtime Mathtime | | $8.99 | |
| Do Not Open This Math Book: Addition + Subtraction | $15.46 | $10.99 | |
Danica is Married
Danica is a married woman, and she is married twice. First, she tied the knot with composer Mike Verta on March 22, 2009. After the divorce from her first husband, Danica married to lawyer Scott Sveslosky on November 15, 2014.
Marriage with Composer Mike Verta
According to People, Danica and Verta dated for seven and half years before getting married in an oceanside Church. Moreover, these two took their wedding vows in front of 150  friends and family. The list of friends and family included The Wonder Years star and her maid of honor, Crystal Mckellar.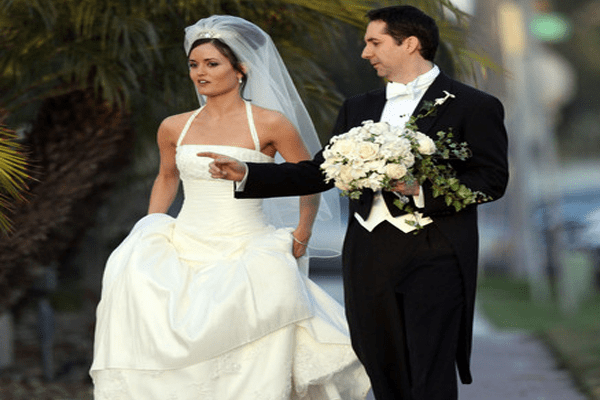 Bride Danica Mckellar and groom Mike Verta on their wedding day. The couple tied the knot on March 22, 2009. 
Image Source- Zimbio
The wedding was even more interesting when these two danced on the music composed by her ex-husband, Verta. Earlier, the couple got engaged in August 2008 in Chicago. Additionally, Verto surprised her with a platinum and diamond engagement ring.
But the relation didn't go long as Danica filed a divorce in 2012. After three years of marriage, on June 1, 2012, the couple separated. Later Danica wrote, divorce meant the actual death in the family and she thanked her fans for their support during her hard times.
Danica also has a son named Draco with ex-husband, Mike.
Marriage with Lawyer Scott Sveslosky
Danica got married to Lawyer, Scott on November 15, 2014. The couple said "I do" and took wedding vows in front of their family and friends.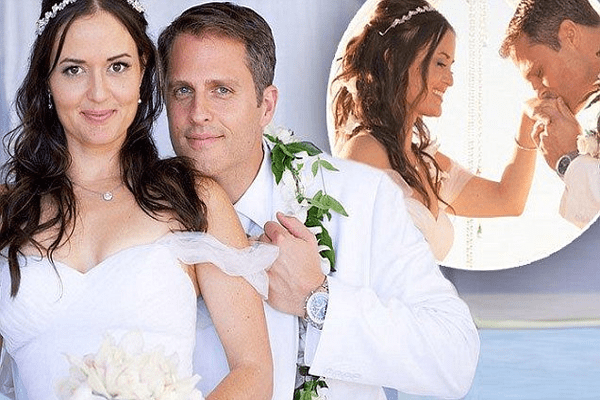 Danica Mckellar got married to a lawyer, Scott on November 15, 2014.
Image Source– Daily Mail
Earlier, Danica announced her engagement with boyfriend, Scott via Twitter and Facebook. And in the picture, she is pointing towards her diamond engagement ring. The engagement ring is beautiful and looks like it is expensive. The happiness of wearing a ring can be seen in her smiling face.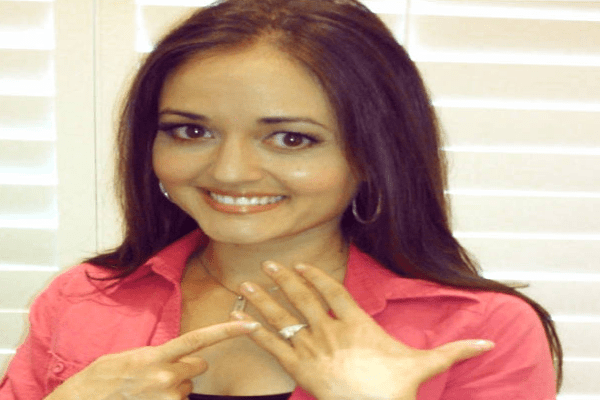 Caption-Danica announced her engagement with boyfriend, Scott via Twitter and Facebook.
Image Source- Eonline
Furthermore, the couple is also a responsible parent of a son, Draco Verta born out of Danica's ex-husband, Mark, and Danica. She is curious about Draco's future as she never misses a chance to read her math books to him.
Talking about Danica as a kid, she was maintaining her professional acting career along with her sister, Crystal. Meanwhile, she was emphasizing on studies as well. She holds a degree in mathematics after graduating from UCLA( University of California Los Angeles). As a result, Danica became both actress and a mathematician.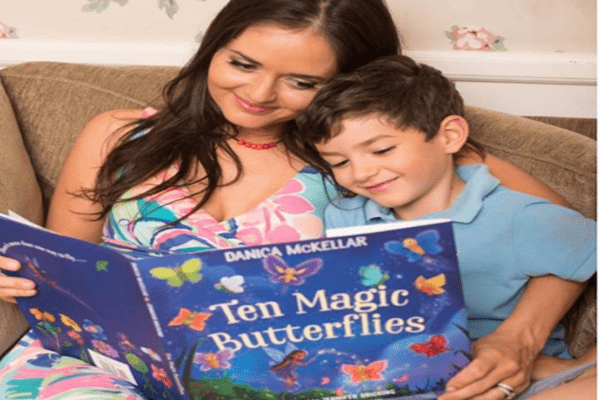 Danica Mckeller with her son, Draco reading her book to him.
Image Source– Instagram
Good Night Numbers
Danica Mckeller's book Good Night Numbers is a wonderful bedtime book with stories that make maths and counting fun for kids. By reading this book, the children will be able to connect with the real numbers by saying goodnight to the objects around them like five points on a star, four legs on a cat, three wheels on a tricycle.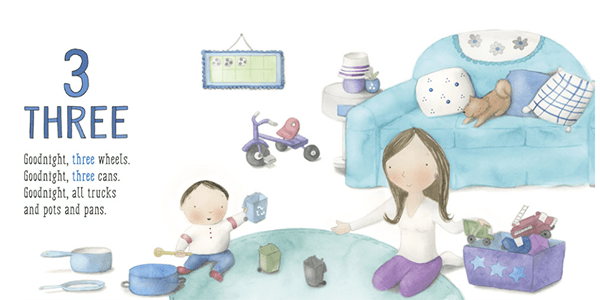 A peek inside Danica Mckellar's book Good Night numbers.
Source: Good Night Numbers 
Danica's book like Good Night numbers actually helps kids to fall in love with Maths and numbers every night having cuddly memories. Mckeller in her every book encourages the parents, teachers to shape the way children see Math and make them understand the value of numbers.
Stay with us on SuperbHub for more exciting entertainment news.