The "D&B Nation" YouTube celebrity Damien Prince needs no introduction. Damien is now expecting a third child with his wife Biannca Raines. Video of the baby shower was posted by Damien on his family YouTube channel, "The Prince Family".
Their baby shower was so perfect, let's find out why.
Damien And Biannca Expecting Third Child, A Baby Girl
As we know, YouTube sensation Damien Prince is expecting a new baby with his wife Biannca Raines. Prior to the baby shower, Damien posted a video of Biannca's ultrasound examination. The ultrasound report apparently showed that Biannca is pregnant with a baby girl.
And thus, in a recent ceremony, the couple hosted a lavish baby shower for their upcoming baby daughter, who is due some time in 2019. Damien, who married his wife only recently in 2017, is overjoyed about the birth of their third child. With Biannca's latest pregnancy, this would be her third child with husband Damien.
The YouTuber couple seems happy to be blessed with another child. In the almost perfect baby shower video, which was held in Fort Wayne, Indiana, the couple looks gorgeous. Damien rocked an expensive pink suit while his wife rocked a semi-transparent white dress. The perfect baby shower was attended by Damien and Biannca's close friends and family.
Now let's hope everything remains good for the lovely couple and hope to hear the news of Damien prince welcoming his third child pretty soon.
Damien and Biannca Have Two Children
At the moment, Damien and Biannca already have two children, a son, and a daughter. Also, Biannca became pregnant with her first child in 2014 when she was just 17 years old. Moreover, the prankster girl has given birth to two children up until now. Damien's son, DJ Prince, was born in 2015. The daughter, Kyrie Prince, was born in 2016. We all wonder what will Damien name his new baby girl now.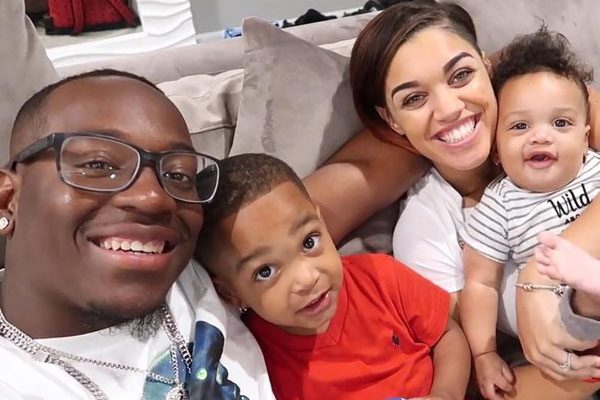 Damien Prince, his wife Biannca Prince, with son DJ Prince and daughter Kyrie Prince. Image Source: Damien/Instagram.

Damien and Biannca have tried to keep their children out of their controversial vlogging career. They plan to raise their beautiful children well and provide for them the best educational opportunities. Let's hope that this rich YouTube couple have a successful career ahead.