Deji Olatunji is a famous entertainer who entertains millions of spectators via his YouTube Channel, ComedyShortsGamer. This YouTuber's popularity has grown over a year after his collaboration with ex-girlfriend Marina Joyce, Yasmin Zbari, Jake Paul, Danielle Broccoli, and his brother KSI. Undoubtedly, he makes lots of money from his YouTube Channel that is added to Deji Olatunji's net worth.
His YouTube series, 'Try Not to Laugh' became one of the most viewed videos on his Channel and was liked by millions of fans. Deji has become a brand with the name ComedyShortsGamer and his failed pranks with his father is really hilarious and loved by many.
He is also a businessman or an entrepreneur as he sells various clothing products on his e-commerce site Tank.

How Much Deji Olatunji Earns from YouTube Channel?
Earnings from YouTube Channel, ComedyShortsGamer is his main source of income. According to Social Blade, he makes approximately up to $1.8 million every year. Deji Olatunji's youtube Channel has 9,129,885 Subscribers and 3,141,017,428 Video Views as of March 29, 2019.
In fact, he makes a minimum of $9.4 k and a maximum of $150.8k in a single month. While he makes an estimated yearly earning between $113.1k-$1.8M. Besides, the advertisement he does for several brands via YouTube videos also earns and adds to Deji Olatunji's net worth.
Also Know YouTuber Emily Canham's earning from her Channel
Subscription on his YouTube Channel is increasing on a daily average of 3,179. So, we can assume that the earning from the Channel will increase in coming days.
Other Sources of Deji's income includes his e-commerce shop that sells Beanie, Hoodie, Caps, Jog Pants and much more. Deji is seen promoting the products on his YouTube Videos and other social media. For instance, he shared a picture on Instagram with the bulk of Wristbands. On his shopping site, each wristband costs 2 dollars.
Overall, the money he makes from YouTube Channel and his online shopping makes Deji Olatunji's net worth in not less than million dollars.
Don't forget to know about another YouTuber, Pete Bucknall's net worth.
Cars and Assets
Social Media like Instagram and his YouTube channel is the best stage for Deji to flaunt his assets. For instance, he gave his new house tour in his channel in August 2016 where he with his mom and dad moved in outside London. The mansion looks great. See the video to make a tour to Deji Olantuji's mansion.

No wonder Deji Olantuji's net worth is amazing and he makes his parents proud who initially didn't want him to be YouTuber.
Deji also has got an electric breeze board. According to Self Balancing reviews, a normal electric breeze board can cost not less than $300.
Also read:  Kwebblekop's annual earning from his YouTube Channel.
Apart from assets and accessories, Deji's property also includes several cars. Among the list of cars, Audi TT Coupe is the one. For sure, Audi car is always an expensive deal and Comedy gamer, Deji owns one.
This Audi TT Coupe is one of the costly luxury cars. And the price of this car starts from $43,950 and range up to $64,900.
Deji Olatunji's net worth; He owns a luxurious black Audi TT Coupe. Image Source- Instagram
Don't miss YouTuber Azzyland's net worth
However, Deji on September 3, 2016 had a car accident where he injured himself on shoulder and arm. His friend who was in the car however remain uninjured.
Furthermore, he is owner of a Lamborghini Coupe. Millionaire, Deji goes to Yianni Charalambous, a Celebrity Car Customizer to modify his car. Not to mention, he loves his car and calls it his wife.
By the way, Deji Olatunji's net worth includes this Lamborghini Huracan Coupe, the price of which starts from $203,295. He had also posted a black Lamborghini in his Instagram. Thus, it's not certain how many cars do this car lover have.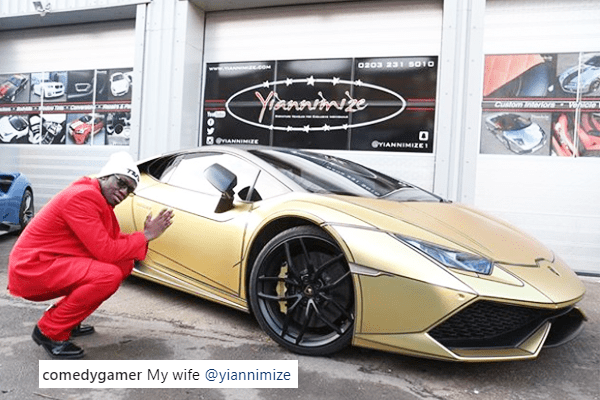 Deji Olatunji is a proud owner of a sports car, Lamborghini Huracan. Image Source- Instagram
Keep visiting SuperbHub for more Entertainment News.