Dutch Model Cindy Kimberly has broken up with her boyfriend and YouTuber Neels Visser. News of their break up is all over social media. After refusing to acknowledge the breakup, both have now admitted that they are no longer together.
The news of their breakup became apparent after they unfollowed each other on social media. Both of them posted heartfelt messages on their twitter account acknowledging the breakup.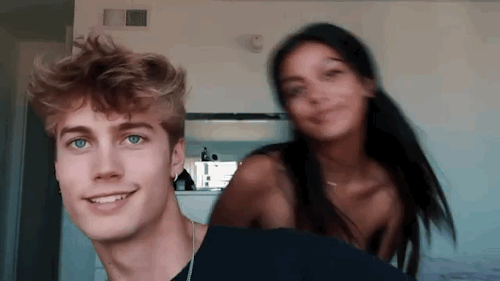 Cindy Kimberly and Neels Visser enjoying with eachother, Image source: Pinterest
They both claimed that the breakup was mutual and that they harbored no ill feelings towards each other in the aftermath of their breakup. They both claimed that they loved and respected each other. They both have since deleted their tweets.
With both of them playing nice after being together for over a year, people are speculating there might be other factors at play in Cindy Kimberly and Neels Visser's breakup. They might be playing nice in front of others and there might be a bigger reason behind their breakup.
Neels Visser and Barbara Palvin Seen  Flirting?
Back in October 2017, Neels was seen flirting with Barbara Palvin, who is a Hungarian model. They were seen being intimate during a party. The footage of the party can be seen below:

This video implicates that Neels might have had an affair with Barbara while still being in a relationship with Cindy. Fans started speculating that Neels and Barbara indeed had an affair.
Barbara Palvin is the former girlfriend of Formula 1 Racer Lewis Hamilton. She is now rumored to be dating singer, Julian Perretta.
Barbara came out and said that Neels was just a friend and Neels was back with Cindy the next day which calmed any fears of the affair. But now with the breakup, people believe Barbara might have had an affair with Neels behind Cindy's back.
Though not confirmed yet, this could be the reason behind their breakup.
Fans' reaction to the breakup
Whatever the reason behind the breakup may be, fans didn't take the breakup very well. People were upset at the breakup as they adored Cindy and Neels as a couple. People took to social media to vent their frustrations about the breakup.
While people were unhappy at the breakup, they did express their love and support towards the couple. They also respected the lack of messiness in the breakup.
For more news and entertainment, visit Superbhub.