Best known for her vocal power and provocative personal style, Christina Aguilera has prospered quite prominently in the music platform. Being one of the most popular pop artists in the 2000s, she has undoubtedly raked in humongous cash and popularity during the course of her career. As of now, Christina Aguilera's net worth is estimated to be $160 million, securing her on the list of some of the wealthiest singers in the world.
The amazingly talented singer has also ventured into acting and television, most notably serving as a judge on The Voice for seasons 1 to 3,5,8 and 10. Additionally, endorsements and entrepreneurial profits have also added significantly to Christina Aguilera's net worth.
Net Worth and Sources of Income
It's no surprise to hear that the gorgeous singer is worth a lot of money. From her humble beginnings on The Mickey Mouse Clubhouse to becoming one of the world's highest-paid female singers, Aguilera is something else.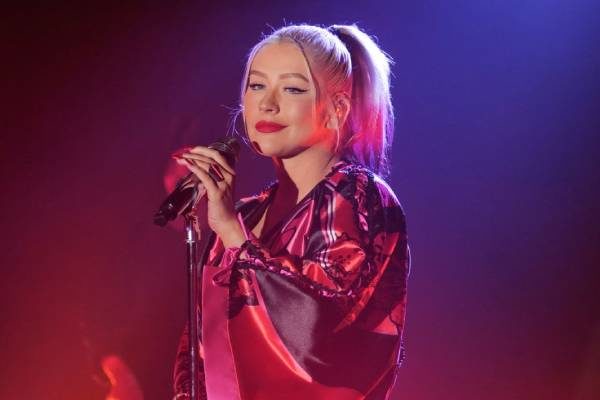 Christina Aguilera has come a long way, financially speaking. Photo Source: Getty Images.
As mentioned before, Christina Aguilera has an estimated net worth of $160 million, which she has amassed from multiple ventures. So, let's take a dive in and know exactly through what means she has acquired so much.
Income from Album Sales
So, the first bits of Christina Aguilera's income came when she successfully landed on the podium after performing the theme song Reflections for the Disney movie Mulan. This landed the singer on the U.S. Billboard contemporary chart and she even received a nomination for a Golden Globe Award for Best Original Song.
You know someone is innately talented when their first shot at something turns out to be so impressive and something so commercially successful. Yes, she might not have taken the Gloden Globe that day, but her career immediately began to soar to golden heights.
After Reflections, Christina went along and recorded her very first album, a self-titled album. Now nothing could better describe becoming an international sensation overnight better than how she blew up after this album. Songs like Genie in a Bottle, Come On Over, and What A Girl Wants were all critically acclaimed, and the world was all ears to Christina's impeccably powerful and uniquely stunning voice.
Additionally, the album sold 14 million copies worldwide, climbed up the Billboard charts with ease and won Aguilera her very first Grammy for Best New Artist. According to The Richest, Christina Aguilera's earnings from this brilliant album sale alone was a mind-blowing $18.2 million. That's quite some cash for her first album. That same year, Christina Aguilera embarked on her very first worldwide tour, and who knows how much she pocketed in with that?
Down below is the list of all of Christina Aguilera's albums, alongside the number of copies they sold and the earnings it brought in.
| Albums | Copies Sold | Earnings |
| --- | --- | --- |
| Genie Gets Her Wish | 1 Million | $1.3 Million |
| Mi Reflejo | 866K | $1.120 Million |
| My Reflection | 115K copies | $149.5K |
| Stripped | 7.88 Million | $10.24 Million |
| Lotus | 290K | $377K |
| My Kind of Christmas | 1.04 Million | $1.35 Million |
| Liberation | 350K | $455K |
Evidently, the singer has done an amazing job. In fact, it's safe to assume that a major portion of Christina Aguilera's net worth comprises of the lucrative sum she earned from the sales of her brilliantly-composed albums. Fans can even purchase these chart-topping albums right now on Amazon, which means the singing prodigy's income is only receiving a constant hike as time goes by.
Income from Tours & Concerts
True, it's exciting to hear a studio-recording of a particular song, but Aguilera's live performances are exhilarating on a different level. And we cannot stress that enough. The amount of cash generated by her ticket sales is enough testament to piggyback that statement. Her first-ever concert in the year 2000, filled Christina Aguilera's pockets with gross revenue of $448.8K and her second one in February of 2001 almost amassed the same amount.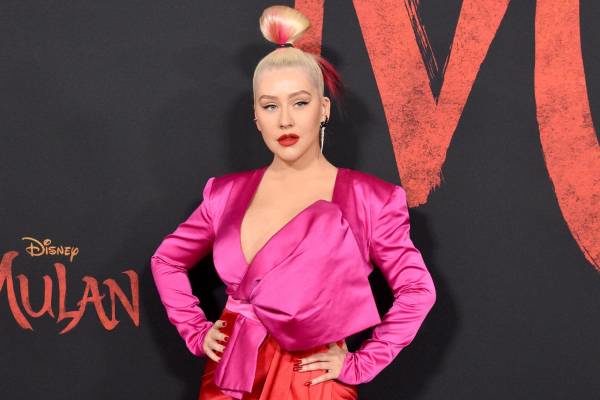 Christina Aguilera's ticket sales generate a tremendous amount of cash. Photo Source: Getty Images.
Furthermore, ticket sales in 2003 of Aguilera's Justified and Stripped Tour with Justin Timberlake reached a surreal $15.990 million. And mind you, this is Christina Aguilera's net worth being piled up solely through the sold-out arenas and concert halls. If your jaws haven't dropped yet, maybe the fact that in 2009 the down to earth artist pulled in an unbelievable $143.3 million from two Back to Basics Tour will do the work. Talking about the most recent of Aguilera's earnings from a tour, it was in 2018 from the Liberation Tour, a grand $8.390 Million.
Now putting concert money aside, here's a question: how much would someone be willing to put down to have a world-class singer perform at their wedding? Just to have the fantastic singer perform a three-song set for at a Russian billionaire Andrey Melnichenko's marriage, Christina Aguilerá's income was pinned at $3.6 million. Such is the value of her presence. But this isn't the only time she has been paid to perform at the call of someone affluent.
In 2010, she scooped in another $1 million for her performance at a private party of investor Charles Brandes. And on another instance where she raked in a whopping $3.2 million from a private four-song concert for a Spanish multi-millionaire. So to conclude, we can attribute most of Christina Aguilera's net worth to her eminently in-demand voice that is loved by millions around the world.
Income from Involvement in Movies
Aguilera's iconic and versatile voice, combined with the fact that she is literally one of the world's best-selling music artists, means that she's gotten several opportunities to get involved in movies. (Understandably).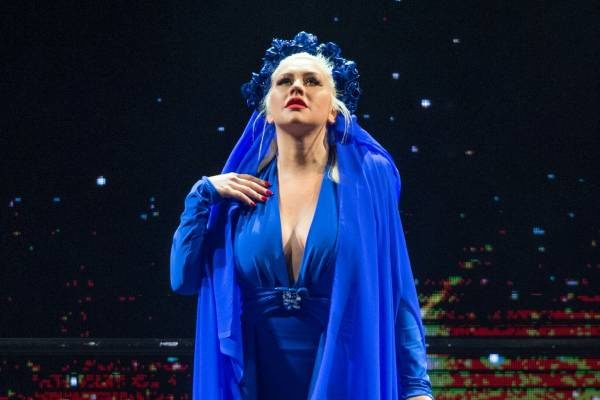 Christina Aguilera's fair share of earning from the movie has been a considerable sum. Photo Source: Getty Images.
And it's also a well-established fact that the revenue generated from the projects she has been involved in was rather humongous. To give you an idea of how lucrative her embarking in on the movie department was, we've gathered a list of some of the commercially successful pieces alongside their box office collection:
Life of the Party – $65.9 Million (Herself)
The Emoji Movie – $217.78 Million (Voice of Akiko Glitter)
Burlesque – $40.9 Million (as Ali Rose)
Get Him to the Greek – $31.660 (Herself)
Shine a Light – $16 Million (Herself)
Shark Tale – $371.92 Million (Voice of Rastafarian Jellyfish)
Looking at these enormous numbers, it's a given that Christina Aguilera's net worth must have been heavily backed by the fair share of income she received out of the gross revenue. And added to this net income is also the cash that she has secured from the video sales of many movies which counts in hundreds of millions, collectively.
Involvement in Television
Appearing as a judge on the television show, The Voice has turned out to be one of the most lucrative ventures the elegant artist has ever stepped in. Christina Aguilera's salary for every episode of the show was approximately $225K.
Now taking into account the fact that she served as a coach on The Voice for six of its fourteen seasons, wrapping one's head around the mind-boggling amount earned by Aguilera becomes near impossible. She reportedly raked in a groundbreaking $17 million, merely for season 3 and $12.5 for the fourth. That leaves very little to almost nothing to the imagination.
But obviously, being a judge in one of the most-watched shows in the nation is bound to fill up your bank account.
Income from Other Sources
Amassing a net worth of $160 million by the age of 39 isn't something you see everyone do. But again, not everyone is Christina Aguilera. With that much under her belt, it only makes sense that she has several sources of earnings.
When Christina and her then-husband, Jordan Bratman, had a kid, Max in 2008, people, magazines, and media were all amid some serious frenzy to shove their camera up the family's face and get a click or two. So the bilingual singer was paid $1.5 million in Royalties by People magazine for a few shots of the baby pictures of her son.
Entrepreneurial Income and Earnings from Endorsement Deals
Even after all the cash funneling in from concerts, album sales, performances, Aguilera's bucks saw no signs of halting. According to Celebrity Net Worth, she had a range of successful products, having been named number one awarded celebrity brand in the year 2017. Releasing a plethora of commercially successful fragrances, including Xpose, Simply Christina, and Inspire, assisted Christina Aguilera's fortune to stack up substantially.
Not to mention that the Grammy winner has endorsed multiple huge brands like Levi's, Skechers, Versace, Pepsi, and Sears. We all know how hefty of a sum company like these are ready to fork out to pay to their endorsers. Not to mention, Christina's grand earning of $300K in 2004, for inaugurating the summer sale at the London Department Store.
Income from Streaming and YouTube
While Christina might not be uploading videos on a daily basis like other YouTubers, her music videos receive enormous views every day. This brings her insane amount of fortune. According to SocialBlade, her YouTube channel generates a maximum estimated $48K annually, an amount that is bound to soar up.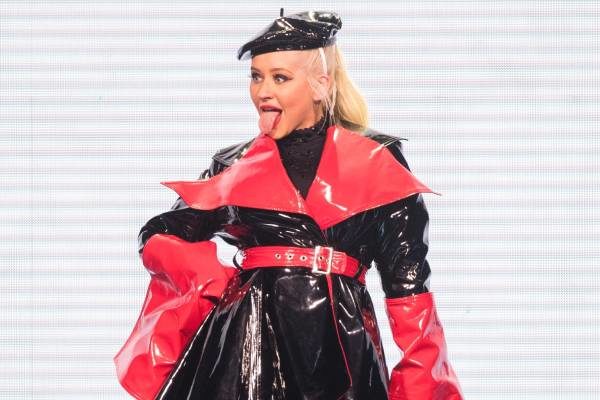 Christina Aguilera's earnings from YouTube is commendable. Photo Source: Getty Images.
Not to mention Christina Aguilera's net worth raise from all the stream revenues on various streaming platforms, including Spotify, Apple Music, Deezer, just to name a few.
Christina Aguilera's Assets
Like many other wealthy stars who fancy spending on opulent properties and real-estates, Christina has also invested a truckload in the sector.
View this post on Instagram
In 2007, the star, with her former husband, purchased an $11.5 million worth home in Beverly Hills, which was previously owned by Ozzy and Sharon Osbourne. Later the house was sold for a higher price of $13.5 million, granting Christina a huge profit. Moreover, the value of Aguilera's website is approximated at $49.5K in 2019, where fans can purchase cool merchandise. Prices of some of the items on her website are listed below:
Liberation Tee(T-Shirt) – $24.95
Xperience Purple Tee- $49.95
Opening Ceremony B&W Photo Long Sleeve Tee – $64.95
Xperience Hat – $34.95
The sales of these items are sure to pitch in a lot in Christina Aguilera's income significantly. As the singer keeps her fans posted with fascinating music, her net worth is sure to reach unprecedented heights in the upcoming future.
Short Info About Christina Aguilera:
Christina Aguilera was born on December 18, 1980, in New York City, U.S.
She was born to musician Shelly Loraine Keams and U.S. Army solider, Fausto Xavier Aguilera.
She was married to Jordan Bratman for six years and had a son, Max, with him.
Christina Aguilera's fiancè, Matthew Rutler, has been in a relationship with her for a decade.
Don't Miss To Follow SuperbHub For More Updates On Celebrity News, Entertainment, and Biography.