Christian Yelich and Pete Davidson are a look alike. They both grew up in a different place and have a lot of physical similarities. Maybe that is the reason why people often have mistaken them as twins.
There are lots of stories where the twins get separated on birth and have no idea that they have a twin. So are Christian Yelichand Pete Davidson twins?
Who Are Pete Davidson and Christian Yelich?
Christian Yelich is an American professional baseball player who plays as an outfielder for the Milwaukee Brewers of MLB. He was born on December 5, 1991, in California.
And as for his so-called twin Pete Davidson, he is an American actor and comedian. He was born on 16th November of 1993 in New York. He is famous for being a cast member of Saturday Night Live. And Pete was previously in a relationship with his ex-girlfriend Cazzie David.
How Do They Resemble?
Despite being born in a different place, to a different parent, and in different date Christian Yelich and Pete Davidson resemble each other. However, most of the people think they are twins and were separated during birth but that's not the true story.
Christian and Pete have a similar face structure and appearance which is just a coincidence. As for a joke, they are possibly the brothers who got separated during a carnival.
Some fans even predicted that Pete Davidson will play the role of Christian Yelich in Christian Yelich's biopic. It seems funny but if the biopic on Christian is made then Pete Davidson is probably the best man to play his character.
Christian Yelich And Pete Davidson Meet pp
Pete Davidson was dressed in a separate locker room with the Yelich's name jersey and joined the team on the field in practice. Later, Christian and Pete made a conversation and posed for photos.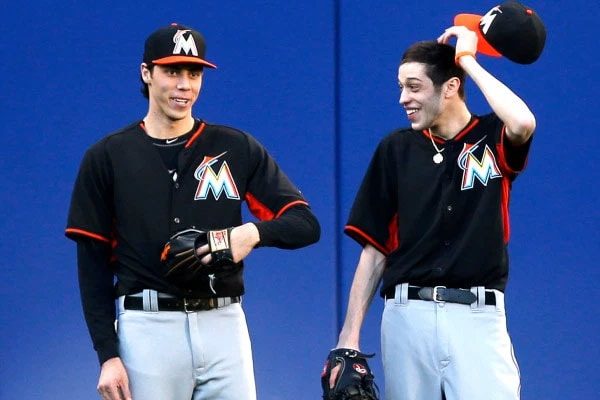 Christian Yelich along with Pete Davidson. Picture source: New York Post. 
After that, Davidson borrowed a glove and walked to center. He even grabbed a bat and took a few awkward cuts in the cage. He was cheered by the Marlins fans.
The head coach of marlins said humorously "if Pete can hit like Yelly(Christian Yelich) we will put him on the lineup." After the meeting, many news articles were published regarding them as twins, but actually, they are not twins.
SuperbHub For More News And Entertainment.