Having been part of the entertainment industry for more than five decades, the talented actor Chevy Chase has come a long way. Well, old folks could know Chevy from his role in National Lampoon's Vacation, Caddyshack, and Fletch. And as for the younger generation, he is known as "Pierce Hawthorne" for his awesome role in the Community, a well known NBC's TV Series.
Thanks for his long-running career and his performance in many well-known movies & TV series, the actor has amassed quite a fortune. As for such, Chevy Chase's net worth is estimated to be $50 million. Let's see how the actor managed to earn so much.
Chevy Chase Net Worth And Earnings
As stated above, the veteran actor has been able to amass himself a grand net worth, which is estimated to be $50 million. Despite playing in many well-known movies, Chevy is mostly popular for his comic roles in TV series.
Income From TV Series
Well, aforementioned, Chevy is widely known for his role as Pierce Hawthorne in the comedy series, Community. He was part of the show for quite some time and appeared in a total of 85 episodes. So we can assume Chevy Chase's salary to have been a huge amount from the show.
Furthermore, he has also been part of Saturday Night Live for a long time. According to The Richest, back in 1975, Chevy was getting paid a salary of $3,200 per month for his contribution as a writer, and $3,000 per month for his appearance in SNL.
Besides that, Chevy has also been a part of other well-known works, including Brothers & Sisters, Hjälp!. So looking at the actor's popularity and talent, one can guess Chevy to have earned quite a chunk of money from his appearances.
Income From Movies
Apart from his career and earning from TV series, Chevy Chase also did extremely well in his movie career. Here is a list providing Chevy Chase's salary for his appearance in a number of movies.
| Movie | Salary |
| --- | --- |
| Christmas Vacation | $6,000,000 |
| Memoirs of an Invisible Man | $6,000,000 |
| Cops and Robbersons | $4,000,000 |
| Man of the House | $2,000,000 |
| Vegas Vacation | $4,000,000 |
We can see how lucratively the actor earned from his acting career. And since there are a number of his works in pre-production, we can hope to see an exponential rise in Chevy Chase's net worth in the upcoming days as well.
Earning From Other Sources
Like many famous people out there, Chevy Chase also has got his own line of merchandise. If you go through his social media handle, then you can go to his official website, and buy a number of products.
Here are some products offered by Chevy along with their respective prices:
Be The Ball Sticker: $6.50
Fletch Sticker: $6.50
Funny Honey: $14-$26
Three Amigos Sticker: $6.50
Not just merch, but fans can also buy tour tickets and see one of Chevy's shows. Since Chevy is one of the top and popular actors, he surely must have amassed quite a sum of money from his different endeavors.
Looking at all this income and earning sources, it surely doesn't come off as a surprise to see Chevy Chase's net worth to have been this grand.,
The rich actor not just earns, but also loves giving back to society as he is also involved in different forms of charities.
Chevy Chase House
Well, once Chevy decided to rent one of his summer vacation homes, which was located in Mount Kisco, NY, for just $1,800 a month. We bet there must have been a mass of people wanting to live there and see how it feels to live like a celebrity.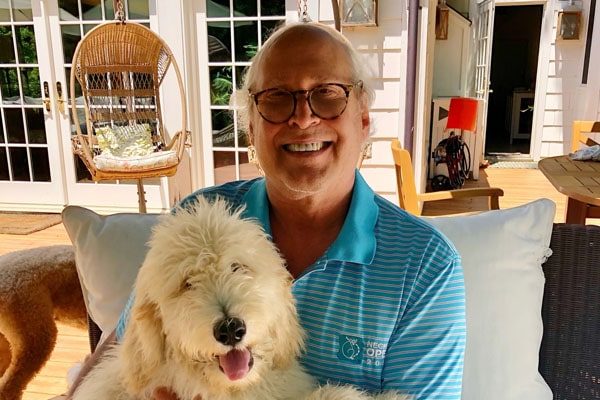 From all the fortune he has amassed, Chevy Chase is enjoying a comfortable lifestyle.
There are some sites which suggest that Chevy Chase sold one of his houses, which was located in Hampton, New York, for a whopping $10 million. However, there is no reliable source to back that up.
But last reported in September 2018, Chevy Chase was living in his home in wooded Westchester County.
Don't Miss To Follow SuperbHub For More Updates On Celebrity Entertainment, Biography, and News.